Compare low interest rate credit cards
Key points
To be eligible for most low APR credit card deals you need to have a good credit rating
Shop around to find the best deals available on low APR credit cards
Consider other factors like balance transfer fees, loyalty points and what you're planning to use the credit card for, before you apply
Choosing a credit card can be overwhelming. It's not just the number of providers that can have you bamboozled but also the different types of credit card available. 
Unlike a credit card offering a 0% interest deal for a limited period only, a low APR credit card's interest is fixed at a cheap rate for a long term – so you never get any nasty surprises on your bill at the end of the month. But as with any credit card you'll need to make your monthly minimum payments on time to avoid charges and whenever possible you should clear your balance. 
What APR means 
APR stands for Annual Percentage Rate. It's calculated by taking into account any fees and charges attached to the money you've borrowed over one year, as well as the interest rate being charged, and shows it as one percentage figure.  
You should always see the APR figure stated on any advertising for a credit card, but this is usually just the "representative" APR – the actual interest rate you're given will depend on your personal circumstances and your previous credit history.
Advantages of low APR credit cards 
The main bonus of a low APR credit card is that the interest is much lower than other credit cards. 
"If you can't bag a 0% deal then a low APR is your next best bet," says money and consumer expert Sue Hayward.† "Average credit card rates are over 20% but you can get low APR deals of 5-6% if you shop around." 
Need more information?
Having a low APR credit card also means that you won't need to switch credit cards to stay on a low interest rate.  
This could be better for your credit rating in the long term, as you're not seen to be jumping from one card to the next, which can negatively affect your credit score. 
Setting up a direct debit is a handy way to ensure you never miss a bill as if you miss your payment date, you might be hit by a late payment fine.  
Disadvantages of low APR credit cards 
As a general rule, you'll only be eligible for a low APR credit card if your existing credit rating is good. If you have a history of bad debt or late bill payments, then be prepared for credit card companies to turn your application down.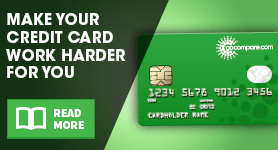 "Credit card companies want you to prove that you are responsible with credit," says Charlotte Burns, personal finance expert and founder of the money-saving blog Lotty Earns.† "It's worth keeping an eye on your credit rating and doing everything you can to get it in the best position possible before applying for credit – such as ensuring you're on the electoral roll." 
"Even if you're accepted, card companies don't have to give you the advertised APR," continues Sue. "Legally, they only have to give this to 51% of successful applicants, so you could be offered the card at a slightly higher rate." 
Did you know...?
Credit card companies only have to offer the advertised APR to 51% of applicants
If you're successful in signing up for a low APR credit card, then one thing to look out for are balance transfer charges if you plan on transferring existing debt over to your new card.  
If possible, go for a low APR credit card that offers an introductory interest-free period and no balance-transfer fees. 
Compare low APR credit cards 
As with any financial product, things are never black and white. So, do your homework and go for the credit card option that works best for your individual circumstances. 
"The worst thing you can do is to just go to your bank and apply for a credit card, you need to shop around," says Charlotte.  
"A tip is to not only focus on the APR (though that is a major consideration), but to check out the balance transfer fee, how long you might get a 0% deal and if there are any perks such as loyalty points. There are also credit score building cards, cards for shopping, cards if you're going abroad and so on. Find the right credit card for you." 
By Melissa Stewart