Compare premium credit cards today
Key points
Premium credit cards can offer benefits such as cashback, insurance and reward points
They typically charge an annual fee and will require an excellent credit history
Doing a smart search before you apply could increase your chances of finding a premium card you'll be accepted for
Beware of doubling up on cover and paying for products you don't need
Not all credit cards are created equal, and premium credit cards – as the name suggests – are a top-of-the-line credit product.  
Sometimes referred to as black or even purple credit cards, these cards are synonymous with status and prestige, offering lots of exclusive perks in exchange for a (usually) sizeable fee.  
They're not available to just anybody, though – you'll need a high annual income (usually over £50,000) and excellent credit history to get one.  
And in some cases they're so exclusive, you can't even apply for them – you have to be invited directly by the provider. 
What are the benefits of a premium credit card? 
Premium credit cards come with a wide range of perks. Exactly what benefits are available will depend on the card, but they usually include: 
A high credit limit 
Loyalty points, which can be redeemed against a variety of products and services, such as flights and hotel stays 
Comprehensive travel insurance 
Breakdown cover 
Round-the-clock concierge services that help book holidays, make dinner reservations, send gifts on your behalf and organise other everyday affairs 
Access to exclusive airport lounges around the world 
If you're a frequent traveller or spend a lot on your credit card each month, a premium credit card could offer good value. 
What are the downsides of a premium credit card? 
Unless you're spending a significant sum every month, most premium credit cards don't offer enough value to justify paying the annual fees – and these can be hefty.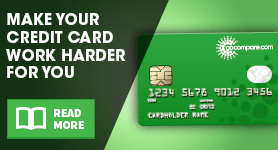 Yearly charges of around £200 or more a year aren't unheard of. 
Interest rates on premium credit cards can be high, so you'll end up accruing big charges if you're unable to pay off your balance in full in each month – you'll certainly end up cancelling out any benefits you get from the card.  
And if you're late making a payment, you might lose the perks entirely. 
In many cases, premium credit cards offer more value in terms of convenience for big spenders, rather than financial benefits.  
"With premium credit cards, it's important to understand that part of the marketing strategy is to make the cards desirable," says Alasdair Walker, a chartered financial planner.  
If you are happy to pay extra for a 'branded' card (which is really no worse than paying for a branded suit or pair of jeans), that's okay, but it should be an informed choice.  
Things to consider
Do the added extras offer the level of service you need?
You may lose your benefits if you don't make payments on time
If you don't pay off your balance in full each month, interest payments are likely to more than cancel out any benefits
Think about whether a cashback card or rewards card would be more suitable for your needs
Is business spending eligible for rewards?
As for the benefits, they're rarely equal in value to the membership fee, but you should be confident you'll actually use them, and be prepared to close the card and move on if you don't.
Perks such as travel insurance and breakdown cover may seem appealing, but these packaged products won't always offer the level of cover you need.  
The included travel insurance might not cover you if you're over a certain age, for example, or have an existing medical condition, so you'd need to take out a standalone policy anyway. 
And doing this can cause problems - if you double up on cover and end up making a claim for something, each insurer would only pay a share of it, and you might find your premiums are more expensive in the future as it will appear as if you've made a claim on more than one policy. 
It's also important to note that not all premium credit cards include business spending as part of their rewards criteria, so if you're planning on using one for work purposes, check its eligibility first. 
If you're attracted to the perks of a premium credit card but can't afford the associated costs, or won't make enough use of its other benefits, you might consider a cashback or rewards credit card instead. 
Comparing premium credit cards 
You can search by provider, APR, balance transfer rates, introductory deals and more when you compare through us.  
Bear in mind, though, that premium credit cards don't usually come with any interest-free balance transfer or purchasing options – their main selling point is the benefits associated with the card. 
Even though there are a number of premium credit card options on the market, they're still an exclusive product, so not everyone will qualify for one and making a failed application will have a negative impact on your credit history.  
You can avoid this by using our smart search tool. This tells you which cards you're likely to qualify for before you make an official application, and it won't affect your credit record. 
Is a premium credit card right for you? 
You may benefit from a premium credit card if: 
You earn over £50,000 
You have an excellent credit history 
You always pay your balance off in full each month 
You would use a concierge service to book nights out, holidays or other services 
If not, a premium credit card probably isn't for you. Even if your application is successful, you could end up paying a fortune in interest charges and fees.  
People are often tempted by premium credit cards because of the prestige associated with them, but unless you make regular use of their concierge services, it's generally better value to purchase add-ons such as travel insurance and breakdown cover separately.  
By Rachel England