Store cards can seem tempting, but consider the pros and cons and whether a credit card or loan would be a better option.
Key points
Store cards are not the same as loyalty cards
Taking out a store card will impact on your credit record
They can be a particularly expensive way of spending and borrowing
Try to pay off any debt in full before it starts accruing interest
It's possible that a credit card could offer better rewards and/or lower borrowing rates than a store card
Store cards may be an expensive way of arranging credit when compared to credit cards, loans and other options, but it seems that UK consumers can be confused by the deals on offer.
A GoCompare survey has found that nearly 7.9 million UK consumers use a store card, but 5% of people questioned admitted that they had no idea what rate of interest was on these cards, and 4% said they felt pressured into signing up for them.[2]
There was also confusion about the credit side of the deal, with 12% of people saying they thought that store cards were like loyalty cards.
But 28% of those surveyed were more aware of some of the dangers, saying they had never had a store card because of the high interest rates that can be associated with them.
Store cards can be handy if you're a loyal customer at a certain shop and you can guarantee that you're going to pay off your balance at the end of the month, but the interest on these cards is generally much higher than that on your average credit card.
When deciding whether to take out a store card, pay particular attention to the following areas:
The grace period
Some credit cards have a so-called grace period - the time taken to start accruing interest on transactions from the time you make a purchase.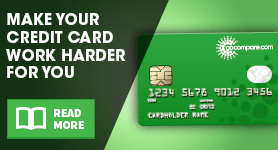 Keep in mind that some store/credit cards will not have a grace period so you'll start accruing interest from the time you make your purchase.
Store card introductory offers
Store cards are unlikely to have an introductory offer but are likely to offer an immediate discount on your shopping.
However, without a grace period or introductory offer, your interest charges on the outstanding balance can soon outweigh this discount.
Some credit cards will have an introductory offer, mainly by way of 0% interest on balance transfers, purchases or both.
Choose a card that suits your needs. If for example, this happens to be Christmas shopping, consider a 0% purchase card.
It's vital to understand the interest rate in order to calculate how much your purchases will cost you over the full term
Impact on your credit score
If you're looking to maintain/build your credit rating - perhaps before applying for a mortgage or making another major financial commitment - keep in mind that taking out a new card will affect your credit score, which may impact upon future credit applications.
Where can you use the store card?
Is it a charge card which is only valid at a particular outlet, or is it an actual credit card such as a Visa or MasterCard?
What's the standard interest rate on store cards?
When any promotional rates have ended, what's the standard, go-to rate on the card? It could range from perhaps 6.9%-39.9%.
It's vital to understand this rate in order to calculate how much your purchases will cost you over the full term of your repayment plan.
How long will you take to clear store card debt?
Be realistic when judging how long it will take you to clear store card debt.
This is perhaps especially important at Christmas - an expensive time of the year that may well be coupled with an early December pay cheque, meaning a longer pay month in January.
In this situation, another payment going out of your bank account is likely to be the last thing you need, especially if you're accruing interest on the debt in the meantime.
Freebies and discounts with store cards
It's always worth checking Facebook pages, Twitter accounts and local media for discounts and vouchers from the retailer you're using.
Also, if you're in the mood for some haggling, get your best sheepskin coat on and do your research.
Certain department stores and websites will have price match guarantees or discounts for damaged packaging - why pay for a pristine cardboard box when it's going to end up in the bin?
Such discounts may far outweigh the benefits of a store card - and they won't impact on your credit score.
Before committing to a store card...
In summary, the golden rules are:
Do your research
Check your alternatives
Understand the terms and conditions
Be realistic with your payment plan