If you have a bad credit history it can be more difficult to find a current account provider, but there should still be banking options available.
Key points
If you have a bad credit history your bank account choices are restricted
Despite this, basic bank accounts are an option for many with bad credit
Choices for undisclosed bankrupts and those with a history of fraud may be more restricted
You may also want to consider other bad credit banking options
If you've had debt problems in the past, it can be difficult to get hold of financial products, including a current account.
However, it is possible to open a basic bank account with a poor credit history, although the number of options open to you will depend on what's happened in your past.
Such accounts may be available to you even if your poor credit history includes such serious incidents as bankruptcy and County Court Judgements (CCJs), but this will be down to individual account providers.†
Since the passing of the Deregulation Act in 2015, it should in theory be easier for undisclosed bankrupts to open basic bank accounts.
Some providers may only require appropriate address and ID checks in order to offer you a basic bank account.
These account have also proved popular with some people who have reasonable credit histories but who want a simple banking option that could help them avoid the temptation associated with things like overdrafts.
Basic bank accounts for those with credit problems
Basic bank accounts are similar to normal current accounts, but there will be certain restrictions and limitations.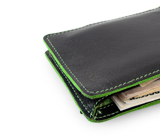 There'll be no overdraft facility, there's unlikely to be in-credit interest, and some products will also deny access to debit cards and cheque books.
It will be possible to carry out basic banking functions such as setting up direct debits and standing orders, but you obviously need to ensure you have the funds to meet such outgoings.
If not, you're likely to be hit by fees and to risk falling deeper into financial difficulty.
How do I find a basic bank account?
Although many current account providers offer basic bank accounts, not so many promote them, and some may even actively put hurdles in the way of customers finding them.
Credit unions are community co-operatives owned by their members that can offer a real alternative to banks
Generally speaking, banks would prefer you to take out one of their standard products.
This may, for example, give the provider more opportunity to make money from fees on things such as overdrafts.
If you compare current accounts through Gocompare.com, our best-buy table will automatically display all the products we have available, but you'll see that you can filter this to just show basic bank account options.
You can then compare the basic products that are available, looking at things such as whether annual fees are charged, qualification restrictions, daily ATM limits, features and how you can access your account.
Options apart from basic bank accounts
If you have a history of fraud, or if you've been made bankrupt and your bankruptcy hasn't been discharged yet, your options will be more limited.
Hardly any high street banks and building societies offer accounts to people in such circumstances, but you might want to look into some of the options below.
If you're struggling to find an account online, try speaking to providers in person or on the phone.
Credit unions
Credit unions are community co-operatives owned by their members that can offer a real alternative to banks.
Such institutions have a reputation for being more understanding and supportive of those in financial difficulties - because they're not-for-profit institutions their purpose is intended to be to serve their members.
Many credit unions offer bank accounts, although you may have to commit to keeping in credit to a certain level and/or to paying a fee. Such fees are typically lower than those associated with fee-paying current accounts.
Fee-paying current accounts
While paying a fee for a current account is typically associated with premium accounts that offer additional services, it also works at the other end of the scale.
See also:
Cards for people with bad credit ratings
If you search for basic bank accounts you'll see that some charge a fee, and that the charge can be high.
Typical features associated with such products could be, for example, allowing you to put the money you need to pay your bills into a 'locked' part of your account where you can't access it.
The rest is then put onto your card for you to spend.
They may also not charge you a fee if a payment is rejected because there's not enough money in your account.
However, that means the payment will be rejected, which could be a problem if it's a big household bill that needs to be paid.
You should think carefully about whether you want to pay for an account as the cost can mount up and send you further into financial difficulty.
Post Office card account
Post Office card accounts could help those who don't have a regular bank account receive certain government benefits, the state pension and tax credits.
It's not possible to pay other income (such as a salary) into one of these accounts, you can't set up standing orders or direct debits and there's no overdraft, but there are also no charges and you get a card to withdraw cash and spend with.
You won't have to undergo a credit check, but to open an account you'll have to contact the office that pays your benefits and provide proof of address and ID.
Did you know...?
All EU member states must ensure that citizens have access to a basic payment account by 2016
EU directive: Basic account availability
Under the terms of a 2014 European Union directive, all EU member states must ensure that people have access to a basic payment account by 2016, allowing them to receive money and to pay bills.†
The UK government worked with the major banks to meet the terms of the directive and in December 2014 announced that a deal had been arranged with nine of them, accounting for 90% of the UK current account market.
Features of the agreed-upon basic bank account template - which should now be available from participating providers - include:
No one-off fees for rejected direct debit or standing order payments
Debit cards offered, allowing access to the ATM network
Access to bank counter services
No overdrafts
No cheque books
Basic accounts to be marketed alongside a provider's other accounts
The EU stipulation on fees for basic accounts was that they must be 'fair', but the UK government pushed for them to be fee-free as part of their crackdown on the payday lending industry which has attracted customers who couldn't get access to more mainstream banking options.
According to EU figures, in 2014 there were around 58 million EU consumers over the age of 15 without access to a payment account.
"We are making a real difference to the lives of millions of EU citizens by giving them access to a basic bank account so they can easily receive a salary or pay their electricity bill, for example," said EU commissioner Michel Barnier.
"This new right is essential to allow all citizens to participate fully in the economic and social life of a modern society."
Improving credit scores
Whatever your financial history and the state of the credit files held about you, the key to gaining access to the most attractive financial products is to improve your credit record.
Responsible management of whatever current account you're able to secure is one way of doing this, but there are many other things to consider - read our article on how to boost a credit score to find out more.
If you're in financial difficulty...
Remember that you can contact your local Citizens Advice Bureau, National Debtline or StepChange Debt Charity (formerly the Consumer Credit Counselling Service) for free advice.†
By Sean Davies
[SeanSocialShare]