Guide to basic bank accounts
Key points
Basic bank accounts may help if you haven't had a current account before and/or you have a poor credit score
Overdrafts will not be allowed and other features limited
You'll be heavily penalised if you go into the red
Basic bank accounts are similar to normal current accounts in that you can have your wages, tax credits and any other benefits paid in directly.
You can also pay cash and cheques into the account, and you can set up direct debits and standing orders to pay your bills and make payments to other people.
You can have a cash card that can be used to withdraw money from ATMs and, in many cases, Post Office branches.
Some accounts offer a debit card which you can use to make purchases as well, although many basic accounts won't offer this.
On 14 November, 2014, Gocompare.com checked 21 basic banks accounts listed on the matrix of independent financial researcher Defaqto and found that - while 95% offered a card to withdraw cash from ATM machines - only 67% offered a debit card.
Most basic accounts allow you to manage your money in branches, online, on the telephone and/or on your mobile.
What you won't have is an overdraft or a cheque book, you'll be unlikely to receive in-credit interest, and if you go overdrawn it'll be a breach of the terms and conditions.
You should avoid this at all costs - it's likely to cost you a lot of money in fees and charges, and may quickly lead to the bank closing your account.
Who are basic bank accounts suitable for?
Some people with reasonable credit records opt for basic current accounts for the straightforward reason that they prefer the simplicity involved with them and they only want to do the banking basics.
However, such products are typically more associated with those who haven't had a bank account before, or those who have struggled to avoid going into the red in the past and have a poor credit score.
It's possible that such people wouldn't qualify for a regular current account but would be able to find a suitable basic bank account.
Did you know...?
Historically, banks didn't tend to publicise basic accounts as they preferred people to open standard current accounts
This is because basic accounts don't involve a credit check, although you will have to provide appropriate ID and proof of address to open one.
Such accounts may be available to you even if you have a poor credit history that includes such serious incidents as bankruptcy, County Court Judgements (CCJs) and even fraud, although this will be down to individual account providers.†
Since the passing of the Deregulation Act in 2015, it should in theory be easier for undisclosed bankrupts to open basic bank accounts.
The downsides of basic accounts
This product option can be good if you're trying to budget and get your finances back in shape, as there's no overdraft to fall back on - just be wary of going into the red accidentally as it could cost you a lot of money.
While you can set up direct debits and standing orders, if you don't have the funds available to meet those regular commitments you risk fines and falling deeper into financial difficulty.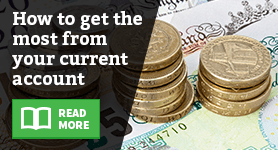 As stated, basic bank accounts are unlikely to offer in-credit interest, cheque books or other incentives, and you may not be able to get a debit card.
What's more, you may only be allowed to withdraw cash from ATMs belonging to the banking group that provides your account.
If this is the case, it's important you check there are cashpoints nearby that you can use.
Many accounts of this sort also don't allow you to withdraw money abroad.
Finding out more about basic accounts
Most banks do have some information about their basic accounts on their websites, but you might have to do some digging to find it, and you may have to go into a branch to open one.
Some providers may even actively put hurdles in the way of customers finding their basic products.
Banks haven't historically publicised these products as they preferred people to open standard current accounts. This may, for example, have given the provider more opportunity to make money from fees on things such as overdrafts.
Did you know...?
Accounts that charge you a monthly fee for helping you to manage your money may be an option if you're struggling to be accepted for a current account
Are free accounts really free?
If you compare current accounts through Gocompare.com, our best-buy table will automatically display all the products we have available, but you'll see that you can filter this to just show basic bank account options.
You can then compare the basic products that are available, looking at things such as whether annual fees are charged, qualification restrictions, daily ATM limits, features and how you can access your account.
Alternatives to basic current acounts
While those with reasonable credit records can obviously consider standard and premium current accounts as an alternative to basic ones, banking options for undischarged bankrupts and those with a history of fraud are likely to be much more restricted.
Credit unions are worth exploring, and it's possible that a Post Office card account could serve your needs.
There are also current accounts that charge a fee for helping you manage your money. Read more about all such options in our guide to current accounts for people with bad credit.
EU directive: Basic account availability
Under the terms of a 2014 European Union directive, all EU member states must ensure that people have access to a basic payment account by 2016, allowing them to receive money and to pay bills.†
The UK government worked with the major banks to meet the terms of the directive and in December 2014 announced that a deal had been arranged with nine of them, accounting for 90% of the UK current account market.
Did you know...?
All EU member states must ensure that citizens have access to a basic payment account by 2016
Features of the agreed-upon basic bank account template - which should now be available from participating providers - include:
No one-off fees for rejected direct debit or standing order payments
Debit cards will be offered, allowing access to the ATM network
Access to bank counter services
No overdrafts
No cheque books
Basic accounts will be marketed alongside a provider's other accounts
The EU stipulation on fees for basic accounts was that they must be 'fair', but the UK government pushed for them to be fee-free as part of their crackdown on the payday lending industry which has attracted customers who couldn't get access to more mainstream banking options.
According to EU figures, in 2014 there were around 58 million EU consumers over the age of 15 without access to a payment account.
"We are making a real difference to the lives of millions of EU citizens by giving them access to a basic bank account so they can easily receive a salary or pay their electricity bill, for example," said EU commissioner Michel Barnier.
"This new right is essential to allow all citizens to participate fully in the economic and social life of a modern society."
Improving credit scores
Whatever your financial history and the state of the credit files held about you, the key to gaining access to the most attractive financial products is to improve your credit record.
Responsible management of a basic bank account is one way of doing this, but there are many other things to consider - read our article on how to boost a credit score to find out more.
If you're in financial difficulty...
Remember that you can contact your local Citizens Advice Bureau, National Debtline or StepChange Debt Charity (formerly the Consumer Credit Counselling Service) for free advice.†
By Sean Davies