Bounced payments occur when there isn't enough money in your account and can lead to you incurring hefty charges. Find out how to avoid them.
Key points
Bounced payments occur when there isn't enough money in your account
Banks refuse to process these payments and may charge you a penalty
From August 2014 banks and the FCA introduced a retry process, where banks will try to make a payment again later in the day
A bounced payment occurs when there isn't enough money in your current account to fund a pre-arranged payment, so your bank refuses to make the payment.
Banks usually charge you for each bounced payment.
As standing orders, direct debits and pre-arranged payments are often processed in the early morning, if money hasn't cleared before the debit is attempted customers could be charged a hefty sum per transaction.
Bounced payments can result in paying out penalties, but in August 2014 a new retry process was introduced, which could make that a thing of the past in some circumstances.
If a bank refuses to make a payment it must generally tell you as soon as possible and explain why.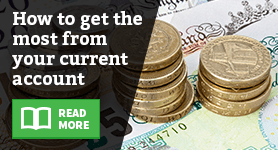 The cost of bounced payments
On 29 September, 2015, Gocompare.com checked 149 current accounts listed on the matrix of independent financial researcher Defaqto and found that 41 accounts charged no penalty for bounced payments.
However, 83 accounts charged between £5 and £20 per bounced payment and 11 accounts charged between £25 and £35.
The good news is that in August 2014 the retry process was introduced, meaning current account customers now get a second chance to avoid charges.
The bounced payment retry process
The retry process was introduced to provide a safety net that could help customers manage their payments and avoid fees caused by bounced payments.
Retry process timeline
Early morning: payment fails due to insufficient money in the customer's account
Before bank/building society cut-off time: customer pays in cleared funds
Post cut-off time: payment is retried by bank/building society
The retry process allows customers to properly organise their standing orders, direct debits and future-dated payments, collectively known as 'pre-notified payments'.
Previously, if you arranged for all your payments to leave your bank account on the same day your salary was paid in, there was a chance your payees could attempt to debit your account before your salary was credited - resulting in multiple bounced payments.
The retry process gives customers a chance to pay cleared funds into their account before their bank can penalise them.
The retry process means that you have until at least 2pm to pay money into your account to cover the payment when it's 'retried' by your bank or building society later that day.
The cut-off time may be later than 2pm so check with your bank when its cut-off time is.
The retry process was introduced after collaboration in June 2014 between the Financial Conduct Authority (FCA) and seven of the UK's high street banks.
Avoid bounced payments
Find out if your bank offers a text alert service so you can know when funds are low in your account
Build up an emergency reserve so you're not caught out again
Organise your direct debts and standing orders so that they leave your account after your salary is paid in
Until the retry process was introduced a 'bounced' payment would not have retried and you would have incurred an unpaid item fee from your bank.
In addition, if the failed payment was to pay a bill, you might also end up with late payment charges from the supplier.
Cheques
Remember that cheques take longer to clear into your account than other payments - they can take up to four working days to appear in your account once deposited, so if you're relying on cash from a cheque make sure you pay it in well in advance.
As the retry process only covers automated payments that are pre-notified, cheques would not be classed as 'retried' as part of the process.
Paying in money to avoid a bounced payment
Whether a bank lets you know that your payment has bounced is up to the individual bank.
Some will notify you by phone or text if a payment bounces, giving you a chance to rectify the situation.
See also:
Current accounts with overdrafts
Challenger banks
Are free bank accounts really free?
Banks don't have to do this, though, so it's a good idea to keep an eye on your account using banking apps or online banking.
The bank will then give you until 2pm to pay in funds, before reattempting a payment.
You could pay in money via online banking or in a branch, but make sure you pay in cash so the money arrives in your account in time.
Is my bank signed up?
A number of banks and building societies are signed up to the retry process - contact yours individually to find out if it's one of them.
By Emily Bater
[SeanSocialShare]