Guide to current accounts offering cashback
Key points
All cashback products differ with regard to qualifying terms and available rewards
They're not typically the right choice for those who are frequently in the red
Consider if account fees and/or restrictions outweigh benefits
You may not receive both cashback and interest - think about whether an interest-paying account is more suitable
Our midata tool can help you work out exactly what a particular account would be worth to you
Banks and building societies have come up with various new types of current accounts in order to win our custom.
One of the most interesting is the cashback account, where you can earn money back on your day-to-day banking.
Although there are many product variations, some accounts don't pay interest as well as cashback - in these cases the cash you earn is designed as a replacement incentive for in-credit interest.
Types of cashback account
Different products pay cashback in different ways.
Some offer it on your direct debits and standing orders, so when a household bill is paid you'll earn a small percentage (usually 1-2%) of the bill amount back.
Others pay money back when you spend on your current account debit card. In some cases, this will be limited to certain shops, so check the terms and conditions carefully.
Finally, some banks pay you cash for switching over to them and some will also pay you each month the account stays in credit.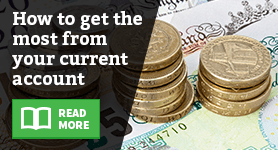 There may be other conditions for both of these cashback incentives, such as:
You need to deposit a certain amount each month
You need to have your salary paid into the account
You need to transfer some or all your direct debits and standing orders to the account
You need to switch account using the bank's specific switching service
Monthly fees for cashback accounts
Some cashback accounts will charge you a monthly fee.
On 8 March, 2019, GoCompare checked 138 current accounts from 38 providers listed on the matrix of independent financial researcher Defaqto and found that 64 had a cashback reward scheme as an incentive for using the account.
However, 44 of these (69%) charged a monthly fee for the account.
Ideally, you should earn far more than you're paying out, so do a quick calculation to check that'll be the case before you open an account.
Things to consider
You should make sure you meet the eligibility requirements for any cashback product you're thinking about opening.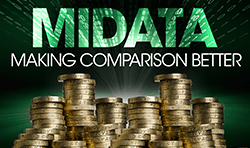 If you don't do that you may end up paying a fee if, for example, you're not able to pay in the minimum amount required each month.
Depending on how much money you have left each month and/or how much you spend on your household bills, a cashback current account might not be the best option for you.
If you find you have a fair amount of money left each month, you might want to consider a high-interest account, as you might earn more from interest than you do from cashback.
Also bear in mind that if you think you might need an arranged overdraft some cashback accounts don't offer them.
If you do go into the red it's possible that you'll be charged very high fees and interest.
Midata and cashback accounts
One of the advantages of the midata initiative is that customers are able to obtain a clear idea of how much they gain from rewards such as cashback, and of available accounts that may be more suitable to their needs.
See also:
Cashback credit cards
Cashback websites
Midata allows a consumer instant electronic access to up to 12 months' worth of his or her current account transactions, including all fees charged and rewards gained.
This data can be instantly, electronically fed into a comparison site such as Gocompare.com which will then show the different current account options available, with customers seeing the actual pounds and pence cost or benefit they'd get by switching to a particular one.
Opening a cashback account
When you apply for a cashback account, you'll be credit checked, and a failed application could impact on credit scores that are held about you.
If you believe that your application will be rejected, you might be better off looking at a basic bank account while you take steps to improve your credit record.