Children's bank accounts
Children's bank accounts mean that you don't have to wait until adulthood to manage your own finances and earn interest on your money.
Key points
Children's bank accounts are typically available from the age of 11
At the age of 16 they can get access to more sophisticated accounts
No children's account will offer an overdraft facility
Children won't pay tax on interest unless their income exceeds the annual personal allowance
If the primary motivation is saving, read more about the various saving options for children
From the age of 11, children can open their own bank account and manage it just as they would an adult one. Children's accounts usually offer:
Interest if the account's in credit
A debit card for withdrawing money from ATMs and spending in shops and online
Some also offer the option to set up direct debits and standing orders from the account to pay for things such as mobile phone contracts and magazine subscriptions.
Most accounts offer both online and mobile banking, and the option to set up text alerts.
No children's accounts offer overdrafts.
Different accounts for different age groups
Many banks and building societies offer two types of children's account: one for children aged 11-16, and another for 16-to-18-year-olds.
The main difference between the accounts is that the one for older teenagers will generally offer a debit card and a cheque book as standard, plus the option to set up direct debits and standing orders.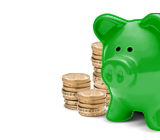 Interest and tax on children's accounts
Children have the same tax-free annual personal allowance as adults.†
Since April 2016 there's been no need to fill out form R85 to ensure that bank account interest isn't taxed.
Rule changes mean that tax is no longer taken from savings interest as a matter of course and basic-rate taxpayers will not pay any tax on the first £1,000 of savings interest.
Things to consider
All accounts offer different benefits - so shop around!
If you're aged between 17 and 18 and you've left school and started working, also look at adult current account options
You should also consider whether a Junior Isa is the right option for your circumstances - this could be the right way to maximise the tax efficiency on your money.
The importance of shopping around
All children's accounts offer different benefits, which is why it's important to shop around as you would for anything else.
Some pay higher rates of interest, while others offer incentives such as discounted railcards and money off driving lessons.
The midata initiative could help you find exactly the right account by connecting your actual banking data with your product search.
Check the small print carefully
Once you've decided on the account you want, make sure you have a read of the terms and conditions.
From Covered mag:
How to teach children about money
Financial education: Too little, too late?
For example, to earn interest you might need to make sure you put some money into the account each month.
Would an adult account be better?
If you're aged between 17 and 18 and you've left school and started working, an adult current account might be a better option than a children's one.
There are some you can open from the age of 16, which might offer better benefits, so you might want to take a look around at what's available.