From checking your balance while you're on the go to visiting your branch in person, there are any number of ways you can engage with your bank.
Key points
Bank communications have evolved to include online banking and apps, as well as in-branch, telephone and mail
The mode of communication you choose will depend on what your bank offers and the reason you're getting in touch
If you value a particular mode of communication, you might want to compare what different accounts offer and switch to one that suits you
The way we interact with banks has changed beyond recognition over the decades.
We used to pop into branch multiple times a week to deposit cheques, pay bills and move our money around.
Now we do much of that online, and visit our bank branch only occasionally - if our bank has a branch at all, that is.
The dawn of mobile banking has seen another huge change in the way we bank - now we can check our accounts on the go, from our phones and tablets.
Banking in-branch
According to research by Gocompare.com conducted in July 2015,[1] only 37% of current account holders know where their bank branch is, and less than half (47%) have visited it in the last 12 months.
But it remains a fact that we still occasionally need to visit our banks in-branch, even if it's not for good reasons.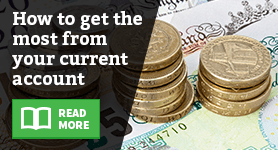 According to the Gocompare.com research, 35% of people who spoke to someone in their local branch did so to discuss savings and investments, while 29% did so to discuss a problem.
A fifth of people spoke to their bank to open a new account, while 7% visited to take out a mortgage. Of those asked, 4% visited their bank to discuss a financial difficulty and 4% visited to make a complaint.
"This piece of research suggests that many bank current account customers don't have a particularly fruitful relationship with their local branch," said Gocompare.com's Matt Sanders.
"Indeed, according to the figures, a third of conversations with bank staff concern resolving problems with their account or making a complaint."
Good for: discussing credit and mortgages, savings and Isas, what they can do for you
It seems like the age-old image of the stern bank manager is now dying, too - over half of people asked said they had no relationship with their bank manager, and had, in fact, never met them.
However, when asked what they considered most important when choosing a bank, the second thing people said - after good online banking - was having a local bank branch.
Over the phone
Dealing with your bank over the phone can be annoying and time-consuming - especially if they have a predilection for bad hold music.
Good for: resolving urgent problems, unusual requests
But speaking to a person over the phone can be the quickest way of dealing with a problem, especially if it's something like a lost or stolen card, or unauthorised payments on your account.
Some bank phone lines may charge, so make sure you're not paying for the call beforehand.
You could also ring your bank and request that an adviser call you back.
Some banks have a strong focus on customer services over the phone, putting you through to a real person immediately before making you navigate a list of options.
If telephone banking is important to you, it might be worth comparing the options and choosing one that offers this service.
When you enter Gocompare.com's current account comparison services you can see which banks offer 'enhanced customer services'... but remember to see what other terms they offer.
From Covered mag:
To bank by telephone you'll usually need to provide some security details before you'll be able to discuss your account or make transactions.
Online
According to the Gocompare.com research, the most important factor for 34% of customers is whether their bank has an effective online banking service.
Online banking is now the most popular way to access and manage money in the UK. Yet, according to research by the Payments Council, while 78% of adults in the UK have access to the internet and a current account, only 70% already use internet banking.
Good for: loans and credit cards, payment and transfers, keeping track of your balance
The benefits of online banking are many and any security worries you may have can be limited by using card readers, which are small electronic devices that act as an extra level of security.
Some bank may have an instant messaging service to help you use their online banking and to resolve any problems you may have.
However, you may be redirected to a telephone number if your problem can't be dealt with using the message service.
With online banking there's a chance that payments can be misdirected, as sending a payment online only requires the account number and sort code of the payee.
Using a service like Paym can reduce mistakes like this and can offer a speedier process, too.
Apps and mobile banking
Technology has changed the way we communicate with banks to the point where some banks now have no - or a limited number of - branches.
Good for: payments and transfers, keeping track of your balance
Customers of some challenger banks such as Metro Bank and First Direct do the majority of their dealings with their bank online, as their banks have very few branches or in-branch services.
Another bank is going even further; Atom Bank, an online-only challenger bank, told the BBC that it expects customers to do almost all their banking via their app and that it is not intending to open a call centre.
Organising your banking via mobile is quick and easy, if you have access to a smartphone or tablet.
Simply download the bank's app to your device (this should be free) and go from there.
See also:
Banks set up a security process for their apps as they do with their internet banking, so your details should be safe.
These apps don't allow you to communicate with your bank directly, however - they usually only allow you to check your balance, make payments and transfer funds across your account.
Text message banking
Setting up text alerts to tell you when your balance is low and to detail your recent transactions is an easy way to keep up with your banking.
Good for: keeping track of your balance
However, it's usually a one-way street where you can't send messages to the bank.
That means that if you have any problems you'll still need to contact your bank or go into a branch.
Writing to your bank
Writing to your bank by snail mail may still be an option, but the service you receive will obviously be slower and you might be better off going into a branch or talking over the phone.
If you're opening a bank account or switching accounts some correspondence may need to be by letter.
Remember, if you're making a complaint it's a good idea to put your grievances in writing and to keep a record of all correspondence.
To speed things up, find out if you can write to your bank via email instead - that way you'll have a record of every communication in your email inbox and outbox.
By Emily Bater
[SeanSocialShare]