Moving abroad? Find out more about choosing and using an expat current account and other financial issues such as tax status.
If you're thinking of becoming an ex-pat there are a few things you need to sort out before you leave.
Whether you're leaving for work or leisure, you'll need to organise your finances appropriately, including finding the right current account.
I'm moving abroad - what do I need to do?
First of all, it's a good idea to pay off any debts you have in the UK, such as credit cards and loans.
If you're able to do this it'll make managing your finances from afar much simpler.
You may not have the funds to clear a mortgage, so let your mortgage provider know what's happening and make sure your payments can continue.
If you're renting out your house while you're away, remember you'll probably need to arrange a buy-to-let mortgage, or ask your lender for consent to let on your residential product.
Current accounts while living abroad
There are several options for your banking while you're living and working abroad.
You may need more than one of these accounts to meet your needs; for instance your UK current account, an international or offshore account for transferring different currencies and a local account for your day-to-day spending.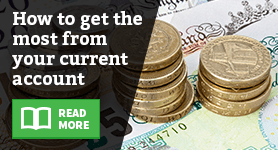 UK current account
You can keep your UK current account open and it may make things simpler if you do - although you need to make sure that your provider knows about your situation and has details of your permanent residence.
If you decide to come home for a few weeks your account will be there for you, and if you decide to transfer money from your new country of residence you'll be able to move it into your UK account, although there may be fees to convert the currency to sterling.
Just be aware that some accounts require minimum monthly funding or a certain number of direct debits to avoid charges, so you might want to compare and switch to a more suitable account before you go if that's the case.
International current accounts
International current accounts let you bank in different currencies and should be considered before you leave the UK, as you may need to have a UK address to open the account.
These bank accounts are useful if you're not planning on cutting all financial ties to the UK and still need to pay bills or have financial commitments.
You can also pay in any UK income to an international account.
Opening an international account means you can seamlessly bank in two currencies and can transfer money easily between the two.
If you move regularly an international account may be what you're looking for.
An international current account may charge monthly fees but shouldn't charge you for transferring your money.
Some banks have dedicated international teams to help you get the right account for your needs.
International accounts are often - but not always - offshore accounts, based in places like Gibraltar or the Channel Islands.
However, some are simply UK-based current accounts that are conducted in a foreign currency.
Local current accounts
Opening a local current account is an easy way to bank in the country's local currency and is a simple way to do your day-to-day banking.
Let your UK bank know you're leaving and they'll give you a letter of reference, which you'll probably need to present to your new bank.
Currency
Expats can suffer or benefit from fluctuations in currency, but you can make sure your money's safe by keeping or transferring it into the currency you need in the long-term - so if you're planning on moving back to the UK, it may be worth moving your money back into pounds sterling.
If you're planning on retiring abroad or to a different country, you could save your money in an offshore savings account, which allows you to choose between currencies and change it back to sterling when the exchange rate is favourable.
Saving and investment
If you're moving abroad for work and plan on taking advantage of a cheaper cost of living and saving money while you're there then you may want to consider an international savings account and/or international investments.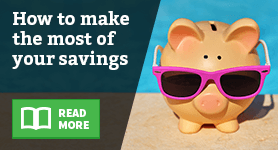 If you're considering investing money abroad you may want to choose an international bank to advise you.
Look into an offshore savings account, make sure you're aware of your tax commitments and think about seeking proper financial advice.
You should be aware that offshore accounts aren't backed by the Financial Services Compensation Scheme (FSCS), although you may be covered by the scheme governing the country in which your account is registered.
Plan how you're going to organise any current investments and savings in the UK, such as Isas or savings accounts.
To contribute to an Isa you need a permanent UK address for tax purposes, so you won't be able to pay into an Isa while you're abroad. However, you may be able to pay in the full annual amount before you leave.
You should be able to keep an Isa open while you're abroad, but make sure your bank understands that you're no longer resident in the UK.
It may be a good idea to speak to a financial adviser about how your move could affect your private pension and to make sure you understand how your state pension will also be affected.
If you have any other investments you may not be able to contribute to these while you're abroad - check with your provider to find out.
What about paying tax?
The UK has a double tax agreement with many countries, which means you won't have to pay tax both in the UK and your new country of residence.
You might want to consult a tax adviser or financial planner to help you arrange your tax status, and you should make sure your bank knows that you're no longer living in the UK.
Borrowing and loans
If you need a loan to buy property in your new country or to get you started abroad, some banks offer lending specifically for expats. Some lenders might be able to make a loan available in a choice of currencies.
By Emily Bater
[SeanSocialShare]