Get the answers to FAQs on current accounts, then compare quotes to find the right deal for you.
See also:
Which current account is right for me?
Finding the right current account will depend on your individual situation, as products have different features and benefits which could help you stay out of the red or boost interest on your money.
Read more in our beginners' guide to current accounts.
How easy is it to switch current account?
It's easier than ever to switch products since the Current Account Switch Guarantee - also known as the seven-day switch - came into effect in 2013.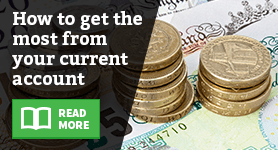 Before that, it could take up to 30 working days to switch accounts, with different processes used by different banks and building societies.
Now, the new bank does most of the work.
How do you switch bank account?
It's really simple to switch accounts, just follow these steps:
Once you've chosen your new provider, tell your bank that you want to move
Fill in some forms and provide two forms of ID
Your new bank will contact your current provider and start the process

Did you know...?

There are two types of overdraft, authorised and unauthorised

Your new bank will ask which standing orders and direct debits you wish to transfer over
Select a date for the switchover to happen
Remember to tell your employer if you switch bank accounts so that your wages end up in the right place.
How do overdrafts work?
There are two types of overdraft, authorised and unauthorised.
An authorised overdraft is a predetermined deficit agreed with your bank, which you'll be charged interest for using.
An unauthorised overdraft is when you exceed your credit limit or your authorised overdraft limit - in this case you'll probably be charged a very high interest rate as well as penalty fees.
What's midata for current accounts?
Midata is a government-backed initiative aimed at improving personal finance comparison choices. When used for current account comparison, it enables consumers to see the right account choice for them based on their own banking history, rather than on any sort of modelling.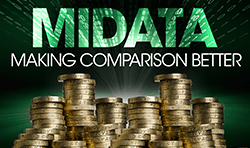 How can I find my midata file?
To make a midata comparison you'll need your midata file from your current bank.
To find this, first log onto your online banking... the next step will depend on your particular provider, but we've put together a guide on how to find your midata file.
What's a challenger bank?
Challenger banks are new firms in the UK that have been hailed as the answer to the troubled industry, 'challenging' the major, established banks, forcing competition and making existing providers work harder to keep and win customers.
Is my money safe if a bank goes bust?
Banks (including challenger banks), building societies and credit unions in the UK are backed by government protection under the Financial Services Compensations Scheme (FSCS). This offers compensation if an institution goes bust, but note that there are limits which apply per person and per firm.
What's AER? How does it differ from the APR?
AER stands for 'Annual Equivalent Rate' and it shows the gross rate after compounding has been taken into account. AER is applied to savings accounts.
APR (Annual Percentage Rate) is used to compare the interest rates for credit cards and loans and shows how much you'll pay back over each year of a loan term.
Did you know...?
If you're always in credit, your current account could offer benefits such as attractive interest rates and cashback
What's a basic bank account?
Basic bank accounts are useful for learning or re-learning how to manage your money, for people with bad credit ratings who struggle to get another account, or for those who just want to keep things as simple as possible.
What's a packaged current account?
Packaged current accounts or premium accounts have additional features to a normal account, for which you usually pay a monthly fee.
Which current account is suitable for someone in debt?
If you're often in the red, consider an account with an overdraft. Always try to avoid unauthorised overdrafts, but if you feel you may struggle to do this look for an account that doesn't charge too much for going into the red. Look at the interest rate, the daily fees and any caps to fees that may limit the cost.
Can I get more interest from a current account than a savings account?
It's possible that a high-interest current account will offer better returns than a dedicated savings account, but note that limits and restrictions may apply.
Can I hold more than one current account?
It is possible to do this and this can be a way to maximise interest returns, but it may require some time and organisation to ensure you comply with all the terms and conditions - read more about managing multiple current accounts.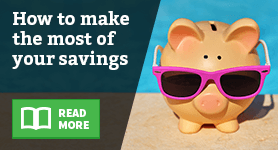 What's compound interest?
Compound interest is interest that's paid on interest. It's worth understanding as it can give you major, long-term benefits when saving and can have a big negative effect if you're in debt.
What's an offset account?
With an offset account your current account balance and/or savings don't pay interest but instead are used to reduce the amount of interest you pay on your mortgage.
If such an account is suited to your circumstances it may be a flexible and tax efficient option that could save you money.
What's a cashback account?
Cashback current accounts allow you to earn money back on your day-to-day banking such as household bills and other direct debits.
Did you know...?
Children can have bank accounts from the age of 11
How do student accounts work?
Student accounts are widely available to those in higher education and typically offer interest-free overdrafts and a variety of incentives.
How do graduate accounts work?
Once you've left university, you may be transferred into a dedicated graduate account which could ease the move from a student account to a standard bank account. Many graduate accounts offer an interest-free arranged overdraft at a level that will decrease over time, but don't assume this will be the best option for your needs - shop around!
Can children have bank accounts?
Yes, children's current accounts are typically available to youngsters from the age of 11. From the age of 16 they'll have access to more sophisticated accounts.
Do you offer business bank accounts?
Gocompare.com DOES NOT currently offer a comparison service for these products, but you can read more about them in our business bank account guide.
Do I need a special account for a charity?
It's possible to run a charity's finances through a personal bank account, but this may not be appropriate so it's worth considering a dedicated charity bank account.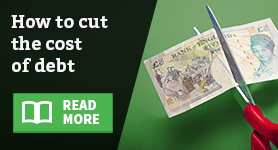 How can I bank ethically?
There are ethical providers for most financial products and ethical banking involves researching a provider to ensure its values are in line with yours. You may also want to consider our article on Islamic and other religious banking.
How long does a cheque take to clear?
It takes six days to have certainty of funds for money paid in by cheque - you may be able to earn interest and withdraw the money sooner, but you'll have to repay if the cheque bounces. Read more about the cheque clearing process in our guide.
How do I stop a continuous payment being taken from my bank?
While you can easily stop a direct debit or standing order by contacting your bank, a continuous payment authority (CPA) is more problematic because your contract is with the business you pay, not with your bank.
As a first port of call, contact the firm to tell it you want to stop the payment, and keep evidence of your instruction. If the company fails to cancel the payment, you'll need to contact the bank, building society or credit card company which the account is held with to notify it that you wish to cancel the CPA.
This still may not stop the company taking further payments, but if money's taken after you've requested a cancellation from your bank or card company, it should be fully refunded by the account provider.
What's a dormant bank account?
Dormant accounts are those that have been left inactive for some time. Your bank should try to contact you before an account becomes dormant.
Is taking out a joint account a good idea?
Joint accounts can be useful for couples and others with shared living arrangements, but think very carefully before tying your finances to anyone else's as it can impact on credit ratings and more. Do your research before committing with the help of our guide to joint current accounts.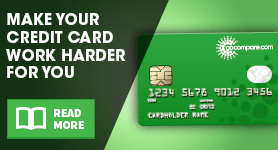 When are there charges for bounced payments?
A bounced payment occurs when there isn't enough money in your account to fund a pre-arranged payment. Charges will vary from account to account and they're one of the factors you should consider when comparing deals.
Can I keep my account number if I switch banks?
No, bank account number portability is not currently possible, but it is another area being considered by the industry as the government seeks ways to increase switching numbers and encourage competition in the market.
How can I contact my bank?
There are an ever-increasing number of ways to contact your bank and certain institutions will be stronger in some areas than others; some banks may, for example, have a strong local branch network, others may only offer online banking and will have no high street presence. Read our article on communicating with your bank for more of the things to consider.
Can I get my money back if I make an online payment to the wrong place?
The rise of online banking has increased problems with misdirected payments and if you accidentally miskey an account number or sort code, errant payments can't simply be reversed. Read our article on reclaiming misdirected payments on the steps to follow to try to reclaim your money.
Banks are willing to offer free current accounts because they believe there's a good chance that customers will then take out additional products
What's a CHAPS payment?
The Clearing House Automated Payment System (CHAPS) is a way of transferring large sums of money between bank accounts in the course of a working day. It's often used for house purchases.
Is my bank the best place to get a loan?
Having an established relationship with your bank may help you gain access to a good deal on a loan, but never assume that loyalty pays - shop around for loans with the help of a site such as Gocompare.com.
Is my bank the best place to get a mortgage?
The same 'shop around' guidance applies for mortgages as well as loans... Gocompare.com can help you compare mortgages and/or speak to a mortgage adviser.
Is my bank the best place to get a credit card?
As with loans and mortgages, the advice has to be to shop around. Gocompare.com can help you compare credit card deals.
Is my bank the best place to go to get foreign currency?
At the risk of sounding like a broken record, you should shop around! Read more in our guide on how to get the best exchange rates on foreign currency.
If most accounts are free, how do banks make money from them?
Banks are willing to offer free current accounts because they believe there's a good chance that customers will then take out additional products such as a credit card or a mortgage with them.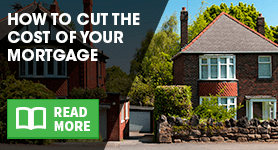 Banks also make money when customers go into the red. Read more in our article 'Are current accounts really free'?
What are my banking options if I move abroad?
If you're moving abroad you'll need to order your finances at home and consider options overseas such as international accounts, offshore accounts and a local account in your country of residence. Read our guide to expat banking for more information.
Why is it so important to find the right current account?
Current accounts are the financial product you use most often, so ensure that you're making the most of your money by shopping around for the right deal.
And remember that you don't have to stick with the same account.
Any other questions?
See if you can find the answers in our current account guides.
By Abbie Laughton-Coles