The basics of current accounts explained, including types of account, how to switch, bank charges and other factors to consider.
Key points
Find the right account based on the way you communicate with a bank, its reputation, the type of account you need and any associated fees
Switching banks should be hassle free and completed in seven days
What's a current account?
Current accounts are the hub of all your financial activity, used for daily transactions such as paying bills and buying groceries, and typically being linked to mortgage payments, direct debits, credit cards and savings accounts.
Despite all this, many people trundle along with the same account they've had for years without realising that there are a vast number of options available to them, many of which could better suit their needs or lifestyles.
Shopping around for the right current account could lead to significant financial benefits in the long term.
Communicating with your bank/customer service
Before choosing a current account, consider how you can contact the bank or building society should you have any queries or need to carry out a transaction.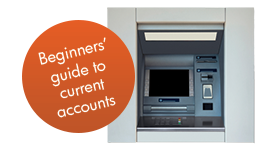 If it's important to be able to speak to an adviser face to face, choose a bank with a local branch near to you.
When looking at telephone and internet banking options, think about whether free phone numbers are available and do some research into what customers have been saying about service levels.
While many companies are moving away from responding efficiently to direct mail, social media is a growing area of service for banks and building societies, with many using sites like Twitter and Facebook for answering queries.
Again, do your research on the company you're thinking of committing your money to.
Applying for a new account
Opening a new current account can be done in a branch, on the phone or online.
You'll need to present the bank or building society with two forms of ID and proof of your current address such as a bill, as well as filling out a new account form.
Switching current accounts
Although it may seem like a hassle, switching current accounts should be a straightforward process and you could find an account which helps benefit you and your money.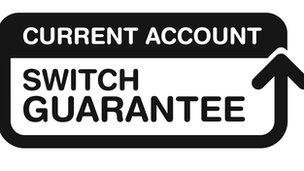 The Current Account Switch Guarantee makes it easy to change your account quickly and your new bank will take care of closing your old account and moving across all your ingoing and outgoing payments.
Look out for the Current Account Switch Guarantee Trustmark displayed by the banks and building societies participating in the service, which the majority of the UK banking market is signed up to.
Midata for current accounts
The midata initiative improves current account comparison by simply and easily connecting a customer's actual banking behaviour with the account options that are in the market.
Using midata, customers are able to see the actual pounds and pence benefit or cost they would incur by switching to a particular bank, allowing them to make a much more informed decision when considering account options such as the ones below.
A joint account lets you have a single account in the name of two or more people, and can be a way for couples and people who live in shared houses to divide the cost of outgoings, for example rent or bills
Some types of current account
Overdraft accounts
If you find yourself constantly in the red at the end of each month, you may want to consider a current account that offers a low interest or interest-free overdraft facility.
Never go over the pre-agreed overdraft limit without the bank or building society's permission - it will result in charges which could be very steep and have an impact on your credit rating.
High interest accounts
Some current accounts offer interest rates to rival or even beat savings accounts. Note that this may only be for an introductory period or could depend on factors such as how much money you have in your account and/or how much you pay in every month.
Some high-interest accounts may also charge a monthly fee, so always read the product's terms and conditions.
Packaged accounts
Packaged accounts are offered by most banks and building societies, typically for a monthly or annual fee.
They're essentially a current account with some additional benefits which could include things like:
The disadvantages of a packaged account are that you could pay more for combined benefits than if you purchased them separately, and the additional products may not be suitable for your needs. For example, you may be ineligible for some of the benefits because of your age or job.
Remember that you may already have some of the insurance cover from alternative sources, so always check to avoid needlessly doubling up.
See also:
Cashback current accounts
Cashback current accounts let you earn money back on your day-to-day banking. This could be by paying you back a percentage on your direct debits and standing orders.
Others will pay money back when you purchase by debit card (in certain shops), or reward you for keeping your account in credit.
However, these accounts will have conditions applied to them. For example, you may have to pay your salary into the account, or deposit a certain amount monthly. Many will charge a monthly fee.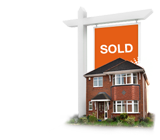 Offset mortgage accounts
An offset mortgage account will use the money in your current account to reduce your monthly mortgage repayments or mortgage term.
This is in place of any interest you would receive on your account for being in credit.
Such an account might be worth considering by those who tend to keep a large amount of money in their current account and/or easy-access savings account - remember that, unlike with savings, any benefits associated with cutting your mortgage arrears won't be subject to tax.
However, you should beware of fees and consider whether there are better rates available from more traditional mortgage products.
Basic accounts
Basic accounts and/or bad credit current accounts may be suitable for those who have a poor credit score and want to get their credit rating back on track. They're not subject to a credit check.
Accounts will allow deposits and withdrawals (providing you have sufficient funds available), but there's unlikely to be an overdraft option or cheque book available.
Student accounts typically have features like interest-free overdrafts, plus extra perks like travel cards
Joint accounts
A joint account lets you have a single account in the name of two or more people, and can be a way for couples and people who live in shared houses to divide the cost of outgoings, for example rent or bills.
Advantages include the ability to see exactly what everyone is contributing on monthly statements.
Children's accounts
Children's bank accounts are available to kids from the age of 11. They may be given a debit card so that they're able to withdraw cash and make purchases in shops, and some accounts will let them set up direct debits and standing orders, too. They may also have access to online and mobile banking.
There are usually two types of accounts depending on age, an 11-16 account and a 16-18 account. Neither will have access to an overdraft.
Student accounts
Being a student can be a costly business, so consider a specially designed account to help you make the most of your money whilst at university.
Student accounts typically have features like interest-free overdrafts, plus extra perks like travel cards.
Some student accounts offer a tiered 'leaving' structure once you've left university, helping you to pay off a certain amount of your overdraft each year before progressing to another account.
Did you know...?
You don't have to be a follower of a particular faith - or any faith - to open a religious account
Graduate accounts
Graduate accounts could help ease the financial transition from the student to the working world.
You may still have an interest-free arranged overdraft, but the limit will usually steadily decrease over the course of a couple of years.
Religious accounts
Special religious accounts are available which enable the holder to carry out normal banking transactions whilst being faithful to their religion.
For example, Islamic accounts follow Shariah-approved banking laws and won't pay or debit interest.
Charity current accounts
If you're running a charitable organisation you may consider opening a charity bank account which will let you manage your money for the everyday needs of the charity.
This could include deposits and outgoings such as donations or employee's wages.
If your charity is recognised by HMRC (HM Revenue & Customs) you can get interest paid gross of tax and reclaim it back on Gift Aid donations. For more information on this, visit the HMRC website.†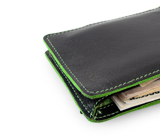 Business/corporate accounts
A business account will help with the daily running of your company.
It's important to establish a relationship with your bank or building society as you may want to look into other products in the future, such as a business loan or commercial mortgage.
Also, they may be able to appoint a specialist account manager to help with any queries you have.
Note that you may have to pay standing charges periodically and/or transaction charges - a fee for the bank handling money.
Some banks may offer free banking for an introductory period, but after this time charges may increase drastically.
Remember that the bank or building society that you hold your personal account with may not be the right one for your business, so make sure you shop around.
Each named account holder will have a debit card to access the money, so you'll need to make sure that you can fully trust any other potential holder before giving them access to funds.
Offshore accounts
An offshore account refers to any account registered outside the UK where there are different tax laws and regulations.
If you live or work abroad, they can be useful for transferring money between international accounts in different currencies.
Did you know...?
Funds from dormant accounts are transferred to a central fund which contributes to charitable causes
Note that you may have to maintain a minimum balance in your account, deposit a minimum sum to open the account, and/or pay an annual fee.
Also, these accounts are not regulated by the FSCS (Financial Services Compensations Scheme) which offers a government guarantee for your money if a bank, building society or credit union goes bust.
Bank charges
It can be quite easy to rack up bank charges on your account, whether it's for going over your approved overdraft limit or for bounced direct debits and cheques.
Once you're in a cycle of debt it can be quite hard to try and escape, especially when you keep getting charged every time you're in the red.
Try to make sure that you don't spend beyond your means and, if you aren't the savviest of spenders, think about drawing up a budget so you know exactly how much money you have for what.
It could be possible to reclaim your bank charges if you think they're unfair by appealing to your bank, which could refund or partially refund the fees as an act of good will.
Alternatively, you could take your case to the Financial Ombudsman Service which tends to deal with reclaims involving serious financial hardship.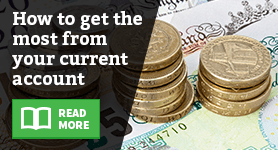 Dormant bank accounts
After around 15 years of account inactivity, if a bank or building society can't contact the account holder then it will be declared dormant.
It will then no longer be possible to access the account and the money will be transferred to a central fund which contributes to charitable causes.
It may still be possible to retrieve this money by completing a claim form from the British Bankers' Association† (BBA) or the Building Societies Association† (BSA) to trace the account.
This process could take up to three months, though. You can contact the provider directly if you know who the account was with.
It can be possible to trace an account in relation to the will of a loved one, but you will have to prove your entitlement to any money that is traced.
By Abbie Laughton-Coles