Guide to interest-paying current accounts
Key points
Can pay attractive interest rates - possibly better than dedicated savings accounts
There may well be in-depth terms and conditions attached to interest payments - make sure you understand them
If you're paying a fee, make sure the benefits you gain outweigh the costs
High interest-paying current accounts are unlikely to be the right choice for those who regularly use overdrafts
Our midata tool can help you work out exactly how much an attractive interest rate is worth to you
Many banks and building societies pay interest on a range of current accounts as one of the key features used to attract customers to the products.
These rates can be better than those offered by the top savings accounts, although they may only be on offer for a limited period, for example the first year you have the account.
Some accounts may pay different interest rates depending on how much money you have in your account, and the best-paying options are likely to cap the amount you can earn interest on.
You may need to pay in a minimum amount into the account each month to qualify for interest, while others may charge a monthly fee.
There may also be other criteria - for example, your salary may have to be paid into your account, or you may have to transfer all your direct debits and standing orders to the bank.
Opening multiple interest-paying current accounts
Depending on your circumstances and how organised you are with your finances, you may want to consider opening multiple high interest-paying current accounts.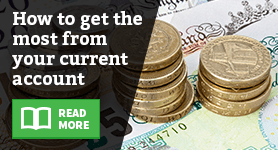 This could potentially help maximise the interest return on your money, but you'll need to have the time, patience and organisational skills to manage the terms and conditions to your best advantage.
If this sounds like too much hassle, remember that there are a variety of ways to make the most of your savings and boost the returns you see.
Interest rates on current accounts
When you're looking at interest rates on current accounts - for example on a best buy table on a comparison website - you'll see the acronym AER.
This stands for Annual Equivalent Rate and is the amount of interest you'll earn over a year, including the effect of compounding - interest earned on interest.
Applying for a high-interest bank account
You'll need to pass a credit check in order to open a high-interest current account, and it's possible that a rejected application could have a negative impact on credit scores held on you.
Do some research into products you're likely to be accepted for before you apply, and learn more about ways to improve your credit history.
Need more information?
Make sure you shop around
As with any financial product, you should shop around and find the right product for you.
When you're looking for a high-interest account, think about how much money you'll pay into the account each month and how much will be left after you've paid your bills, as well as the interest rate.
It could be you'll earn more interest on your money from a savings account, so make sure you take a look at what's on offer there, too.
Things to watch out for on interest-paying bank accounts
If you're paying a monthly fee, make sure you're earning more from interest and/or other benefits such as cashback so that you end up in profit.
The interest rate might be cut after a certain period, for example a year, at which point you might want to think about switching to a different account.
If you go overdrawn without having arranged it with your bank first you'll be hit by charges, which are likely to wipe out any interest you've earned.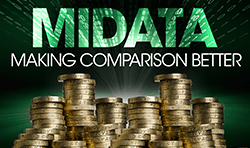 Midata and interest-paying accounts
One of the advantages of the midata initiative is that customers are able to obtain a clear idea of how much they may gain from interest-paying banking options and of available accounts that may be more suitable to their needs.
Midata allows a consumer instant electronic access to up to 12 months' worth of his or her current account transactions, including all fees charged and rewards gained.
This data can be instantly, electronically fed into a comparison site such as Gocompare.com which will then show the different current account options available, with customers seeing the actual pounds and pence cost or benefit they'd get by switching to a particular one.
Just remember, though, that as midata bases its calculations on your current account usage over the previous 12 months, it won't factor in any additional cash you may be able to plough into a high-interest current account from a savings account that could be offering poor interest returns.
[SeanSocialShare]