Start comparing high-interest current accounts today
Key points
Can pay attractive interest rates - in some cases it may be more than dedicated savings accounts
There may well be in-depth terms and conditions attached to interest payments - make sure you understand them
If you're paying a fee, make sure the benefits you gain outweigh the costs
High interest-paying current accounts are unlikely to be the right choice for those who regularly use overdrafts
Our midata tool can help you work out exactly how much an attractive interest rate is worth to you
You want your money to work as hard as possible for you, and a high-interest current account can help. 
These accounts are essentially the same as everyday current accounts, but they offer higher rates of interest on the money you keep there. 
A few accounts even offer better rates than the top savings accounts, but there are usually a number of caveats involved.  
Some might pay different rates of interest depending on how much money you've got in your account, while others may set a cap on the amount you can earn interest on. 
Banks may also set other criteria, such as how much you need to pay in every month, or requiring you to set up a minimum number of direct debits and standing orders. 
You may even be charged a monthly fee, so you'll need to decide if the amount of interest you're earning makes this charge worthwhile or not.  
Applying for a high-interest current account 
Applying for a high-interest current account is usually straightforward, and mainly involves shopping around until you find the deal that's best for you.  
You'll be told what eligibility criteria is necessary before you make an official application – this may focus on how much you earn, although some accounts are only available to existing members of certain banks.  
You'll also need to pass a credit check, and it's possible that a rejection could have a negative impact on your credit score.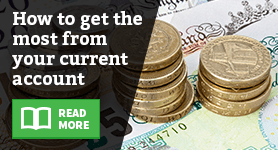 To take advantage of the best high-interest current account deals you'll usually have to swap your current account completely, moving from one provider to another – and that includes transferring all your direct debits and standing orders.  
That sounds complicated, but thanks to the introduction of the Current Account Switching Service (CASS) in 2013, the whole process is hassle-free and can be completed in just seven working days.  
Plus, many banks offer tidy incentives for making the switch, such as cashback deals or shopping vouchers.  
Alasdair Walker, a chartered financial planner says, "People often complain that interest rates are so low it's not worth the time or effort, but if you keep £1,000 in an account offering 1.5% interest, you'll have earned £15 for what amounts to five minutes' work. 
"As long as the bank has full UK Financial Services Compensation Scheme (FSCS) protection and your savings are within these limits, it's simply a case of earning more for no extra risk."  
Are high-interest current accounts good for large sums of money? 
This depends on how much money you're talking about.  
Most high-interest accounts set a cap on how much cash is eligible for interest. If your total exceeds this, you may be better putting the surplus elsewhere. 
For example, if you have £5,000 and your high-interest account only pays decent interest rates up to £2,000, the remaining £3,000 won't be as working as hard for you as it could be in, say, an ISA or another dedicated savings product.  
However, if you're organised and are willing to spend some time every month moving things around, you could open up several different high-interest accounts to help maximise your returns even more. 
Opening multiple high-interest bank accounts 
There are no rules to say you can't have more than one high-interest account, but to get the full benefits you'll need to spend some time making sure you're meeting the eligibility criteria for each of them.  
Typically, each account will require you to pay in a certain amount each month and you may have to have a minimum number of direct debits.   
To maximise the interest you earn among multiple accounts, you may have to spread your direct debits among them, and then every month transfer money back and forth to ensure their minimum deposit requirements are reached.  
This can be worth doing if you've got a lump sum that exceeds interest caps set by individual accounts (and you're organised enough to keep on top of everything), but it's not recommended if you don't have much surplus to play with, or if you rely on an overdraft facility.  
Failing to meet the minimum requirements set by these accounts can result in the loss of the attractive interest rate, and in some cases lead to additional charges. 
Need more information?
What to watch out for 
Some accounts will charge a monthly fee so make sure you're earning enough from the interest or other benefits, such as cashback, that you end up in profit.  
Some banks also only offer high-interest rates for a limited time, usually in a bid to attract new customers, before dropping them to much lower rates. 
Make a note to review your account after this period (usually a year or two) and consider switching to a different bank to make sure your money is still working as hard as possible for you. 
These types of accounts probably aren't suitable if you rely on an overdraft facility, as most will require a minimum balance for the best interest rates.  
If you think you might need an overdraft in future, make sure you arrange one with your account provider – if you go overdrawn without permission you'll be hit with charges that will wipe out any interest you've built up. 
What's the best high-interest current account for you? 
There are a number of high-interest current accounts on the market – the right one for you will depend on how much money you want to deposit, and how easily you're able to meet the minimum eligibility criteria. 
The best account for your situation may not simply be the one with the highest interest rates – be sure to check for caps, direct debit requirements, promotional period lengths and introductory offers, too.  
Rachel England