If you're opening your first bank account, what documents do you need and what should you consider?
Key points
You can open your first bank account from the age of 11
Consider the features each bank offers and whether you're better off with a children's or an adult account
You'll need to provide documents to prove your identity, although banks are sometimes flexible with this for children's accounts
Many people in the UK have held a current account since they were a child, although it might have been opened with the help of a parent or guardian, rather than by them personally.
Yet in its March 2015 report,† the Financial Inclusion Commission revealed that nearly two million adults in the UK don't have a bank account, which accounts for 3.6% of the adult population.
Without a bank account you might find it difficult to pay bills, receive your salary and register for services.
Making your first bank account application should be a straightforward process, even if you've never done it before.
Whether you're applying for your first account as a young person or as someone who's newly resident in the UK, you should get a few things in place to make the process run smoothly.
Choosing your first bank account
When you open a bank account for the first time, you'll have a choice of ways to apply.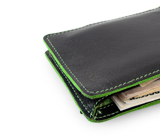 You may want to go into a branch to apply and to discuss what you need from your account.
However, you might find it easier to compare current accounts online and see all the features available in an easy-to-view format.
Gocompare.com makes this easy, by listing all the relevant features in an easy-to-understand table.
What to look for
For children, who may not have access to facilities like debit cards or chequebooks, the main focus might be how much interest the current account pays.
Older teens, students and adults will want to check that the account has the right functionality for their purposes, such as a debit card to withdraw cash or an overdraft facility.
Although you might choose your account based on the availability of branches close to where you live, most accounts will also offer online banking to make your account accessible wherever you are.
The application process
Once you've chosen your account, whether you choose to apply in person or online there will be an application form to fill in.
You'll also have to provide some proof of identification before the account can be opened.
How old do you have to be to open a bank account?
You can open your first current account from the age of 11.
Did you know...?
Children can open their own bank account from the age of 11
Many children's accounts have age ranges of 11-to-16 or 11-to-18-years-old.
Adult bank accounts are usually available to applicants over the age of 18, although some are available from 16-years-old upwards.
What documents do you need to open your first account?
You'll usually be asked to provide two forms of identification documents to open your first current account - one to prove your identity and the other to prove your address.
The types of identification documents you'll need to provide will depend on whether you're applying for a children's account or an adult account.
Adult account opening documents
To open an adult account, you'll usually need to prove your identification with a form of photo ID such as a passport, driving licence or ID card.
In addition, you'll probably need a separate proof of address, which might be a utility bill or benefits document.
If you're new to the country you might need to provide a reference from an employer or your university.
Children's account opening documents
Banks understand that children don't often have photographic ID so they're sometimes more flexible on proof of identification.
A birth certificate or NHS medical card are the most common requirements.
As a separate proof of address, sometimes letters from schools or colleges are accepted instead.
Alternatively, banks may accept documents that are in the name of a parent.
Some banks might accept children for a current account without these documents if a parent is already a customer.
Alternatives to a first bank account
If, for whatever reason, you experience difficulty in getting accepted for your first bank account, there are a couple of other options.
Basic bank accounts can often accept applicants that have difficulty accessing standard banking services due to credit history issues, as can credit unions.
Both will still require documents to verify your identity, although they may be more flexible in what they ask you to provide.
By Derri Dunn
[SeanSocialShare]