Guide to overdrafts on current accounts
Key points
Overdrafts can be expensive - try to avoid them!
If you know you're going into the red, speak to your bank - arranged overdrafts will be much cheaper than unarranged ones and there may be other options
Be aware of the way fees are calculated and, if you're not getting the right deal, switch accounts
Our midata comparison tool can help you find out exactly how much overdraft charges are costing you and what options you can switch to
Different types of overdraft
Current accounts with arranged (or authorised) overdrafts are not as common as they used to be, but banks and building societies still offer many options.
It's important to understand the difference between an arranged and an unarranged (or unauthorised) overdraft.
An arranged overdraft is agreed in advance with your bank or building society. You might be charged a fee, but it'll be lower than for an unarranged overdraft.
An unarranged overdraft, on the other hand, is when you go into the red on your current account, or go over a pre-agreed overdraft limit, without your bank or building society's permission.
The fees and charges can be very high and it could affect your chances of obtaining credit in the future by impacting on credit ratings, so you should try to avoid doing this if at all possible.
Tips for avoiding overdrafts
A simple but valuable tip could be to consider moving your direct debit and other payment dates in line with the date that your pay or other income comes into your account, something which could help you avoid going into the red at particular times of the month.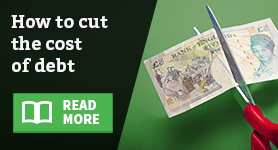 If you know that you'll be overdrawn for an extended period of time, you should obviously be reviewing your income, expenditure and budget.
If you've done that and you're still in trouble, look into your options - it's possible that remortgaging, taking out a loan, or using a credit card could be a more suitable choice than a long-term overdraft.
Overdraft buffers
Some current accounts offer a fee-free buffer, so if you go a little bit overdrawn you won't be charged and your payment won't be rejected.
This is usually a very small amount and you should be careful about exceeding it. You'll also usually be expected to deposit enough money to make sure you're back in credit as soon as possible.
On 14 November, 2014, Gocompare.com checked 135 current accounts on the matrix of independent financial researcher Defaqto and found that there was a trend for slim overdraft buffers.
Of the 135 accounts, 91 had an overdraft buffer available, but 47 had a buffer of £5-£10, 40 had a buffer of £12-£50 and just four had a buffer of £100.
Applying for an overdraft account
You'll have to apply for an overdraft account and, as part of the application, the bank or building society will carry out a credit check.
Did you know...?
Certain accounts base overdraft charges on a fee for every day the account is overdrawn
In April 2014, FCA research into the overdraft market concluded that products did not offer good value and that costs confused customers
Your overdraft limit will be set based on your account provider's assessment of your financial circumstances.
So if a limit of £1,200 is advertised you might get more or less, depending on the lender's perception of your ability to repay it.
Some accounts will also require you to pay a minimum amount of money each month into the account in order to qualify for a fee-free overdraft.
Overdraft fees
There are several different fees and charges you might pay on an overdraft:
Arranged overdraft fee
This is a fee that you'll be charged if you don't have a fee-free arranged overdraft. Some banks and building societies cap the amount you can be charged in a month, but others don't.
Interest
You may be charged interest instead of, or in addition to, fees. Even if your overdraft is fee free, check whether you'll be charged interest for going overdrawn.
Unarranged overdraft fee
This is a fee you'll be charged for going overdrawn without your bank or building society's permission. Charges are high, although they may be capped at a certain limit per month.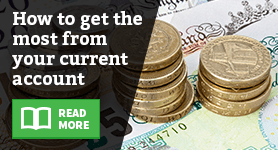 Daily fees
Certain accounts base their overdraft charges on a fee for every day that the account is overdrawn. While this sort of arrangement may benefit some customers, it may well be an expensive overdraft option.
In an April 2014 discussion on daily fees on the BBC's Money Box show,† financial journalist Paul Lewis said that APRs on some such overdrafts could be "entering payday loan territory".
Managing your overdraft
You can usually set up alerts to be sent via text message or email telling you when you're heading toward an unarranged overdraft. If you so desire you can ask for your overdraft facility to be closed.
On the other hand, you might be allowed to have your limit extended. This will depend on your personal circumstances and credit rating, but you should also beware of becoming dependent on this type of borrowing.
What to watch out for
If your overdraft only lasts for a certain amount of time - say six months or a year - make sure you've paid off your debt in that time, or have a contingency plan in place so you don't get charged unarranged overdraft fees.
If you are unhappy with how much you are being charged, we recommend you shop around for an account better suited to your needs
Eric Leenders, British Bankers' Association
If you think you're getting close to going over your overdraft limit, contact your bank or building society to see what they can do.
Don't just go into an unarranged overdraft without permission, as the charges will be high and your credit record may be affected.
If you have a big bill that needs to be paid, the danger is it might be rejected and this could cause an even bigger problem for you.
FCA review of overdrafts
In April 2014, the Financial Conduct Authority (FCA)† published research into the £8bn overdraft market, concluding that products did not offer good value and that the costs confused customers. The regulator was concerned that:
Overdrafts were not a prime factor when switching current accounts
Banks therefore have little incentive to give good value overdrafts
Consumers do not take account of overdraft costs
Overdraft use quickly becomes habit
Increased overdraft limits can be perceived by customers as their bank 'trusting them'
The FCA is investigating how providers set and monitor overdraft limits and their governance and strategies for doing so.
Did you know...?[2]
In 2011, 34% of personal current account revenue for UK banks and building societies came from overdrafts
Unarranged overdraft charges revenue was £1.7bn in 2011
As of April 2014, over 30 million of the UK's 61 million personal current accounts had an overdraft facility
As of July 2013, £8bn was owed to UK banks and building societies in arranged overdrafts
"Just about everybody who banks can have access to some sort of overdraft facility - whether they've signed up for it or not," said Christopher Woolard of the FCA.
"The sheer size of this market is huge and with overdrafts bolted on to over 30 million UK current accounts, we want to make sure it is working well for consumers."
In response, Eric Leenders of the British Bankers' Association told the BBC:† "Millions of people find overdrafts are an easy way to borrow money, more flexible and convenient than taking out a loan.
"Anyone who uses this type of borrowing receives details of how much they are charged in their accounts statements.
"Overdraft charges have plummeted in recent years, with estimated savings of up to £928m for customers since 2008. But if you are unhappy with how much you are being charged, we recommend you shop around for an account better suited to your needs."
Midata and overdrafts
One of the key advantages of the midata initiative is that customers are able to obtain a clearer idea of how much they pay in overdraft charges and of available accounts that may be more suitable to their needs.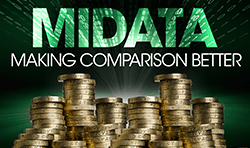 Midata allows a consumer instant electronic access to up to 12 months' worth of his or her current account transactions, including all fees charged.
This data can be instantly, electronically fed into a comparison site which then shows the different current account options available, with customers seeing the actual pounds and pence cost or benefit they'd get by switching to a particular one.
Gocompare.com is the first comparison site to offer this midata service for current accounts. When you search for accounts through us, follow the simple, on-screen instructions to use this enhanced comparison service.
The benefits of finding the right deal could be significant. A 2015 report from the Competition and Markets Authority † (CMA) claimed that heavy overdraft users could save up to £260 a year if they switched to the right account.
By Sean Davies