Our guide to RBS current accounts
Often taken for granted, there can be many reasons to compare and switch current accounts. Perhaps you don't currently have an account best suited to your needs? Here we have a look at RBS current accounts to see how they stack up.
Key points
RBS offers several different current accounts for all types of customers
Customers may be able to earn cashback on their household bills with some accounts
Compare a range of current accounts before deciding on the one best suited to your circumstances
Chartered in 1727, the Royal Bank of Scotland (RBS) slowly expanded its reach through Scotland, and then into England during the late 1800s. Although it has branches across the UK, its main business is concentrated in Scotland.  
It offers several different financial services, from personal banking to corporate and business accounts. Let's take a closer look. 
RBS account 
One of the most important accounts you'll ever own, a current account is there to help you manage your money easily and effectively. They often offer interest on the balance, or may have an overdraft facility available.  
RBS offers a range of current accounts, including ones for students, graduates, and those under 18.  
RBS current account 
For a simple, easy bank account with no frills and no fees, RBS does offer an everyday current account. It can be managed from a mobile banking app, and it can be offered with the option of an arranged overdraft.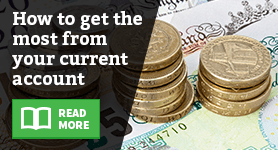 RBS student and graduate accounts 
Students and graduates both have the ability to take out a standard RBS current account, if they meet the acceptance criteria. However, the financial difficulties frequently faced by students are well documented... So as an added bonus, both graduates and students may be entitled to an interest-free overdraft. Do bear in mind though that an overdraft is a loan, so you will have to pay it back in full regardless of how much of it you use.
Current accounts for under 18s 
Teenagers may also be able to get their own bank account with RBS. Those over 16 would be able to apply themselves, but those aged 11-15 will need a parent or guardian to set it up for them. It may offer a debit card, but there's no option for an overdraft, perhaps unsurprisingly.
Cashback and reward accounts 
If you want to make your bank account work for you, RBS occasionally offers cashback accounts. Outside of the rewards, these operate like a standard current account. 
When available, these accounts may offer a certain amount of money back on things like bill payments from the account. Other features like a card offering discounts on dining experiences, or certain travel insurance options may also be available. 
See also:
As ever, keep your ear to the ground for special offers, and be sure to compare to check what's available. 
RBS foundation account 
Those who've been declared bankrupt, or who have experienced other forms of serious financial problems, may find it difficult to be approved for a bank account. 
Fortunately, banks like RBS sometimes offer such customers a very basic account with no monthly fees or overdraft options. 
Such accounts can come with a debit card, to allow purchases and cash withdrawals, and a mobile banking app to make looking after the account easier.  
RBS reviews 
The easiest metric of a provider's quality is to look at customer reviews. However, not all of the sites that offer such a service verify that the feedback they accept comes from genuine customers, so it cannot easily be trusted. 
Did you know...?
The Royal Bank of Scotland invented the overdraft in 1728
Defaqto offers a way around this. Every year, it reviews financial service providers solely by the products themselves, looking at the quality of the product and how comprehensive it is. Ratings are listed out of five, with five stars indicating a top product. 
In 2018, the RBS Select Account was given the full five stars, while the reward account was given four, indicating that RBS offers high-quality, comprehensive products.  
However, banks change products and services from time to time, and reviews don't always necessarily indicate what's going to be best for you. 
Consider using midata to find an account that suits your individual circumstances, and always shop around and compare. 
By Nick Dunn