Our guide to Santander current accounts
Not all bank accounts are created the same, which is why it's always a good idea to compare. Here, we take a closer look at current accounts, and see how Santander's stack up.
Key points
Santander offers several different current accounts
Customers may be able to earn cashback and interest with some of Santander's accounts
Several of the accounts operate an interest-free overdraft
Santander was formed in January 2010, when Abbey National was merged with the savings business and branches of Bradford & Bingley, as well as the defunct Alliance & Leicester, and renamed.  
Santander now offers a wide range of current accounts intended to suit every customer's needs.  
Santander current accounts 
In April 2018, Santander offers customers a cashback account, which provides cashback for a monthly fee. The cashback is then given on payment of certain bills. 
The cashback can be also be earned at a variety of major retailers where you spend on your Visa debit card. Other potential benefits might include preferential rates and special deals on Isas, home, car or travel insurance, and investments. 
Please bear in mind that rewards accounts like these often require certain eligibility criteria. Plus incentives change from time to time, so always shop around to see what's available.
Student accounts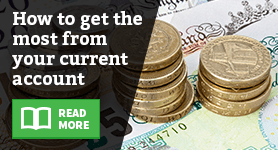 For student and graduate accounts, the potential offers are administered slightly differently. Rather than earning cashback on payment of bills, students might enjoy cashback rewards at certain major retailers. 
Students could also be offered interest based on the amount of money in the bank. Students may also be entitled to an interest- and fee-free overdraft. However, bear in mind that an overdraft is a loan, so it'll need to be paid back in full.
Other specialist Santander accounts 
There are usually more basic current accounts on offer, which might include features like fee-free overdrafts. These accounts may even be provided to customers who've been declared bankrupt, but - again - applicants will usually have to meet certain eligibility criteria. 
On the other end of the scale, those with high incomes may be interested in more bespoke accounts. These bank accounts – available to select individuals – could offer personal support from a relationship manager to help administer your finances.  
Santander reviews 
One way to determine the quality of a product or service before using it is to look at customer reviews. However, few of the sites that offer customer feedback actually verify that the feedback comes from genuine customers, so they cannot be wholly trusted.  
See also:
So, for reviewing a bank account ahead of time, looking at the Defaqto rating is a potentially useful measure of the quality of the account. Defaqto is an independent financial services reviewer and provides annually-updated ratings out of five stars for a product's quality and comprehensiveness. 
The Santander products and services that Defaqto reviewed in 2018 all earned a minimum of three stars, but some earned five stars. 
The best reviewer of services most suited to your requirements, however, is you. There are certain indicators such as midata which may be able to take your personal circumstances into account, and point you in the right direction. But ultimately, finding the right current account is a matter of shopping around, comparing, and going with what's right for you. 
By Nick Dunn