What do you need from a student bank account? Find out about overdrafts, fees, freebies and more before comparing current account options.
Key points
Typical student accounts offer interest-free overdrafts and a variety of incentives
When choosing an account, don't let freebies distract you from key financial considerations
If you're not happy with your bank, compare options and switch
You're heading to university and your priorities are getting a good degree, making lifelong friends and having a lot of fun along the way. 
But with a student loan and bills to pay, you'll also be looking to maintain first-class finances. 
Finding a student bank account 
Alison Maguire, money advice and support office manager at Swansea University, says, "A recent survey conducted revealed four in five students constantly worry about money.  
"The stress brought on by money worries has been found to have disastrously negative effects on studies and general health and wellbeing. Don't let money worries get you down." 
Your student bank account, which your student loan will be paid into, should have an interest-free overdraft.  
You won't pay any interest on your overdraft until you graduate from your course. But if you exceed your overdraft limit you are liable to pay some heavy fees, so don't max it out. 
Banks offer different interest-free overdraft limits and it's always worth reading the small print to see if what they say they are offering is really what you'll get.  
Did you know...?
You'll need your university/college and course name details before you can open an account
Postgraduate accounts are broadly similar to student accounts, but don't typically come with additional extras such as a free railcard
Be wary of freebies 
Banks are competitive creatures by nature, and they'll typically try to lure students into current accounts with offers of free stuff. This can range from railcards to discount vouchers to laptops (yes, really).  
But don't be swayed by the swagger. The most important thing you should look for in a student bank account is the biggest and longest agreed 0% interest overdraft you can possibly get. 
Making the time to compare accounts now will save you trouble, money and time later on. 
What you'll need to open an account 
You'll need your university/college and course name details before you can open an account.  
You will be credit checked, although there might not be anything to check unless you're already on the electoral roll, or have a  credit card, mobile phone contract or some other form of credit. 
Choosing an account 
Amy Close, student funding and advice manager at Cardiff University, says: "When deciding which bank to go with, we recommend that you do your homework and choose the one that best suits your situation.  
See also:
How to cut the cost of debt
"Look through the different incentives and think about whether you would actually be better with a bigger overdraft rather than a rail card or vice-versa!   
"Use your student account responsibly, make sure that you know your arranged overdraft limit and check your bank account regularly to avoid charges. Remember that the money you borrow has to be paid back eventually.  
"To escape any interest charges, make sure you know the terms and conditions of your account, including what happens once you've left university." 
Overdrafts 
An overdraft enables you to access money even when there's no available credit in your account.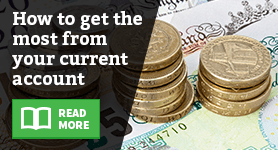 Close continues, "Remember that an overdraft is a limit, not a target and it should only be viewed as a source of money to help you manage your cash flow between student loan payments. Careful budgeting is still essential." 
Alison Maguire says, "This is the bank's money so you must be cautious and use your overdraft wisely. You'll have an interest-free overdraft, but should you exceed the agreed limit you'll pay huge charges and rates of interest. Our advice to you is to avoid going over your agreed overdraft limit at all costs. 
"If you think you may exceed the limit, you should discuss this with your bank as soon as possible to see whether they could extend your overdraft or temporarily cap the charges until you can afford to pay them off.   
"Communication is key. Get in touch with your bank - pop in to your local branch or give them a ring - but ensure you do this before exceeding your limit. Many banks will appreciate your honesty, and in some cases overdue charges may be waived entirely." 
Online banking 
Sign up to online banking to save yourself the time and hassle of trudging down to the bank or cash point whenever you want to see your statements. 
Online banking allows you any time access to your bank statements, and the ability to transfer cash, make payments, and set up or cancel direct debits and standing orders all at the click of a mouse.   
It's also the perfect budgeting tool, as ease of access allows you to keep on top of your finances and keep tabs on exactly where you're spending your money. 
By Catherine Evans