What do you need from a student bank account? Find out about overdrafts, fees, freebies and more before comparing current account options.
Key points
Typical student accounts offer interest-free overdrafts and a variety of incentives
When choosing an account, don't let freebies distract you from key financial considerations
If you're not happy with your bank, compare options and switch
All of the major banks offer a dedicated student option among their range of current accounts.
The main thing that differentiates a student current account from a standard account is that they usually offer an interest free overdraft while you're studying.
The amount of overdraft offered will vary between accounts and some offer other benefits as well.
Benefits of a student account
Most student accounts will offer an interest-free overdraft. This will sometimes be tiered, so it increases each year throughout your degree course.
On 17 November, 2014, out of 14 student bank accounts listed on the matrix of independent financial researcher Defaqto, four offered a tiered interest-free overdraft that increased over the years.
The remainder had the full interest-free overdraft limit available from the first year.
If you choose an account that offers you a large interest-free overdraft in year one with no increase, you'll have to take extra care to manage your money carefully so you don't max out the interest-free amount too early.
You'll also be given a debit card, which you can use to make withdrawals at ATMs and pay for things electronically instead of using cash.
Some student current accounts pay interest on in-credit balances, although the rates aren't generally that high.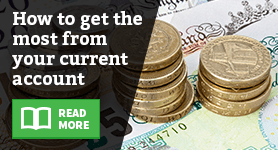 Most banks also offer various other incentives that may include:
Free 16-25 Railcards
Free high street discount cards
Commission-free foreign currency
Insurance
Specialist advice services
While these incentives may sound tempting, if you're not going to use them then they're not worth having. Others may offer freebies such as toys, games, vouchers, or electronic gizmos.
While the thought of 'something for nothing' may seem attractive, such considerations are probably not the best thing to base one of your most important financial decisions on!
What you need to know about student overdrafts
The size of the overdraft on offer is likely to be the most important factor for many students. Of the 14 accounts checked on Defaqto, the interest-free overdraft limit available varied between £1,000 and £3,000.
Remember that the overdraft limit is a limit, not a target
Just bear in mind that this will need to be paid off at some point, so bigger isn't always better if it leads to extra temptation to spend.
You should also be aware that you may not get the maximum interest-free overdraft advertised, as your individual limit will be based on a credit score.
However, some banks do guarantee to give you this upper limit, so always check whether the overdraft limit on offer with the student bank account is 'guaranteed' or only 'up to'.
Also, some banks won't give you your maximum overdraft limit when you first start college or uni - instead you'll get it in stages, perhaps increasing each term or year.
This might help you manage your money more easily over the full length of your course.
Some accounts may ask you to pay in a minimum amount each term, so if you choose an account with these conditions, make sure your earnings, student loan payments or other income will be enough to meet them.
And remember that the overdraft limit is a limit, not a target.
Did you know...?
You'll need your university/college and course name details before you can open an account
Postgraduate accounts are broadly similar to student accounts, but don't typically come with additional extras such as a free railcard
If you do go over your fee-free overdraft limit, you'll soon rack up high charges and penalties.
Midata and student accounts
The midata initiative gives customers a clearer idea of how much they may gain from the various banking options open to them based on their actual account activity rather than modelling, suggestion, or any freebies.
Midata allows a consumer instant electronic access to up to 12 months' worth of his or her current account transactions, including all fees charged and rewards gained.
This data can be instantly, electronically fed into a comparison site such as Gocompare.com which will then show the different current account options available, including the actual pounds and pence cost or benefit someone would get by switching to a particular one.
However, customers such as students need to take care when using such an enhanced comparison service. Their overdraft may considerably increase year-on-year as they study, meaning that what they need from their account will change.
When they eventually graduate, their circumstances may quickly change again, hopefully because they have a greatly increased income from a graduate job.
In all such instances, an analysis of the previous 12 months of account use may not be the best way to secure the right deal for the future.
If you search for bank accounts using Gocompare.com we can offer you both a standard comparison table and an enhanced, midata-powered option.
If your circumstances are in the process of change, you may want to consider using our standard comparison table to do your own evaluation of the pros and cons of the options out there.
Then, when your finances become more settled, give the midata-powered comparison a try to make sure you're making the most of your money.
Other things to bear in mind
In the past, having a branch of your bank on or near campus was very important.
Nowadays, with all debit cards accepted at nearly all ATMs, plus online and mobile banking, you don't near to be anywhere near a branch, unless you're going to need to regularly pay cash or cheques in.
So don't let location sway you into signing up with a bank if you could get a better deal elsewhere.
Opening an account
You'll need your university/college and course name details before you can open an account.
You will be credit checked, although there might not be anything to check unless you're already on the electoral roll, or have a credit card, mobile phone contract or some other form of credit.
What happens at the end of my course?
Once you reach the end of your course, you may be allowed an overdraft for another year while you get settled into the working world.
Or you might want to switch to a graduate account, which will still allow you a fee-free overdraft, but only for a year or two before it starts to charge interest.
Postgraduate accounts
Some banks also offer postgraduate accounts, which are broadly similar to their student accounts, although they don't typically come with the additional extras such as a free railcard or discount card.
Can I switch my student account?
Finally, don't forget that you can switch student accounts from year to year. So if you're not happy with yours, why not move to another bank?