Get the answers to FAQs on TV packages, then compare prices to find the right deal for you.
How do I get a digital signal for my TV?
Ways of receiving a digital signal include:
See also:
Digital receiver
Satellite TV
Cable
Broadband connection
What equipment do I need?
All new televisions will be set up for digital TV, while most old sets can be converted using a digital box. This can be purchased with a one-off payment or may be supplied by your channel provider.
How do I pay?
There are two main digital television payment options:
One-off payment: Purchase a digital box for access to free channels. There are then no further costs (apart from the compulsory television licence fee) and no contracts. This is often known as Freeview, but other providers offer a similar service
Monthly subscription: Pay for a channel package through a provider such as Sky, Virgin Media, Now TV or BT TV, who will supply the necessary digital box. Costs are higher than with the Freeview option, but there's more channel choice and digital box features available
Are there any extra fees?
When you first sign up to a TV package, you may pay a discounted rate as part of an introductory offer.
Providers like Sky, Virgin Media, Now TV and BT TV are also experts in broadband and bundling your services together can make sense
Be aware that as soon as this offer expires, your bill will go up. You can prepare for this by budgeting or by shopping around for a better deal before you reach the end of the offer. You may be charged a fee for cancelling your contract early though, so always check with your supplier.
Depending on who your provider is and which bundle you opt for, you may also have to pay setup costs. This will cover the installation of your new equipment and will be a one-off fee.
Your line rental (where applicable) will be included in your monthly bills.
What else should I consider?
Which channels you can receive and provider you can use will depend on the area you live in
Many new TVs are much more energy efficient than old analogue sets
Providers like Sky, Virgin Media and BT TV are also experts in broadband and phone services so bundling these together can make sense 
What bundles are available?
There are a wealth of different packages available but it all depends on who your provider is.
You may be able to bundle the following together:
Bundles generally work out cheaper and are much more convenient when it comes to paying your bills.
TalkTalk include a mobile SIM with 200MB a month of data in some of their broadband, landline and TV plans. Other providers will usually offer a mobile deal at a discounted rate if you buy a bundle from them.
What about high definition?
High definition offers a superior picture and quality of sound to normal digital televisions.
You must have a 'HD ready' television to be able to watch HD programmes. HD televisions carry a higher resolution than standard TVs and full HD TVs have an even higher resolution.
4K or ultra HD provides the highest resolution with four times that of full HD.
You'll also need to get your hands on a HD receiver - this may be built into your TV in the form of Freeview. If not, your digital TV provider should be able to equip you with a HD box in order to receive high definition channels.
If you're using a digital box, you'll also need a HDMI cable to connect it to the TV.
Should I get a 3D TV?
If you really want to immerse yourself in the programmes you love, a 3D TV may seem appealing.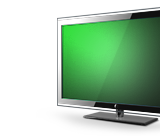 However, TV manufacturers Samsung and LG have pulled 3D compatibility from their TVs due to a lack of demand. TV providers have also followed suit with Sky scrapping its 3D channel and moving its 3D programmes over to its on-demand services.
You can still enjoy 3D TV providing you have the right equipment.
You'll need:
a 3D-enabled TV
the right digital HD box and package from your TV provider
a HDMI cable
3D glasses
Check what channels you'll have access to with your TV provider and make sure you're signed up to the package that best suits your viewing habits.
Any other questions?
See if you can find the answers in our digital TV guides.
By Sean Davies