I believe I can Thai – Compare flights to Bangkok
Whether you're travelling to Bangkok on holiday or for business, you'll need to figure out your flights.
Key points
The cost of flights to Bangkok can vary greatly, depending on things like when you go and the flight type
You can get direct or multi-leg flights, but direct flights tend to be more expensive
Don't forget to compare different flights to see what suits you (or your budget) best and hopefully save a bit of cash too!
You don't want your flights to Bangkok to turn into an even bigger disaster than the blunder-filled 2017 Southeast Asian (SEA) Games.  
Malaysia, the host country, mixed up eight out of 11 national flags during a medal tally broadcast, got the Indonesian flag wrong in the official souvenir booklet (which really offended Indonesia), and even got its own flag wrong during the men's swimming finals! 
To help you avoid getting as muddled as that, we've made this handy guide to help you sort out your flights to Bangkok, so you can get back to eagerly anticipating your trip.  
Flights to Bangkok 
The cost of flying to Bangkok can vary greatly, depending on the flight type, when and where you're going, and the class you want to travel in.  
Let's take a look at the types of flights you can get to Bangkok, and some of the departure airports you can get them from.  
Airline prices and routes can change though, so make sure you do your own research before you book your flights.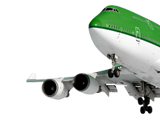 Direct to Bangkok flights 
Direct flights are the quickest way to get to and from Bangkok, but it also tends to be the most expensive option.  
With a direct flight, your plane will go straight from A to B. For example, if you were leaving from London Heathrow, your plane would travel straight to Bangkok, without making any stops along the way.  
Most direct flights take around 11 to 12 hours each way, and can cost anywhere between £500 and £5,000 for a standard economy return.  
If you want to splash out, higher classes - like first, business and premium economy - can cost anywhere up to £26,000!  
Some airports don't offer direct flights, so bear this in mind when comparing travel plans, as you may have to look at alternative UK departure airports.  
Multi-leg or layover flights 
You'll probably see multi-leg flights for long-distance travelling, and they can be referred to as layovers or stopovers.  
With a layover flight, your plane will stop off at another airport before continuing the journey to your end destination.  
For example, you might catch your flight in Manchester, have a layover in Abu Dhabi, before continuing on to Bangkok.  
Layover flights might take longer than direct ones, but they could be a bit cheaper.  
Flights with lots of stops can be better for airlines because they combine multiple trips into one. Going back to the above example, some passengers on that flight may be getting off in Abu Dhabi, which allows new passengers who want to go to Bangkok to get on.  
Did you know...?
While in Bangkok, you may come across some Thai restaurants with awesome names, like 'Thai-tanic', 'Eye of the Thai-ger' and 'Ain't nobody got Thai for that'
This is more efficient that having lots of individual direct flights, as the airline would need the below direct flights, just to cover this route: 
Manchester to Bangkok 
Manchester to Abu Dhabi 
Abu Dhabi to Bangkok  
Some multi-leg flights even have two or three stops before getting to Bangkok. Popular stopover locations include Abu Dhabi, New Delhi, Dusseldorf and Istanbul. 
Pit-stop in Bangkok 
Is Bangkok not your final destination? If you're heading somewhere like Phuket, Koh Samui or Chiang Mai, you might find your flight has a stopover in Bangkok.  
Flying to the UK from Bangkok? Welcome! 
There are two airports in Bangkok - Don Mueang (DMK) and Bangkok Suvarnabhumi (BKK) - and they both offer plenty of flights to UK cities, like London, Manchester and Birmingham.  
See also:
Holidays to Bangkok
Worldwide travel insurance
You can get direct or multi-leg flights to the UK from Bangkok. Whether you get your flight to the UK as a single journey or as part of a return ticket, it's up to you to decide and find out what's cheapest or easiest.  
That's where comparing flight prices comes in useful, as it allows you to see the best options for your trip, as well as some of the cheapest deals.  
Our top tips for getting cheaper flights to Bangkok include avoiding flights at peak times, booking in advance, flying midweek and - of course - comparing flight prices.  
Enjoy your Bangkok trip, and don't forget your travel insurance!  
By Amy Smith