Compare flights before you say Ciao to Bari
Touch down in Italy in comfort and style with our guide on flights to Bari.
Key points
You have several options for direct flights to Bari from the UK
Gatwick, Stansted and Luton are London airports you can fly direct from
Liverpool and Dublin are other options for direct flights (correct May 2018)
Thinking about a break in Bari, Lecce, or the wider Puglia region? Buona idea! The heel of Italy offers everything you'd want from a visit to Bella Italia, and it's only a three-hour flight away. 
Vibrant yet historic cities. Sun-drenched coasts. More olives than you can shake a stick at... The south-east corner of Italy has it all. So without further ado, let's look at flights to Bari.   
Flights to Bari  
If you're flying into Bari, or the Apulia area, chances are you'll be landing at Bari Karol Wojtyla Airport.  
Bari Karol Wojtyla Airport  
Located five miles northwest from the centre of Bari, Bari Karol Wojtyla Airport is quickly becoming a hub airport for the Med. 
You might also hear locals mention Palese Airport. This is just another name for Bari Karol Wojtyla Airport. Ditto with Bari International Airport.  
Wondering who Karol Wojtyla is? It's the birth name of Pope John Paul II.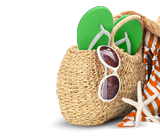 Airport transfers  
You've a couple of airport transfer options getting to and from the airport. The Tempesta Shuttle Bus takes about 30 minutes and drops you in central Bari. It costs five euros and runs hourly. There's also local bus routes that serve the airport which are cheaper but take longer. 
Prefer the train? Head to Bari Aeroporto railway station. The train takes 16 minutes, drops you in Bari Centrale, and costs five euros. Finally there's taxis, and that'll set you back around 25 euros. All facts and figures were correct in April 2018. 
Top tips for cheap flights to Bari  
Flights will likely go up around 7-9 May and 6 December. These are the celebration days for old St Nick. Pilgrims come flocking from around the world (especially Russia) for it. Expect fireworks, re-enactments and music at Bari's Festa di San Nicola. Big games involving FC Bari 1908 could also be a factor. The Italian national team has also used the Stadio San Nicola for home qualifiers. 
Otherwise here's a few tricks to help you find cheap flights to Bari: 
Did you know...?
Santa Claus' bones are in Bari. Visit St Nicholas's shrine in the Basilica di San Nicola
Book early (or molto late) 
Non-direct flights may work out cheaper 
Be flexible with your dates - midweek usually costs less 
Don't always book a return ticket with the same airline - sometimes two one-way tickets can cost less 
Compare the price of flights to Bari from UK  
You've got a couple of options on getting to Bari from Blighty. 
Flights to Bari from London 
London Bari flights are likely to go from either Gatwick or Stanstead. When we looked in April 2018, British Airways and easyJet offer direct flights to Bari from Gatwick. Head to Stansted if you're after Ryanair flights to Bari from London. At the time of writing, Wizz Air started offering direct flights to Bari out of Luton.   
Flights to Bari from Liverpool 
You can fly direct from Liverpool as there are Ryanair flights to Bari. Again, this was true in April 2018. 
See also:
ATOL protection for flights and holidays
Travel insurance for Europe
Flights to Bari, Italy from Birmingham  
No direct flights to Bari from Birmingham were available when we checked in April 2018. 
But there appears to be plenty of options if you're looking for a connecting flight. Frankfurt and Rome are likely to be where you'll change.  
Manchester to Bari flights  
There were also no direct flights to Bari from Manchester in April 2018. Your cheapest option is likely to be to travel to another UK airport and catch a direct flight. Otherwise you're looking at changing planes at an Italian airport, such as Milan or Venice. 
By Sam Easterbrook