Heading to Boston? Compare flights before you go
Looking for cheap and ideally direct flights to Boston? You've come to the right place. Take to the skies with our flight comparison.
Key points
In April, 2018, you could book direct flights to Boston from London Heathrow and Dublin
The time-zone difference means Boston is five hours behind the time in the UK and Ireland
Compare flights well in advance to try to get the cheapest price
One of the oldest cities in the United States, Boston is a hub for international flights to the US. 
To help you on your journey, we've put together a handy guide on the flights to Boston. 
Cheap flights to Boston 
Home to the world-famous Harvard University, Boston was also the site of the rebellious Boston Tea Party of 1773, which preceded the War of Independence in 1776.  
Now, it's the most populous city in the region of New England, and its Logan International Airport serves as a hub for flights both across the Americas and the rest of the world. It's also home to many famous celebrities, including best-selling rock bands Aerosmith and... er... Boston.  
We've got more than a feeling you won't want to miss a thing while on your travels to the US, so we've put together a guide to cheap flights to help you get the right one for you.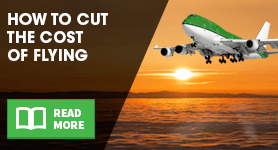 Flights to Boston from London 
Direct flights from London to Boston go from both Heathrow and Gatwick. But prices will vary depending on how far ahead you book your flight, and when in the year you want to go. 
In April, 2018, flights to Boston started from approximately £200, so shop around, plan and budget carefully. 
Flights won't always go directly, however, so check whether there's a changeover in your flight. This may affect the cost and will certainly affect the time it takes to get there. 
It takes between seven and eight hours to fly direct from London to Boston. Beware the time difference though. Boston is on Eastern Time, which is five hours behind GMT, so getting there may involve some jet-lag. 
Flights to Boston from Manchester 
Flying from Manchester to Boston can often involve a changeover in London, or elsewhere in Europe, which can affect the cost of the flight. 
In April, 2018, the cost of these flights could range anywhere from around £300 upwards, which makes it a more expensive departure airport to go from than from Heathrow or Gatwick.  
Direct flights to Boston from the UK and Ireland 
Most of the flights from the UK to Boston include a changeover. Going from Glasgow or Manchester usually involves a changeover at London Heathrow, or at Dublin. This does mean that you can get direct flights from Dublin, as well as from London Heathrow.  
The price difference between direct flights and those that include a changeover isn't necessarily exorbitant, but it may be worth investigating whether you can travel to Heathrow or Gatwick, or even Dublin, instead of paying for a changeover. 
By Nick Dunn