After gert lush flights from Bristol? Then you better compare quotes
Leave Somerset behind and see the world in comfort and style with our guide to flights from Bristol. 
Key points
Amsterdam is the most popular destination from Bristol Airport
The airline with the most flights and destinations out of Bristol is easyJet - you can fly to over 60 places
Bristol Airport can be convenient for flyers from Devon, Somerset, Wiltshire and Wales
Only eight miles from Bristol Temple Meads is the airport. Head here for cheap flights from Bristol to the world. But where can you go? Let's have a little looksy!  
Compare the price of flights from Bristol 
Want to go from Bristol but wondering where to head? Here's some of the most popular destinations out of Bristol Airport. All destinations, airlines and flight times were correct in May 2018.
Flights to Malaga from Bristol 
Off to sunny Spain? Looking for flights to the jewel of Andalusia? You've got the pick of a couple of airlines. At the time of writing, you can choose from British Airways, Ryanair, TUI Airways, and yep - easyJet. With a few to pick from, you can really compare prices to find the best deal for you. Flight time is just over two-and-a-half hours. 
Flights to Alicante from Bristol 
The Costa Blanca more your thing? Hit the beach via Bristol Airport with Ryanair, easyJet or TUI. With choice, comes competition - so you might bag a bargain. Expect flight times of two-and-a-half hours.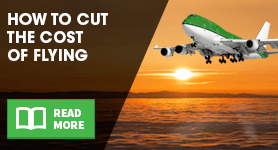 Flights from Bristol to Dublin 
If the Fair City is calling you, then you've got options out of Bristol. You can fly direct to Dublin with Aer Lingus and Ryanair when we had a butcher's in May 2018. Flights take just over an hour. 
Flights from Bristol to Amsterdam 
Amsterdam is the most popular destination out of Bristol. Or should we say Schiphol is. You can connect to pretty much anywhere in the world from the Dutch capital, making it a great transfer spot. But let's not forget the fantastic city break that the Venice of the North can offer. So who can you fly with? Take your pick from KLM or easyJet. It usually takes 80 minutes to go Dutch. 
Bristol to Paris flights 
Thinking of a romantic trip to the City of Love? Perhaps you're going on business. We'll go with the City of Light in that case. Fluent in French? La Ville-Lumiere then. Whatever you call it, if you're Paris-bound, don't be down and out - fly from Bristol. BMI and easyJet can take you there. Expect to be on the plane for an hour and twenty minutes. Tres bon!  
Bristol to Glasgow Flights 
Did you know...?
Bristol airport is the ninth busiest airport in the UK
Let's switch to domestic flights now with a quick look north of the border. Are you going to Weegie and curious who can you fly with? Currently you can go direct with easyJet. It takes 75 minutes through the air. Alternatively you could look at heading into Edinburgh... 
Flights from Bristol to Edinburgh 
Auld Reekie now. Can you guess who flies direct between Bristol and Edinburgh? Yep, it's easyJet again. It takes five minutes less than Glasgow too. 
Bristol to Newcastle flights 
Don't fancy the five-hour drive to the Toon? Nor the four-and-a-half hour train ride to Tyneside? Then the quickest way between Newcastle and Bristol is to fly. It takes just over an hour and easyJet can get you there. Howay the lads! 
easyJet flights from Bristol 
So you might have seen easyJet pop up a few times when we looked at destinations you can fly to from Bristol. That's because Bristol is a focus city for them. You can fly to over 60 destinations with easyJet from Bristol Airport.  
Flights to Bristol and airport transfers 
We've been looking outwards in this guide but maybe you're coming to Brizzle? And we can't blame you, Bristol is a banging city. It's also the closest airport to Glastonbury Festival. 
You'll find it about eight miles south west of Bristol. There's no train line (but there is talk of building one), so for airport transfers it's bus or taxi.  
See also:
Travel insurance for Europe
The Airport Flyer runs every 10 minutes during peak hours and comes and goes at all hours of the day. At the time of writing, it's £13 return if you buy on the day. It's cheaper if you pre-book. The return leg can be done up to a month later. 
Bristol Airport is also served by coaches that can connect you to towns and cities across Wales and the South-West. 
A taxi from Bristol Airport into the city centre will set you back around £30.  
Bristol Airport parking 
Thinking about driving to Bristol Airport? Then you're gonna need to read our guide to Bristol airport parking. 
Top tips for cheap flights from Bristol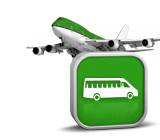 Whether it's holidaymakers heading for the sun or a city break, summer is usually the busiest time for Bristol Airport. As such, fares can go up during this time and at Christmas too. So what can you do?  
Book early (or very, very late) 
Try to be flexible with your dates - midweek usually costs less 
Flight prices change all the time. Why not set up some alerts?
Look at non-direct flights to your destination - it could work out cheaper 
You don't have to fly back with the same airline - occasionally two one-way tickets can cost less 
And always, always, shop around and compare prices. 
By Sam Easterbrook