Nu-mi vine să cred! It's time to compare flights to Bucharest
Sink your fangs in Romania's capital with our guide to flights into Bucharest.
Key points
Flight times from the UK to Bucharest is just over three hours
Direct London to Bucharest flights leave from Luton, Gatwick Heathrow, and Stansted
Many regional airports around the UK offer direct flights too
A lot of visitors see Bucharest as a stepping stone to Transylvania. But Bucharest is a fun, vibrant city that's definitely worth staying around for. Checking out the bonkers Palace of Parliament – a dictator's fever dream come to life – is reason enough. 
Add in some great nightlife, amazing museums, and beautiful parks and you've got yourself a great place for a break. So let's have a look at flights to Bucharest. 
Flights to Bucharest 
If you're flying to Romania then there's a good chance you'll be landing in Bucharest Henri Coandă International Airport. Bucharest does have another airport but it's only for cargo and private charters. 
Other possible spots include Târgu Mureș Transylvania Airport, and Cluj International Airport. And they're a five and seven-hour drive from Bucharest respectively.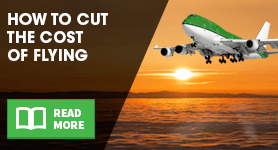 The flight time for the Bucharest to London route is around three hours.  
Bucharest Henri Coandă International Airport (IATA: OTP) 
You'll find the main airport for Bucharest 10 miles north of the city centre. Most locals will call it Otopeni, as that's the nearest town. And if you're wondering, Henri Coanda was a pioneer in Romanian aviation. 
Compare the price of flights from UK airports to Bucharest 
For flights to Bucharest from Blighty, you've got the choice of quite a few airlines and airports. All the following details were correct in May 2018. 
London-Bucharest flights 
Whatever side of London suits you best, you can find direct flights to Bucharest. 
For flights to Bucharest from Luton you've got the choice of two that go direct. These are Blue Air and Wizz Air. 
Did you know...?
Bucharest is home to the world's most expensive administrative building. The Palace of Parliament is also the heaviest building in the world
If Heathrow is more convenient then you've got the choice of another two airlines. You can pick from British Airways and TAROM. 
Looking for flights to Bucharest from Gatwick? It's all good, Wizz Air can get you there direct. Last but not least, Ryanair flies from Stansted.    
That's a lot of choice for London to Bucharest flights. So search around and compare what's out there to see if you can find some cheap flights to Bucharest. 
Birmingham-Bucharest flights  
If you're after some direct Bucharest to Brum connections, then you're in luck. Wizz Air and Blue Air can get you there. Shop about a bit and compare prices to find the right flights for you.  
Edinburgh-Bucharest flights  
We're ever so sorry, but there doesn't seem to be any direct flights from Edinburgh to Bucharest currently, but there is another option to reach Romania from Scotland. Direct flights from Glasgow to Bucharest exist, and Blue Air flies the route. Be sure to do your research before committing to a flight. 
Flights to Bucharest from Liverpool 
It's Blue Air again. It'll fly you out of John Lennon and into Henri Coanda. Nice one, sound, boss etc. 
Flights to Bucharest from Bristol 
If you're heading out of the West Country or South Wales, then Bristol may be the most convenient airport. Good job then that Ryanair can get you to Bucharest direct from Brizzle.  
Flights to Bucharest from Doncaster/Sheffield 
Doncaster Sheffield Airport is another option for direct Bucharest flights. Wizz Air is the airline that flies this route. 
Flights to Bucharest from Manchester  
At the time of writing, there are no direct flights to Bucharest out of Manchester. So search for connecting flights or consider heading to Liverpool John Lennon Airport. 
Top tips for cheap flights to Bucharest 
Fancy Halloween in Dracula's backyard? A lot of people come to Romania to do just that. Transylvania may be more accessible via Cluj or Târgu Mureș, but most people will fly into Bucharest and travel north. Expect airfares to increase in late October. 
Another big draw is Summer Well. This major music festival brings revellers in from across the region. Summer Well usually happens in August.  
Here are a few more tricks to help you find cheap flights to Bucharest: 
Look at flying to Bucharest and back with different airlines - sometimes a return is pricier than two one-way tickets 

Direct flights may be quick but they're not always the cheapest - consider flying with a stopover 
Can you be flexible with your flights? Weekends tend to cost more than midweek flights 
Booking early usually gets you the best prices 
On the flipside, booking really late can be a money saver - but this can be a risky option 
Whatever you do and whenever you fly, there's always time for a search. Compare what's out there and find the right Bucharest flights for you. 
Things to remember when flying to Romania 
You don't need a visa for Romania if you're a British citizen, and you can stay for up to three months. Any longer and you need to contact the Romanian Office for Immigration. You'll also need to contact them if you intend to work in Romania. 
It's a good idea to pick up a European Health Insurance Card (EHIC) before leaving the UK to complement your travel insurance. Romania is a member of the EU but, in May 2018, it's not in the Schengen area. 
While credit cards are becoming more popular, Romania remains primarily a cash economy. Pounds are not always easy to exchange, so sort your money before you go. 
Airport transfers to Bucharest 
Save yourself the stress and consider pre-booking your airport transfers. Get whisked to your hotel and start your break in style. Otherwise, you've got a couple of options on getting to Bucharest from the airport. These are bus, train and taxi. 
The Foreign and Commonwealth Office has a few words of warning, mind. It says to watch out for pickpockets on public transport to the airport and in the terminal. Also that "yellow taxis in Bucharest should list prices on the side of the vehicle and display a company name. There are frequent reports of foreign visitors being overcharged by taxi drivers." 
By Sam Easterbrook