Flying to Cancun? Compare it before you go!
A firm favourite among families and honeymooners alike, Cancun has a lot to offer visiting tourists - from pristine sands and sky blue seas to captivating history and colourful culture.
Key points
Indirect flight with a layover en route could prove to be substantially cheaper than a direct route
Avoiding peak times of the day, weekends and popular times of year could translate into cheap Cancun flights
As flights from UK to Cancun are considered long-haul flights, it may be worth avoiding budget airlines in favour of those that offer more comfort
With so much on offer when you arrive, the last thing anyone wants to do is blow their spending money on flights before you even leave. 
Luckily, we've got you covered with all the info you'll need to help you bag a bargain on flights and keep you flying high, even after you touch down. 
How long are UK flights to Cancun? 
With just under 5,000 miles separating London and Cancun, plane journeys from the UK to Mexico can be a lengthy trip.
Direct flights to Cancun from London typically clock in at around ten hours in total, making the trip across the Atlantic a textbook long-haul flight. 
As such, meals, drinks and snacks may be offered free of charge during the crossing, depending on who you fly with and what's included in your flight package. 
Which UK airports fly direct to Cancun? 
Direct flights to Cancun from UK airports are commonly available in London, Manchester and Glasgow. There are also fairly regular flights available from Birmingham, Bristol, Newcastle and Nottingham, albeit on a less frequent basis. Meanwhile, indirect flights can be found at a wide variety of UK airports, from Belfast and Edinburgh to Cardiff and Newquay.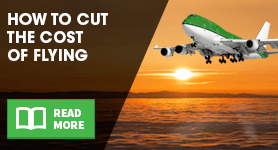 It's worth noting that the price may fluctuate from one airline to the next, so Thomson flights to Cancun may differ in price from BA flights to Cancun. 
Meanwhile, the departure airport can also affect the final figure. It may be worthwhile travelling to an airport outside your locality - sometimes hundreds of pounds more worthwhile - so consider all of the options before settling on a definite flight.
Finding cheap flights to Cancun from UK airports 
If you're on the hunt for a budget flight to Cancun, you may have a tough task on your hands. Tough but not impossible – there are ways to get the price down and economise.  
Flexibility can be a useful trait to have when it comes to cutting down costs. Flying a day or two either side of your target day could reap the rewards of a notable discount, as can booking outside of peak flight hours. 
If you don't mind leaving a day earlier than planned at an unsociable hour, you could well save yourself a hefty chunk and pad out your spending money in the process. Similarly, avoiding peak times of the year such as the school summer holidays can also have a big impact on price. 
How to save money on Cancun flights from UK 
From the very get go, booking up early can be well worth your while. If you know when you want to go in advance, you could bag an early-bird price if you get ahead of the curve and book up in advance. 
On the complete other end of the equation, waiting until the last minute can be hugely rewarding... Although the risk is exponentially greater, as there's no guarantee a seat will be available at all. Nevertheless, it could be worth considering if you prefer to be spontaneous. 
Another potential ace up the sleeve is opting for an indirect flight. While they may add a couple of hours to your journey, flying indirectly can be an instantly economical tactic. In fact, opting to go with a flight that stops along the way could see costs slashed – so keep an eye out if you don't mind the extra airport transit. 
To soften the blow even further, common stops for UK to Cancun flights include US airports like Miami and Atlanta, both of which are fairly well facilitated, making a layover more of a fun pit-stop than a chore. 
Prepare to land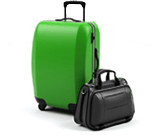 The route to Cancun goes through Mexico's second busiest airport, Cancun International Airport (CUN). With four terminals, the busy airstrip offers flights to over 30 countries internationally and more than 20 destinations within Mexico - all of which saw them welcome over 23.5 million passengers in 2017. 
With such a high level of passenger traffic passing through their doors on a daily basis, it should come as no surprise that Cancun International isn't short on facilities. CUN has a healthy selection of cafes, bars and restaurants throughout for you to choose from, while it also offers a whole range of duty-free shops in the departure terminals. 
Meanwhile, there are also various other services available, such as money-exchange facilities and a VIP lounge should you need them. The latter includes a range of useful features, from WiFi and conference facilities to air con and massage chairs. 
Whether you're breezing through post-arrival or hanging around waiting to return home, Cancun International has enough on offer to keep you fed, watered and entertained when you're passing through. 
By Martyn Grant