It's not unusual to get flights from Cardiff
Flying from Cardiff on the holiday of a lifetime? Or maybe you're flying in to visit Wales' capital city. Whatever the reason, find out why you should compare Cardiff flights and hopefully save yourself some cash!
Key points
Cardiff has a range of popular flights to and from many popular international destinations
You can get different flight types and ticket classes to suit a range of preferences
If you're flying in to Cardiff, be prepared for the rainy weather, bustling city life and varied landscapes of Wales
So you're off on your hols and you've noticed that your local Cardiff airport offers flights to your destination – yes!  
Before you hastily book your flight, you could compare Cardiff with other airports, Cardiff-based airlines, ticket classes, and flight types, to work out which is the most convenient (and maybe the cheapest) flight option.  
Flights from Cardiff – What's new pussycat?  
Whoa, whoa, whoa, whoa, whoa.
Sorry, we digress.  
Cardiff Airport (known locally as Rhoose, after the nearest village) offers a range of flights, with most going to and from popular areas of Europe, Africa, Asia and America. New Qatar Airways routes were introduced in May 2018.  
The cost of flying from Cardiff depends on the flight type, when and where you're going, and the class you want to travel in.  
But what's meant by 'flight type' and 'ticket class'? Let's get into the nitty gritty.  
Looking out my window – what flight types are there?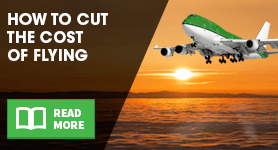 When you see flight type mentioned anywhere, all it refers to is whether you're flying direct to your destination, or if your flight has layovers. 
A direct flight will fly straight from your departure airport to your destination – for example, Cardiff to Edinburgh, or Cardiff to Amsterdam.  
A layover means your flight will stop in another airport before you get to your destination. Like Cardiff to Barcelona to Malaga, or Cardiff to Dublin to Alicante.  
You could even take a flight with a layover in a specific destination, if you wanted to.  
Airline prices and routes can change, so make sure you do your own research before you book your flights from Cardiff. 
She's a lady – ticket classes 
Ticket class refers to the level of luxury you travel in. There are three main types of ticket class: economy, business and first class. Some airlines also have premium economy tickets.  
Economy is usually the cheapest ticket class, and it gets you standard size seats, legroom and food, if inclusive. Premium economy tickets get you a bit more room.  
Business and first class tickets get you larger, comfier seats, more legroom and a better range of food and drink to choose from.  
If you're thinking "YOLO! Let's snap up some first-class tickets!", then you might want to hold your horses a sec. On some airlines, business and first-class benefits are very similar, even though business class tickets tend to be less expensive than first class.  
Check with the airline before you book to see if it's worth paying the extra money for first-class tickets, or if you can save yourself a few quid by going business, and still getting similar perks.  
The green, green (soggy) grass of home 
So Noah had to deal with 40 days and nights of rain – that's actually a pretty good summer for Wales! *wink* 
If you're looking for a place that looks great in the rain, then you'll love strolling around Cardiff in the ever-present deluge.  
While you're there, you might want to visit Cardiff Castle, the Principality Stadium, or perhaps take a trip down to the bay, to explore the Senedd or see a show in the Millennium Centre.  
To help get yourself in the Welsh spirit, you could sing a Tom Jones classic while you're waiting for baggage in Cardiff airport, maybe 'Delilah' or 'You Can Leave Your Hat On'.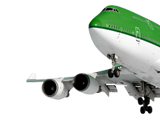 Actually, maybe don't sing that last one. Bit inappropriate for an airport.  
Mama told me not to come… 
… without comparing flights first!  
When you compare flights, you can measure up the costs of different airlines, flight types and ticket classes, as well as determine whether a return booking or individual single-way flights are more cost-effective. 
P.S. We're #sorrynotsorry for the cringey use of Tom Jones songs. 
By Amy Smith