Could you get an awesome deal on Cologne flights?
Put on a comfy outfit, grab your hand luggage and your wallet because we're taking you on a tour of Cologne flights. Don't forget your passport!
Key points
Direct and multi-leg flights to Cologne are widely available from all UK airports
As it's not too far away, consider whether it's worth getting business or first-class tickets
Try to be flexible with your travel dates, and avoid peak times to hopefully save money
We can't ensure a turbulence-free flight, but we can certainly help to see that booking a flight gets your trip off to the smoothest possible start. 
Compare a range of flights to Cologne to view some awesome deals and maybe save yourself a bit of cash too!  
Flights to Cologne 
Cologne was founded in the first century AD by the Romans, and there are still plenty of Roman remains lingering in Cologne today.  
Ruled by the archbishops of Cologne in the Middle Ages, Cologne first became a free city in 1288, following the Battle of Worringen for independence. 
Around 262 air strikes destroyed a lot of the city in World War II, and a master plan was made in 1947 to rebuild the city, making it a diverse place to explore.   
Cologne has one main airport, officially called Cologne Bonn Airport. It's the seventh busiest airport in Germany and is surrounded by the Wahner Heide nature reserve – we're off to a great start already!  
Direct flights to Cologne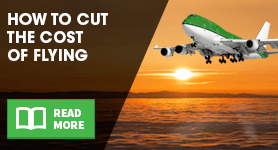 If you want to do the 300-odd-mile journey pretty quick, then you're in luck... There are plenty of direct flights to Cologne, and most of them take less than two hours!  
Popular direct flights between the UK and Cologne are available from Manchester, Glasgow and most major London airports, like Stansted, Gatwick and Heathrow. 
Multi-leg flights 
A multi-leg or layover flight is where the route takes you to another airport before travelling on to your destination.  
For example, you might have a flight starting in Bristol that stops in Venice, before continuing to Cologne.  
Other UK airports, like Birmingham, Cardiff and Edinburgh also have multi-leg flights to Cologne.  
Multi-leg flights may be cheaper than direct routes, so compare prices to see if it might be worth a slight detour. If you don't mind adding an hour or so to your journey, it might end up worth your while. 
Get the right ticket class for your flight to Cologne 
You can get four main ticket classes with most airlines: economy, premium economy, business and first class.  
The cheapest option, economy, will get you a standard meal and a standard seat – perfect if you don't want to shell out on an expensive flight ticket! If you wanted a bit more legroom, you could upgrade to a premium economy seat. 
Business and first class tend to have the roomiest seats, and better meals, drinks and other perks (first-class lounge anyone?).  
Before you dive right in and book your first-class tickets, check to see what perks the business class ticket offers – if it's not that different to a first-class ticket, go for business and save yourself some cash!  
Luckily, Cologne isn't too far away, meaning you won't be stuck on the plane for long. So, is it worth spending the extra money on your plane tickets? You decide!  
Top tips for cheaper Cologne flights 
Our number-one tip for getting a good deal on your flights to Cologne would be to compare different airlines, airports, travel dates and ticket classes, to find the ideal flight for you at a good price.  
We'd also recommend being flexible with your flight dates, as well as avoiding peak travel times. Booking far in advance could also help you save some money, and consider packaging your Cologne flights and hotel together. 
By Amy Smith