Dive into Denmark's capital and compare flights to Copenhagen
It's the GoCompare guide on flights to Copenhagen. Selv tak! (You're welcome)
Key points
Lots of airports in the UK offer direct flights to Copenhagen
Copenhagen Airport is a hub for the Scandinavian region
Copenhagen serves Denmark and southern Sweden
Tivoli Gardens, the free town of Christina, Scandi-cool and hygge. There are so many reasons to explore Copenhagen, and we haven't even mentioned the bacon. 
Copenhagen makes an excellent springboard to explore Denmark and southern Sweden. So let's look at your options for flights to Copenhagen from the UK. 
Flights to Copenhagen 
Unless you're hopping on a ferry or driving over from Germany, chances are you're heading to Copenhagen by air. If so you'll be landing at Copenhagen Airport. 
Copenhagen Airport 
Its official name is Copenhagen Airport, Kastrup or Københavns Lufthavn, Kastrup. But everyone calls it Copenhagen Airport. It's about five miles south of the city and 15 miles west of Malmo in Sweden. 
It's the busiest airport in Scandinavia and serves as a hub for the Nordic region. This means there are lots of options to fly here.  
Compare the price of flights from UK airports to Copenhagen  
You've got the pick of quite a few routes from the UK to Copenhagen. The airlines and airports below were correct in May 2018...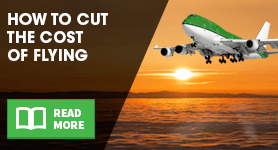 Flights to Copenhagen from London 
You've got the choice of four departure points for London-Copenhagen flights. 
British Airways and Scandinavian Airlines use Heathrow, while easyJet and Norwegian Air Shuttle take off from Gatwick. Finally, Ryanair heads to Copenhagen out of Luton and Stansted. So much choice means comparison is a must (but we would say that). 
Flights to Copenhagen from Manchester 
Doing Didsbury to Denmark? Then you're in luck, as two airlines fly direct from Manchester to Copenhagen. Have a look at easyJet and Scandinavian Airlines or look at other airlines if you're happy to fly non-direct. 
Flights to Copenhagen from Birmingham 
From the Midlands to Midtjylland, you've got the option of direct Birmingham to Copenhagen flights. Scandinavian Airlines flies this route and many others offer non-direct flights. Compare what's out there and see what you could save when flying from Brum.
Did you know...?
There is a second airport in Copenhagen called Roskilde, but it's very unlikely you'll land there
Flights to Copenhagen from Bristol 
EasyJet join the dots between Bristol and Brondby. It offers direct flights, but you might want to explore other airlines for flights with a layover. Have a look and compare what's out there.  
Flights to Copenhagen from Edinburgh 
London's not the only capital in the UK to be well served with direct flights to Denmark. Take your pick from easyJet, Norwegian Air Shuttle, Ryanair and Scandinavian Airlines. 
With this much choice, using a comparison service can be really useful to make the most of your money.  
But Edinburgh isn't the only option in Scotland. Scandinavian Airlines also flies direct to Copenhagen from Aberdeen. 
Flights to Copenhagen from Newcastle and Leeds Bradford Airport 
Jet2.com offers direct seasonal flights to Copenhagen from these regional airports. Otherwise, you can fly via another destination, or head up to Edinburgh or down to Manchester for more choice. 
Search around see which flights work best for you.
Things to remember when flying to Denmark 
Pack your EHIC. The European Health Insurance Card entitles you to the same level of medical treatment as a Danish national. But it's not a replacement for travel insurance. 
You don't need a visa to enter Denmark and you can stay up to three months. This is because Denmark is a member of the EU and the Schengen Area. 
But they don't use the euro so check the exchange rates for Danish krone. 
Top tips for cheap flights to Copenhagen 
Roskilde is one of the biggest music festivals in Europe. Airline fares can go up around the time of the festival, which tends to be in late June or early July. The Danes really get behind their football team to so keep an eye out for international fixtures too. Avoid these if you can, to stretch your krone. 
Otherwise here are a few tips that might help you find cheap flights to Copenhagen:  
Don't automatically book a return with the same airline. It can work out cheaper to fly with two different airlines 

Flying with a transfer or layover can work out cheaper than a direct flight - see what's out there 
Booking really late is a strategy to try and get lower airfares. It's risky one, mind 
The other big strategy is booking tickets the moment they go on sale – think about setting an alert 
Flying on the weekend can be pricey - can you do midweek instead?  
And as we always say, go compare flights to Copenhagen to find some super savings. 
By Sam Easterbrook