Here's what you need to know about flights to Cuba...
Looking at flights to Cuba? You've got lots of options for how to get there. Here's our guide on the best way to fly to Cuba from the UK...
Key points
Most direct flights to Cuba from UK land in Varadero
Think about a stopover for cheap flights to Cuba
Cuba has 10 international airports, but Havana is the biggest
Now is a great time to go to Cuba. It still has the old-school cool that Hemingway experienced. But the country is also making up for lost time. 
Boutique tourism companies are flourishing, chic cafes are opening, and the rum is flowing. 
Now let's look at how to get to Cuba! Flights might be a good start. 
Flights to Cuba  
Although Havana has a beautiful old harbour, the chances are you'll be flying in over the red tobacco fields of Cuba. Expect a nine or 10-hour flight from the UK.  
International airports in Cuba  
Cuba has a whopping 10 international airports. Yet the biggest by some margin is Jose Marti International Airport, near Havana. 
Fly to Havana - Jose Marti International Airport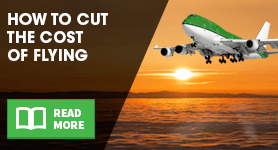 Located nine miles outside of Havana, Jose Marti International Airport is the most convenient place to land if you want to explore the city.
And as the third-busiest airport in the Caribbean, you have lots of routes to choose from. 
But, and you'll find this a lot in Cuba, there's no regular bus or train service between the airport and Havana. 
Package holiday providers will usually sort out airport transfers for you. If need to make your own way then it's a taxi. The ride usually takes 30 minutes and costs about £20. 
Why not fly to Varadero - Juan Gualberto Gomez International Airport 
The second-busiest airport on the island is located 12 miles from Varadero. Fly here if you're hitting the beautiful white beaches of the north coast. 
Package holiday companies tend to fly to Varadero over Havana. They'll also usually sort out transfers to your hotel. Always a good idea to check. 
If you're stuck then there's a regular open-top bus to Varadero that stops at most of the big hotels along the way. A day pass is roughly £3.50. Otherwise a taxi will set you back around £20. 
Catch a flight to Holguin - Frank Pais Airport  
Exploring the east of the island? Think about landing in Holguin. 
If you're coming to Cuba on a package holiday, you might be flying into Frank Pais (who doesn't love an airport named after a revolutionary?).
There's one bus a day that passes all the major resorts and costs about £10. Yet if you're on a package deal, they'll probably sort out your transfers too.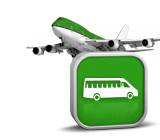 Getting to Cuba from the UK  
You've got a couple of options if you want to fly direct, and loads more if you're happy to change planes. 
Unfortunately the USA is unlikely to one of those stopovers. For all the improvements in the relationship, direct travel between the US and Cuba continues to be tricky. 
Flights to Cuba from London  
Writing in January 2018, Virgin Atlantic offers direct flights to Havana. It also flies to Varadero, as does TUI Airways. Thomas Cook flies direct to Holguin. All flights leave from Gatwick. 
Flights to Cuba from Manchester  
Holguin and Varadero are available as direct Manchester to Cuba flights. In January 2018, Thomas Cook Airlines offers this service. 
Are direct flights cheaper?   
They can be. But a stopover or two can open up some bargains. Shorter flights usually means budget airlines can step in, which often means cheaper plane tickets.  
How to fly for less to Cuba  
After cheap flights to Cuba? 
Mid-December to March plus July and August make up the peak tourist season in Cuba. 
Think about going outside these times for lower prices. Havana is fun any time of the year. 
Other things to consider: 
Be flexible - the month and even the day can affect the price  
Fly with a package-holiday provider - a percentage of all seats on package-tour companies' flights are available to independent travellers  
Non-direct flights can work out cheaper than direct ones 
Don't automatically decide to come back with the same airline - sometimes buying two one-way tickets can work out cheaper than a return 
Compare flights to Cuba  
Whatever you do and wherever you plan to go in Cuba, shop around and compare flights to find the right deal for you. 
You have a choice of airlines and destinations. There's plenty of options for cheap flights to Cuba from the UK. 
By Sam Easterbrook