Compare cheap flights to Denver with our handy guide
Fancy a trip to the Mile High City? Or a hiking holiday in the Rocky Mountains? We'll help you find the right flight for you.
Key points
Flying to Denver from the UK takes about nine hours
The price of a ticket depends on when you book your flight and what class you travel in
You may get jet lag, as the flight crosses several time-zones
Capital of the US state of Colorado, Denver is the highest major city in the United States – located exactly one mile above sea level. So, if you want to join the infamous club, why not book a romantic holiday for two to Denver? We can help you get good flights at the right price for you.  
Flights to Denver from the UK 
A lengthy nine-to-10 hour flight awaits travellers from the UK to Denver. We recommend settling in with a good book – or perhaps the filmography of David Fincher, a notable resident of Denver. 
For all that they're long, most of the flights to Denver from the UK are direct. You can go from London Heathrow to Denver in one journey. Depending on when you book your ticket in relation to your time of flying, the seat may not even be that expensive. You could get a ticket for as little as £400 in May, 2018, if you book an economy flight.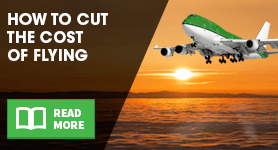 But an economy seat isn't always the most comfortable. You may want to relax on your flight, so it could be worth looking into a business or first-class seat. These may well set you back four figures, however. So, it's up to you which one you go for: price or luxurious comfort? 
Flights from New York to Denver 
The USA is a very big country, and it's worth taking time to explore the whole thing. You could go coast-to-coast, take a road trip, or fly from city to city. It's quite easy, and relatively cheap, to fly from New York to Denver.  
You can get a direct, economy flight from JFK Airport to Denver without necessarily breaking £200 if you book far enough in advance. It's a roughly four-hour flight, but it's in a westerly direction, which means you'll be crossing several time zones. 
See also:
This will likely lead to jet lag, which tends to be worse if you're flying west. Colorado is contained within the Mountain Time Zone, which is seven hours behind GMT. Between New York and Denver, there's a two-hour time difference.  
The effects of jet lag can be mitigated by making sure you get plenty of sleep at a locally-appropriate bed-time. So, if you arrive in Denver at 18:00, try to stay awake until about 22:00, for example. Drinking plenty of water can also help.  
Top tips for cheap flights to Denver 
So, if you're feeling like a mountain holiday somewhere outside Europe, why not take a flight to Denver? Use our comparison service to help you compare flight options, like what class you'd like to fly and what date you want to leave. 
By Nick Dunn