Travelling to the Emerald Isle? Compare flights first
Beautiful scenery, friendly atmosphere and more pubs than you can shake a stout-covered stick at make Dublin a firm favourite among British tourists nationwide.
Key points
Flights to Dublin typically last around an hour from most UK locations
Dublin Airport is roughly six miles as the crow flies outside of Dublin city centre, although more like eight by road
Booking up flights as early or as late as possible can both return a notably reduced rate of airfare
If you've decided to travel to the inimitable Irish capital – firstly, congratulations! Dublin has been scientifically proven as the most lively and fun-filled city within striking distance of the UK – a fact proven by scientific scientists... using science! 
While that last statement may or may not be 100% true (with a 100% margin of error), Dublin is undoubtedly an interesting city. 
Birthplace of rock legends Bono, Phil Lynott and Bob Geldof, the musical city has given a lot to the entertainment world. Having said that, it also gave us Jedward... 
Despite that last faux pas, Dublin is renowned the world over as the home of Guinness – which just about makes up for it. Best of all, for those heading across the Irish Sea from Britain, it's only a short flight away! 
How long are UK flights to Dublin? 
As the crow flies, flights from London to Dublin cover a little under 300 miles. Luckily, this translates into a short flight, and your time in the air could be over before you've sunk your first mid-air Guinness. Typical flights last around an hour, depending on where you fly from in the UK. 
Which UK airports fly to Dublin?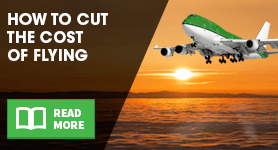 One of the best things about direct flights to Dublin is that they are pretty widely available from most locations in the UK. Whether you're looking for London to Dublin flights, Liverpool to Dublin flights or Manchester to Dublin flights, chances are that you'll be able to get a reasonably priced flight on a day of your choosing. 
That being said, the definition of 'reasonably priced' can vary depending on your bank balance and financial stability. Similarly, this price can also vary depending on the airline you use. Ryanair flights to Dublin can be very kind to your wallet or purse, as can Aer Lingus flights to Dublin. 
It's also worth noting that airports outside your locality may be worth considering as well, particularly if you have a specific date you want to depart. Smaller airports may not run as many flights as larger airports, while airports outside your home city may also be considerably cheaper; eg flights to Dublin from Bristol are typically cheaper than Cardiff to Dublin flights. 
Finding cheap Dublin flights 
If you want to see you flight costs sink lower than a leprechaun's kneecap, there are a couple of sneaky insider tactics that could well do the trick. 
Avoiding peak times of the day is arguably the quickest and simplest way to shave a few quid off your flight bill. Flights early in the morning or late at night are typically cheaper than those that run throughout the day. 
Similarly, avoiding flights on the weekend can also positively affect the price tag, with weekend flight traditionally returning a bigger figure than midweek journeys. 
Typically, flights on Tuesday or Wednesday are notably less expensive – although this isn't always the rule, so be prepared to put this theory to the test. 
Finally, the time of the year can also have a big impact on the flights. Popular times of the year can see a natural increase in flight costs, so if you can avoid periods of widespread holidaymaking – such as July, August and December – your bank manager will probably thank you for it. 
By a similar token, it's worth keeping an eye on the sporting calendar as well. Flights during a big rugby weekender in the Aviva Stadium, such as Ireland home games during the Six Nations, could also see a price hike on airfare. 
Did you know...?
London Heathrow is the most popular destination from Dublin
How to save money on Dublin flights 
If you know when you want, your heart is set and your mind is made up, booking up early can be a wise decision. 
In addition to relieving the stress and drawing a line under the flight conundrum once and for all, it can also see you bag an early-bird discount on flight costs. Flights typically increase in price as time goes on, so the earlier you book the better. 
Having said that, the complete opposite approach also works wonders, if you don't mind taking a gamble. Booking your flights at the very last minute can result in rock-bottom prices, as many airlines slash prices in order to fill any remaining seats. However, it's worth noting that there is risk involved as there may not be any seats available at all. 
Outside of booking timing, a simple comparison can translate into big time savings in an instant. So, whether you book early or late, be sure to GoCompare before you commit to go anywhere.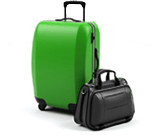 Prepare to land 
Dublin Airport is an international airport serving the Irish capital of – you guessed it – Dublin! 
Situated approximately six miles as the crow flies outside of Dublin, DUB is the busiest airport in the Emerald Isle. It also offers border pre-clearance services for US-bound passengers, one of only two European airports to do so. 
Comprising of two main terminals, the venue itself has a lot on offer for a modestly sized airport. The Loop offers all the duty-free perks you would expect from an international airport, as well as lounge areas for those with business in mind. Meanwhile, convenience stores such as Spar, WH Smiths and Boots offer ample opportunity to stock up on snacks and refreshments. 
Speaking of refreshments, Dublin Airport has ample opportunity to fill up and keep hydrated on the go, with everything from fast food joints like McDonald's and Burger King to coffee shops like Starbucks and Soho Coffee Co. 
For those looking to indulge in their first or last authentic Irish Guinness of the journey, you won't be left wanting. There are numerous pubs and grills that offer bar service, allowing you to soak up the black stuff (or any other beverage you fancy) at your leisure before or after your airport transfer. 
By Martyn Grant