Find and compare cheap flights to Edinburgh today
Fancy seeing a cannon be fired from a castle atop a dead volcano? Do you want to enjoy the melodic sound of bagpipes? Do you hanker for a fresh haggis? Then take a flight to the 'Athens of the North' – also known as Edinburgh.
Key points
Flying to Edinburgh can be very cheap within the UK
It's a quick flight between London and Edinburgh
Prices vary based on when you book and how high a travel class you want to enjoy
Edinburgh is the capital of Scotland, home to the hugely-popular Fringe Festival, Edinburgh Castle and its famous One o'clock Gun, and the Royal Mile. 
It's the UK's second-most popular tourist destination. So it's no surprise there are lots of flights going to and from. We've put together a handy guide to help you choose the right one for you.  
Scotland the Brave - cheap flights to Edinburgh 
There's only one airport in Edinburgh, which services hundreds of flights daily. Many of these are international, but there are plenty of domestic flights as well. 
Within the UK, flying to Edinburgh is arguably the quickest and cheapest way to get there from most other cities – even when you factor in time taken at check-in and security.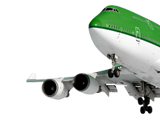 Flights to Edinburgh from London 
You can't see Edinburgh from its peak, but it takes less than three rotations of the London Eye to get there by plane direct from London. A flight to Edinburgh will likely only take an hour and fifteen minutes, while the London Eye takes half an hour to rotate once. Ok, so if you take into account checking in and security time, it might be more like a dizzying four or even five rotations. But that's not a bad flight time.  
The flights are usually reasonably cheap as well – they may only set you back a mere £50 for a return flight in economy class if you book at the right time. 
See also:
Hotels in Edinburgh
Edinburgh airport parking
A good general rule is to book as far ahead as possible, as prices tend to increase the closer to departure you get. Some airlines drop their prices just a couple of days before departure, so you may be lucky if you leave it to the last minute.  
It's not just when you book that affects the price of the flight. Which airline you travel with, and which class you travel in, will also have an impact on the price of the ticket. 
The budget airlines like Ryanair or Jet2 may have a ticket or two priced as low as £14. However, that's for an economy ticket. Premium economy tickets, which offer seats with slightly more in the way of bum and leg room, are likely to be more expensive – which is then also true of business and first class respectively. 
We're all going on a Celtic holiday – Flights to Edinburgh within the UK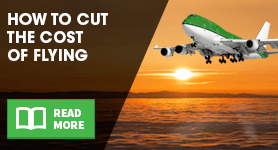 Planning a Celtic getaway? If so, you'll be pleased to hear that flights from Dublin to Edinburgh can be as cheap as £15 for a single flight, if booked in plenty of time. 
Planning to escape the noisy home of heavy metal to the quieter landscapes of Holyrood Park? Taking a flight from Birmingham to Edinburgh can be just as cheap as one from Cardiff - £30 for a single economy ticket.  
Flights from Edinburgh 
For those looking to escape from Fringe season, or go somewhere quiet during Hogmanay, or just go somewhere nice on holiday, flights out within the UK are just as cheap as those coming in. 
Going further afield, it's not too expensive to get out of the UK. Depending on when you book it, you could get a flight to Paris for as little as £70 with a layover in Birmingham. 
Top tips for a cheaper flight 
So, if you feel like getting involved in a haggis hunt, or seeing the One o'clock Gun be fired from Edinburgh Castle (which sits atop an extinct volcano), we can help you save you money on the flight. 
How? Well, you can easily compare prices for your flight through GoCompare!
By Nick Dunn