Heading somewhere Faro-way? Compare flights to Faro
As the capital of the Algarve, you can bet your bottom euro that there are plenty of Faro flight options to scramble your brain. Luckily, this guide is here to straighten things out.
Key points
Faro airport is a stone's throw away from the city centre and half of its busiest routes are to the UK
As it's only about three hours away, most UK airports have direct flights to Faro
Compare flights to view the cheapest deals... But don't forget that cheapest doesn't always mean best, so make sure your Faro flights are right for you
Faro, Portugal is a city with lots to enjoy, like the historical city centre, the gardens of the Estoi Palace, the Faro beach islands, and the medieval Cathedral.  
It's divided into two areas: the coastline, which is part of the Nature Park of Ria Forma; and the hilly 'barrocal', that showcases some of the Algarve's signature vegetation.  
You can usually expect toasty temperatures when you step off the plane in Faro airport, like the blast of heat you get when you open your oven door.  
Okay, while it's not quite that hot, temperatures in Faro average between 18 and 24 degrees C in May to October, which is sweltering compared to the average aeroplane cabin temperature!  
We haven't even mentioned the best bit yet: Portugal and the UK have the same time zone, so you won't have to worry about changing your watch or feeling a bit off kilter.  
Flights to Faro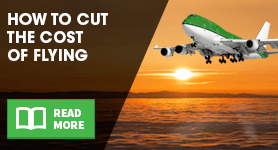 Faro Airport is about two and a half miles west of the city centre and it gets pretty busy between March and October – so much so that the airport has to adjust the way it operates to better deal with the influx of tourists. Over 8.7 million passengers used Faro airport in 2017!  
In 2011, out of the top 20 busiest routes from Faro airport, half of them were to UK airports, like Manchester, Bristol and London.  
Popular airlines for flights to Faro include British Airways, easyJet, Jet2, Thomas Cook and TUI (formerly Thomson).  
As Faro is about three hours away from Britain, there are plenty of direct flights from most UK airports. But what about multi-leg flights? Let's explore some of your options.  
Direct flights to Faro 
You can get flights that take you straight to Faro from London airports like Luton, Gatwick, Heathrow, Stansted and Southend. 
Other UK airports with direct flights to Faro include Manchester, Birmingham, Bristol, Liverpool, Belfast, Glasgow, Edinburgh, Cardiff and Nottingham.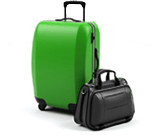 Layover flights 
A layover, or multi-leg, flight means that you stop off at another airport before you get to your intended destination. For example, you can get layover flights that depart from Manchester, and stop off in Dusseldorf before landing in Faro.  
If you don't mind a bit of extra time added on to your journey, a multi-leg flight might be cheaper than flying direct, so shop around to figure out what works out best for you.  
FarOMG! Get cheap flights to Faro  
You might have noticed that we recommend comparing stuff a lot. That's because when you compare things, like flights to Faro, you can view all your options to see which is the best suited to your needs (and hopefully cheapest).  
Filtering down your flights by flight duration, budget and number of stops can help you narrow down your options, to make comparing Faro flights even easier.  
You can also compare different tickets classes, to see if business or first class is worth the extra cost. If not, downgrading your ticket to economy could save you a fair bit of money.  
Aside from comparing flights, what else can you do to save a bit of dough? Being flexible with your plans, travelling outside of peak times and booking well in advance – or last minute, if you're feeling risky – could be worth a pretty penny (or a few euros).  
By Amy Smith