Don't be a silly sausage, GoCompare flights to Frankfurt!
Famed for its towering skyline, impressive architecture and - of course - the globally adored hot dog sausage that shares its name, Frankfurt is one of the most popular cities in all of Germany.
Key points
Although there are two airports that serve Frankfurt, Frankfurt Airport is exponentially closer to the city than Frankfurt Hahn Airport
Booking up flights very early or at the last minute can result in a significantly lower price than those booked in-between those periods
Avoiding flying at the weekends or during peak times of the day can result in a lower airfare
A multicultural society of locals, foreign nationals and expats, Frankfurt is a diverse utopia of European culture and heritage. In fact, one in four Frankfurters (the people, not the sausage) are said to be imports, with almost 30% of the city's residents owning foreign passports. 
With a multiplicity of museums, historic buildings and art laced throughout the city, it's no wonder why. Coupled with the thriving financial trade of the region, Frankfurt is a hotspot for visitors across the EU. 
So what are we waiting for? Drop the needle down on some Hasselhoff, pop the top on a Schofferhofer and break out your weiners - it's time to talk Frankfurt flights! 
How long are UK flights to Frankfurt? 
Flights to Frankfurt from London measure in at just under 400 miles of skyline. With a relatively short distance separating the UK and Germany, flights are relatively brief too. 
London to Frankfurt flights typically last between an hour and a half and an hour and 45 minutes in total. 
Which UK airports fly direct to Frankfurt? 
Direct flights to Frankfurt are commonly available from numerous locations across the UK. In fact, flights from London to Frankfurt fly direct daily, while direct flights to Frankfurt from Manchester, Birmingham and Bristol are also common occurrences on a daily basis. Meanwhile, for Scottish travellers, direct flights from Edinburgh to Frankfurt are also usually available, as are direct flights from Glasgow.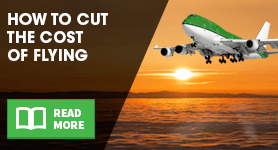 For long-haul flights, it can often work out cheaper to fly indirectly with a stopover en route. However, for a fairly short flight such as this, it may be worthwhile to simply travel to the nearest UK airport that offers direct flights. Making the domestic trip to the nearest city that travels direct from A to B could prove to be more economical overall, both financially and in terms of time. 
It's also worth remembering that the price can also vary from one airline to the next, with certain flight providers offering lower airfare than others. This is particularly evident when it comes to budget airlines. For example, Ryanair flights to Frankfurt are likely to be considerably cheaper than BA flights to Frankfurt. 
One of the common complaints of budget flights is that they offer less room, services and facilities than their premium counterparts. However, for a short flight such as this, it can be the lesser of two evils and the low-cost flights could far outweigh the lack of legroom. It's your choice, though. 
How do I find the cheapest flights to Frankfurt? 
Cheap flights to Frankfurt from UK airports are fairly easy to find, particularly if you're willing to play ball. Going in with an open mind can be the difference between the bargain of the century and the rip off of a lifetime, so it definitely pays to be flexible when it comes to flights. 
As an overall rule, flights on the weekends and during peak times of the day are the most expensive flights available. If you want to fly at 13:00 on a Saturday, be prepared to pay for the privilege. But if you're willing to fly late at night or early in the morning on a weekday, you could cut a hefty chunk off your airline bill. 
Tuesdays and Wednesdays are commonly the cheapest days of the week. However, this trend isn't set in stone. If you can, it's always worth shopping around and comparing flights. Giving yourself the freedom to fly a day or two either side of your ideal date could pay dividends.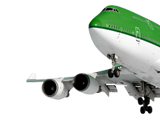 How to save money on Frankfurt flights 
When it comes to actually booking UK flights to Frankfurt, there are two primary routes that can save you some money on airfare. However, they're as polarising as they come. 
The first is the prepared and planned option. Booking up flights as early as possible can often translate into a lower rate than the same booking several weeks later. 
Flight costs typically see an upward trend the longer you leave it – so the earlier you can book up, the better. What's more, this approach also eliminates the ongoing stress of unbooked flights hanging over you as the weeks progress. 
The opposing method is the last-minute option. If you have the proverbial cajones of copper, booking your flights at the eleventh hour might see you airborne and en route to Frankfurt for very little. 
However, there's no guarantee you'll be able to get a seat on the plane if you do leave it until the last minute, so this is definitely the riskier option. But, as the old saying goes, "no guts, no glory" – and it's high risk, high reward if it all goes according to plan.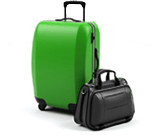 Prepare to land 
While Frankfurt does technically have two airports that serve the city of Frankfurt – Frankfurt Airport and Frankfurt Hahn Airport – there's no contest between which one is more convenient, more relevant and more suitable if you're travelling to Frankfurt. 
As the name suggests, Frankfurt Airport is the primary airport of the city, just 7.5 miles from the city centre. Frankfurt Hahn is literally a distant second, about 78 miles of distance at that. In fact, Frankfurt Hahn is actually 14 miles closer to Luxembourg City than it is to the city of Frankfurt. 
Nevertheless, Frankfurt Hahn has become a favoured airport of budget airline Ryanair in recent years. With Ryanair offering cheap flights to Frankfurt Hahn, the airport has seen its popularity increase dramatically. But don't let the name fool you: if you're planning on visiting Frankfurt, there's one airport that ticks all the boxes, and it's not Frankfurt Hahn. 
Frankfurt Airport (FRA) 
Frankfurt Airport is the largest airport in Germany. As such, it's no surprise that it's also the third-largest airport in Europe in terms of passengers flown and second largest in terms of cargo transportation. On a global scale, it's said to be the tenth-busiest airport in the world with an impressive 56 million passengers each year. 
Frankfurt Airport also has plenty of history to back it up too, having first opened as a commercial airbase way back in 1936. With over 80 years of aviation under their belts, the good folks at FRA have had plenty of experience in the plane game and know what their passengers want from an airport. 
In addition to the usual facilities and services you'd come to expect at a busy airport, there's also a wide selection of duty-free shops, including a number of designer brands and recognisable labels, such as Dior, Versace and Chanel. There's even three caviar shops on-site, in addition to premium stores such as Swarovski, Imega and Rolex for those with a taste for the finer things in life. 
Meanwhile, if relaxation is the order of the day, you won't be short on places to chill out at Frankfurt Airport. With countless bars, cafes and restaurants throughout, the airport itself has plenty of eateries and seateries to keep you fed, watered  and comfortable throughout your time there. These include everything from Burger King and KFC to taverns, coffee shops and snack stops – more than enough to keep you busy before or after your airport transfer. 
By Martyn Grant