Guten Tag! Get cheap flights to Germany with our handy guide
Getting a flight to Germany should be as efficient as the Germans themselves. Fortunately, our comparison service should help make sure that's true for you.
Key points
Prices vary depending on how far ahead you book
The destination and departure airports will also affect the price, as will which airline you use
Germany has lots of passenger airports, with Frankfurt as the busiest
Home of lederhosen, the bratwurst, good beer and wonderful Christmas markets, Germany is an excellent holiday destination. Getting there isn't too difficult either, so let us help you compare flights to find the right one for you. 
Cheap flights to Germany 
Germany has numerous airports that support commercial flights. Its busiest, Frankfurt, saw a total of 64,500,386 passengers in 2017. 
Although an astronomical figure, it isn't too surprising when you consider that an economy flight from Birmingham to Frankfurt may only set you back as little as £90 – depending on how far ahead you book. It's a similar price to fly from Madrid, and going from Helsinki or Dubrovnik isn't too much more expensive. So, it's easy to see why Frankfurt is so busy!  
Flights to Germany from the UK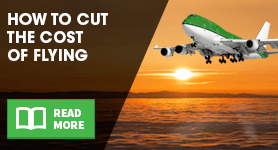 The price of a flight will vary according to which airports you fly from and to, and which class you choose to travel in. The following prices are obviously ballpark, and were checked in May 2018. 
Within the UK, it's likely that the cheapest city to fly from will be London. A hop in an economy-class seat from Gatwick to Munich could be as little as £65, which is nice and cheap for a two-hour journey. Even a flight out to a less popular airport like Bremen or Dresden may only be £160.   
However, a flight from Manchester to Germany may be even cheaper still – as little as £50 for a flight to Berlin, for example. This mainly depends on which airline you fly with, and how far ahead of time you book your tickets. Ryanair and easyJet are likely to offer cheaper flights than, say, KLM.  
But those are economy flights. Generally speaking, a premium economy flight, which mostly offers slightly more legroom, will accordingly be slightly more expensive. Business-class travellers will likely pay more, and those who can afford to luxuriate in first class will be paying megabucks for the privilege. 
As for how far ahead you should book your flight, that's mostly up to you. A good rule of thumb is to book as far in advance as possible, as prices will increase the closer it gets to the flight date. However, some airlines will drop their prices in the couple of days before take-off, so if you like to fly by the seat of your pants, you could wait until then to book. 
If you really feel like toying with Lady Luck, you could try asking at check-in if you can have an upgrade. Some airlines do offer free or cheap upgrades when there are unfilled seats available.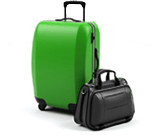 Flights to Germany 
So, if you're happy to get a cheap flight with our help, where can you go in Germany? Well, Berlin is an obvious choice. It's the capital city, and it has many attractions. There's a particularly (in)famous wall, for example. The Brandenburg Gate and Reichstag building are well worth checking off the list too. Good luck getting into Berghain though. 
Bratwurst was invented in Nuremberg, also famous for the Lebkuchen, a type of gingerbread eaten mostly around Christmas time. Christmas is something Germany does very well. In fact, if there's one thing Germany deserves to be famous for, it's the Christmas markets. 
Glorious decorations appear throughout the country, and the stalls are home to unique crafts, culinary delights, and decorations. Much like the British pub, it's not something that's well replicated elsewhere in the world. So, if you want to experience the wonder of a German Christmas market, pop over to Cologne or Munich for some of the world's most famous ones. 
Munich, the capital of the state of Bavaria, is arguably best known for the Oktoberfest. Taking place in late September, it runs up to the first Sunday in October, and is an exuberant celebration of beer and folk traditions. Beer in Munich is particularly special, as it is subject to the famous Reinheitsgebot, or 'German Beer Purity Law'. It stipulates that beer brewed in Bavaria must only contain hops, water, yeast and barley.  
Come fly with us – top tips on getting a cheap flight 
So, you're flying over for a spell of Christmas shopping, and a bratwurst 'n' beer luncheon. If you want a cheap flight, we can help you compare prices, airlines, destination and departure airports, and travel class. Once you've find the right flight for you, all that's left to say is 'Prost', and have a great time in Germany! 
By Nick Dunn