Get your Greek on with cheap flights to Greece
A land steeped in history and mythology, the spiritual home of the modern Olympics is a hugely popular destination for holidaymakers across the globe. So let's fly to Greece!
Key points
Booking up your flight way ahead of time can result in an early-bird rate that's cheaper than the same booking made later on down the line
Conversely, leaving your flight booking until the very last minute can also snag you a discounted airfare
Regardless of when you book, a simple comparison can also help highlight some of the best prices available
Whether you're hoping to soak up the rich history, the scintillating sun or the ouzo by the pool, it's well worth soaking up some flight info beforehand. 
Knowledge is power when it comes to booking cheap flights and, by the time you finish reading this guide, you'll feel like Athena - the Greek goddess of wisdom. 
So prepare to channel your inner Hercules, take the bull by the horns and save yourself some cash with this scorching hot guide to cheap Greece flights. Yamas! 
How long are UK flights to Greece? 
Flights to Greece from London cover over 1,360 miles in the air. Barring any delays, this only translates to a relatively short flight time. However, naturally it does vary depending on which Greek destination you're heading for. 
For example, UK flights to Athens are typically shorter than UK flights to Corfu. Nevertheless, most direct flights to Greece commonly last around four hours or under... assuming Zeus doesn't launch any lightning bolts along the way. 
Which UK airports fly direct to Greece? 
As one of the most popular holiday destinations in Europe, you won't struggle to find direct flights to Greece from UK airports. In fact, a surprising number of British airports fly direct to a variety of Greek locations. 
Direct flights to Greece from London regularly depart on a daily basis, while flights from Manchester to Greece are also available on most days of the week. Similarly, Bristol flights to Greece are also fairly frequent, albeit slightly less so. 
Did you know...?
Greece shares two patron saints with the UK. St George (England) and St Andrew (Scotland) are also patron saints of Greece
Depending on where in Greece you're flying, you may also be able to find direct flights from a number of other UK airports as well. For example, direct flights from Birmingham, Nottingham, Leeds and Newcastle are commonly available if you happen to be flying to Kos, as are routes from Glasgow and Edinburgh. Direct flights to Corfu are available from a litany of additional airports, including Aberdeen, Belfast, Bournemouth and Cardiff, among others. 
While it can be cost-effective to travel indirectly for long-haul flights, for the purpose of a four-hour excursion to Greece, it may be worthwhile simply travelling to your nearest airport that offers a direct flight to your Greek city of choice. In addition to that, different airlines often offer different prices as well, so dissecting the cost between departure locations and airlines could prove to be a real money saver overall. 
Where can I find the cheapest flights to Greece? 
When it comes to bagging cheap flights to Greece, there are a few ways to actively increase your chances of cutting costs on airfare.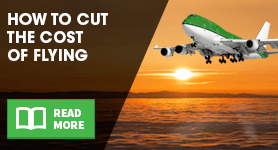 Firstly, the day you fly can have a profound effect on the price of flights, as weekend flights are commonly more expensive than the same journey made during the week. While there's no steadfast rule of which days are the cheapest, Tuesday and Wednesday flights are typically quite economical, so it's worth being flexible when it comes to departure days. 
Similarly, flying at unsociable hours can also reduce the cost of your flights. Booking a flight that takes place either late at night or early in the morning can have a notable positive effect on the price. If price is of primary concern, it's worth avoiding peak times of the day if possible. 
It's also worth noting that certain times of the year are also more expensive than others. Summer months and traditional holiday periods are often the most expensive due to the increased demand. If you're open to suggestions when it comes to the date of your holiday, it may be worth considering travelling outside of these popular holiday windows. 
How to save money on Greece flights 
Additional ways to slash the cost of your holiday without resorting to nefarious means include considering the date you actually make the booking. 
Getting ahead of the curve with an advanced booking can be a major plus when it comes to booking your holiday. Early bookings can often translate into flights that are notably less expensive than the same journey booked just weeks later. It also gives you peace of mind knowing your flights are inked in and official, way in advance.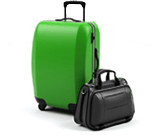 At the other end of the scale, a late booking can prove extremely beneficial from a financial standpoint. Airlines often reduce the price of flights the closer it gets to the departure date/time in order to fill up any unsold seats. However, it's worth remembering that there's no guarantee there'll be any seats available at all. While this approach can be risky, it could be ideal for those considering a spontaneous excursion. 
Whichever approach you decide to take, it's well worth dabbling in some quick price comparison before you put your name to any one flight provider. A simple GoCo search could help highlight a cheaper fare elsewhere that you may have overlooked. 
Prepare to land 
Greece is divided up into 13 regions (nine mainland and four island groups), which translates into a lot of airports. In fact, the country itself is such a popular holiday destination with tourists all over the world that it has several international airports to cater for the demand.  
Depending on which area of Greece you plan on visiting will naturally determine which airport is most suitable for you. To help get you started, we've included a quick overview of the three most popular airports you may find yourself passing through on the highway to Hellas. 
Athens International Airport (ATH) 
The busiest airport in all of Greece, Athens International is a hub for several Greek airlines, including Greece's largest, Aegean Airlines. Serving over 21 million passengers a year, Athens is the go-to airport for many travellers arriving in Greece. 
Heraklion International Airport (HER) 
The second-busiest airport in Greece behind Athens, Heraklion is the primary airport on the isle of Crete. Found just three miles east of the city centre, HER serves Heraklion, as well as other popular resorts such as Malia and Stalida.
Thessaloniki Airport (SKG) 
Despite being the third-busiest Greek airport for passengers, Thessaloniki is the second-busiest airport in Greece in terms of flights. It's the main airport in northern Greece, serving the busy city of Thessaloniki, as well as the popular tourist destination of Chalkidiki. 
By Martyn Grant