Havana, ooh na-na! GoCompare flights to Havana, ooh na-na!
The capital city of Cuba, Havana is pretty high on the list of tourist destinations south of the US border.
Key points
Booking up your flights way in advance or at the very last minute could prove far more economical than booking up somewhere in-between
Jose Marti International Airport is the main airport that serves the city of Havana, with terminal three focused primarily on international travel
Avoiding peak times of the day, week and year can lower the cost of flights instantly
Whether it's the cultural appeal, the allure of the climate or simply the draw of the rum that attracts you to this Latin paradise, more and more Brits are opting to travel to Cuba for a change of peso in the Cuban capital. If you're included in that group, you're in the right place. 
So light up a cigar, pour yourself a generous Cuba Libre and prepare to become a card carrying member of the Havana Club, as we get the low-down on flights to 'The City of Columns'.  
How long are UK flights to Havana? 
With over 4,660 miles separating London and Havana, it should come as no surprise that the flight across the Atlantic Ocean is somewhat of a lengthy experience. 
Typical direct flights to Havana from London tend to last around nine hours and 45 minutes. The return flight is usually a little less, often clocking in at around nine hours. 
Which UK airports fly direct to Havana?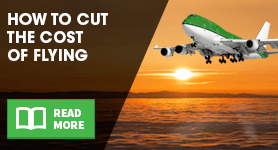 When it comes to making the trip across the pond to South America, direct Havana flights are naturally going to be the quickest and least painful way of making the crossing. With less than ten hours in the air, the direct route is a popular option for those making the trip. 
However, if you do want to fly direct to Havana, be prepared for your options to be limited. London is usually the only location you'll be able to fly non-stop to Havana from. These flights are also infrequent – typically only available on select days of the week. 
Outside of London-Havana flights, you can find a variety of indirect flights to Havana from UK airports nationwide. While this does mean extending the overall travel time, it can often lower the price of airfare dramatically. 
If cost is a prime concern, flying indirect with a stopover or two along the way could be well worth considering, even if it does mean dragging out the trip from A to B. 
It's also worth noting that the price may vary from one airline to the next - eg Virgin flights to Havana may differ in price to another airline - so be prepared to shop around. Your 'go-to' airline may not offer the best price available, and being open to other flight providers could prove to be the big difference maker when it comes to cost. 
Finding cheap flights to Havana 
Speaking of costs, one of the easiest ways to achieve cut-price airfare is to simply be open-minded. A flexible approach to flights can help you achieve a far lower price with relatively little effort. 
Flights in the early a.m. or late at night typically tend to be less expensive than the same route during peak times of the day. 
Meanwhile, flights on the weekend are also commonly more expensive than midweek journeys, so a late night flight on Tuesday will almost certainly be more economical than a midday flight on a Saturday, for example. 
How to save money on Havana flights 
Preparation is also another great tactic to employ when you're on the hunt for a bargain. Booking your flights up early can result in an early-bird rate that is noticeably cheaper than the same booking made weeks later, so the earlier you can make your flight official, the better. 
Having said that, the exact opposite approach can be equally rewarding, if not more so. Leaving your flight booking until the very last minute can result in a huge discount, as many airlines tend to slash the cost of airfare to fill any unsold seats come flight day. However, it's worth noting that seats aren't always available and there is an element of risk associated with the last gasp method. 
While the two approaches are polar opposites of each other, both can be hugely useful when it comes to cost-cutting. The last-minute approach is particularly suitable for those looking to make a spontaneous getaway, while the former is ideal for those that know where and when they want to go way ahead of time. 
Finally, it's well worth doing a quick comparison of flight costs before you put your money where your flight is and commit. A simple stop by the GoCompare flight search could help highlight a lower price and save you even more money in the process.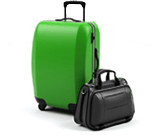 Prepare to land 
The city of Havana is primarily served by two airports: Jose Marti International Airport and Playa Baracoa Airport. The latter tends to be more relevant to those flying domestically, so – for most travellers – the airport of interest will be Jose Marti. 
Jose Marti International Airport (HAV) 
Located just nine miles southwest of Havana, Jose Marti Airport is Cuba's primary hub for air travel and a gateway for both national and international flights to the city. With four passenger terminals, Havana airport is a multi-faceted airport with each terminal specialising in particular travel routes. 
Did you know...?
Legendary penman Ernest Hemingway loved Havana so much, he lived in the city for several years and penned a number of novels during his tenure there, including For Whom the Bell Tolls
Terminal 1 primarily caters for domestic flights, terminal 2 tends to focus more on charter flights to the US, while terminal 3 offers international services and is the main terminal for long-distance travel. There's also the smaller terminal 5, which is known as the Caribbean Terminal. This is used by AeroCaribbean and Aerotaxi for domestic and regional flights, as well as domestic charters. 
As a result of its international status, terminal 3 is unsurprisingly the biggest of all the terminals at Jose Marti. In addition to the two VIP lounges and children's play area, terminal 3 boasts several 24/7 restaurants, cafeterias and snack bars – as well as a number of bars, should you want to sample Cuba's famous rum while you're there. 
Speaking of rum, there's also specialist rum shops on site, as well as dedicated cigar stores too, should you want to pick up some souvenirs to commemorate your Cuban experience. Alternatively, if rum and cigars aren't your cup of tea, there's also traditional souvenir stores and duty-free shops as well. 
By Martyn Grant