Flight two-two is off to Honolulu - but are you? Compare cheap flights to Hawaii
Ready to say Aloha and hula the nights away? Then you need the GoCompare guide on flights to Hawaii.
Key points
You cannot fly direct to Hawaii from the UK, because science
Most UK flights to Hawaii will involve a stopover on the west coast of the USA or Canada
Honolulu is the main airport for Hawaii, but other islands have airports with direct flights to mainland USA
The islands of Hawaii are as close to paradise as you're gonna find on earth. Unfortunately they're also on the other side of the earth. 
But gone are the days of epic sea voyages for weeks on end. You can now fly to Hawaii from the UK in about 16 hours. You'll need a stopover somewhere, but that can mean two holidays in one! So let's look at popular routes and where you might land in our guide on flights to Hawaii. 
Hawaii flights 
Hawaii is home to six airports. But if you're flying from outside Hawaii the chances are you'll be landing at Honolulu International Airport. Other possible landing points for flights are: 
Kahului Airport (OGG) on Maui  
Kona International Airport (KOA), Hawaii AKA The Big Island 
Lihue Airport (LIH) on Kauai 
Most airports on the west coast of America and Canada offer direct flights to these airports, as well as Honolulu.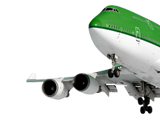 Daniel K. Inouye International Airport AKA Honolulu International Airport (HNL) 
We have a separate guide on flights to Honolulu, so we're not gonna go into too much detail here. But we will say quickly that Honolulu is the biggest airport in Hawaii by quite a margin. Los Angeles, San Francisco and Vancouver are the most common stopovers from the UK. But you might also want to think about Las Vegas, Atlanta and Chicago, all of which offer interesting alternative routes to Hawaii. 
Compare the price of flights from UK airports to Hawaii 
There are no direct flights to Hawaii. But this means you can say aloha to lots of options on how to get there. You also have a bit of choice on where to start from in the UK. A quick comparison can help you decide which way you want to go and how to save some money. 
A popular layover on the way to Hawaii is a few days in Sin City. Search for flights from Las Vegas to Hawaii to see what's on offer. There's also some great options for a short break in California too, with LA and San Francisco being fun options. 
Top tips for cheap flights to Hawaii 
Despite being Hawaii's rainy season, the months between December and March are its peak time. Flights can often go up then. For the best weather and lower prices, consider coming around May to August. 
Here's a few more ideas when on the hunt for cheap flights to Hawaii:
Sometimes it works out that two singles are cheaper than a return. Have a look around for one-way prices and don't go straight for a return ticket 
Think about where you want to stopover - maybe a smaller airport offers a cheaper route than LAX for example? 
A last-minute booking can mean super-cheap flight tickets - but you might be left at home if none become available  
Usually plane tickets start out low and increase in price during their time on sale - booking as soon as possible can be a good way to get a good deal  
If you're flexible with when you fly, you're more likely to uncover a bargain - international routes are often less expensive Monday-Thursdays 
Finally, if you're travelling to any state of the US – including Hawaii – you'll need to sort out your Esta before you go. Please make sure you do this at least 72 hours before you arrive. 
By Sam Easterbrook