Opa! You've come to the right place to compare flights to Heraklion
Is trying to find a cheap flight to Crete all Greek to you? Then you need our guide on flights to Heraklion. 
Key points
There are lot of direct flights to Heraklion from all over the UK during the summer season
Yet there are no direct flights between the UK and Crete over winter
Heraklion is the busiest airport on Crete, but Chania is another option
Guaranteed sunshine. Beautiful beaches. The deep blue Med. Is Greece the word? Then here's our guide on flights to Heraklion, Crete's main airport. 
Heraklion flights 
As Greece's second busiest airport, you'll find planes heading here from all sorts of directions. Only in summer mind, as air traffic drops dramatically in the winter. In fact, a direct flight from the UK to Heraklion wasn't available in winter when we looked in May 2018. 
But Crete is all about the summer holidays. And if you're flying to Crete, it's probably Heraklion you'll be landing at.  
Heraklion International Airport (HER)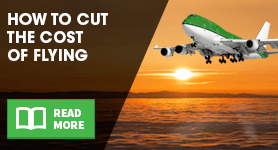 There's two other airports on Crete – Chania and Sitia – but they're dwarfed in size by Heraklion International Airport. It's sometimes called Nikos Kazantzakis Airport, but most commonly it's simply Heraklion Airport. 
We're not gonna dwell too long on the airport and, judging by customer reviews, you won't want to either. If you're looking for a quick exit, read our transfers guide for Heraklion Airport. 
Compare the price of flights from UK airports to Heraklion 
If you're flying in the summer then you have lots of options in and out of Crete. All airlines and airports were correct at the time of writing (May 2018). 
Flights to Heraklion from London  
If you want to head to Crete from London in the summer, you've got a lot of choice on your hands. Several airlines offer seasonal flights to Heraklion from the UK's capital: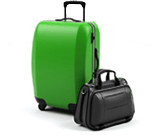 Gatwick = British Airways (seasonal), easyJet (seasonal), Enter Air (seasonal charter), Thomas Cook Airlines (seasonal), TUI Airways (seasonal)
Luton = easyJet (seasonal), TUI Airways (from May 2019) 
Stansted = Jet2.com (seasonal), TUI Airways (seasonal) 
If you're thinking of getting some winter sun, you're looking at changing planes to Heraklion Airport from London. Athens is likely to be the airport you go via. With such a huge choice, a quick comparison can really help you narrow down your options and find a flight. Average flight time is three hours 45 minutes to cover the 1,675 miles. 
Flights to Heraklion from Manchester 
Is Crete calling you? If you're near Manchester and it's the summer then you've got the choice of five airlines. These are ASL Airlines France (seasonal charter), easyJet (seasonal), Jet2.com (seasonal), Thomas Cook Airlines (seasonal), and TUI Airways (seasonal). Come winter though, there's nothing direct and you're likely to have to transfer in Athens. 
Flights to Heraklion from Birmingham 
Three airlines offer direct flights from Birmingham to Heraklion, Crete. Namely, Jet2.com, Thomas Cook Airlines and TUI Airways. These are all seasonal services, meaning that it's all good in summer but in winter you'll need to transfer planes to land in Heraklion. 
Flights to Heraklion from Bristol  
Thomas Cook Airlines and easyJet offer direct flights from Bristol to Heraklion in the summer months. Once the winds of winter start, you'll need to change planes to get to Crete from Brizzle. 
Are there flights to Heraklion from near me in the UK? 
Almost certainly. Many regional airports in the UK offer a direct link to Heraklion, Crete during the summer. Where exactly? Bournemouth (from May 2019), Cardiff, Doncaster/Sheffield, East Midlands, Edinburgh, Exeter, Glasgow, Leeds/Bradford, Manchester, Newcastle upon Tyne and Norwich. That's where. 
Top tips for cheap flights to Heraklion 
As most flights to Heraklion are only available in summer, there's not much scope for cheap times of year to fly. But if you can skirt around the school summer holidays then you might find a bargain. Here's a couple more things to think about for cheap flights to Heraklion. 
Don't automatically book a return with the same airline - sometimes it can be cheaper to fly in and out with two different airlines 
Look into non-direct flights - a transfer or layover can drop the cost of plane tickets 
If you've got the nerve, try to buy flights at the last minute. Tickets can plummet in price... or they all get sold leaving you without a seat to Crete 
At the other end of the scale, look to book your tickets as soon as they go on sale. Prices fluctuate lots over the time a flight is on sale but booking early is usually a solid way to get a good price. Maybe set up an alert for when they're released? 
Can you be limber with when you leave? If so, play around with your dates and try to find a bargain 
As a rule of thumb, midweek is usually cheaper than weekends to fly away on your holidays 
Finally, make the time to go compare flights to Heraklion. You could find some super savings with a simple search! 
By Sam Easterbrook