Discover cheap flights to Hurghada
If you've always wanted to enjoy a dive beneath the waves of the Red Sea, or a relaxing holiday on a yacht, then a flight to Hurghada could be your ticket to sun-soaked freedom.
Key points
Flights to Hurghada go from all over the UK, but mainly from London Gatwick and Manchester
Prices will depend on when you book, which airline you go with, and what class you travel in
Direct flights to Hurghada will take around five hours
Sun, sea and sand are in plentiful supply in Egypt – but if you want somewhere away from the crowds at the pyramids, you might find Hurghada a pleasant surprise. Situated on the Red Sea, on the east coast of Egypt, it's a great destination for fans of water sports like scuba diving and snorkelling. 
But before you fly beneath the waves, you'll need to soar above the clouds. That's where we come in. We've put together this lowdown to help you compare the right flights for you. 
Hurghada flights 
The airport in Hurghada is actually the second busiest in Egypt after Cairo, thanks in no small part to the increased tourist trade of Hurghada itself. It sends and receives flights to and from all over Europe, and is constantly increasing its intake of flights. 
The following routes and rough prices were all correct in May 2018. 
Flights to Hurghada from the UK 
Quite a few airports send flights to Hurghada from the UK, including London Gatwick, Manchester, Bristol and Newcastle. As of November 2018, Cardiff and Doncaster offer flights to and from Hurghada as well.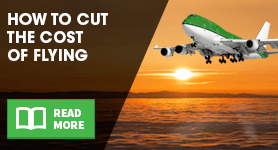 London Gatwick offers more in the way of direct return flights through Thomas Cook Airlines, but these can be as expensive as £580 or more. 
The cheaper flights going from Gatwick tend to involve stopovers in places like Istanbul and multiple airlines, which will lengthen the journey time. The price of a flight will vary according to how far ahead you book your ticket. 
Getting a return flight from Manchester to Hurghada may require a couple of stopovers, which can increase the price of a ticket. You could be looking at about £400 for a flight that hops between Basel and Istanbul airports before getting to Hurghada, for example. Direct flights are also available, however. 
You can also escape the west of England for the east of Egypt for a similar price. Flights from Bristol tend to include stopovers, but fluctuate at around £550 for a return economy flight. 
Cheap flights to Hurghada 
Getting to Hurghada cheaply is simple enough if you tweak your flight properly. You can go in a first or business-class seat directly from London, but these will set you back quite a bit for a five-hour long flight. 
The cheapest tickets are economy, which may not offer the most in terms of comfort, but will save you the most money. You'll need to decide what's more important – a comfortable flight, or having plenty of money with you at your destination? 
The other trick to saving money on your flight is to book early. Book as early as possible. You can, if you're very lucky, get a cheap ticket in the two or three days before departure. However, this is quite a gamble, so it's often better to buy the ticket way ahead of time. 
The airline you fly with can also make a difference to the price of your ticket. EasyJet flights to Hurghada are likely to be cheaper than those offered by EgyptAir or Pegasus Airlines, for example. Be careful though: budget airlines tend to add on extra fees for things like check-on baggage or food, whereas other airlines might provide food in the price of the ticket.  
Top tips for a cheaper flight 
Of course, the absolute best way of saving money on your flight is to compare these features all in one place. And as luck would have it, we can do that for you – hopefully saving you hassle, time and money. That way you can enjoy your flight to Hurghada's sandy beaches and glorious dive spots stress-free.
Also, before you pack your mask and flippers, it might be an idea to pack water sports insurance too.
By Nick Dunn