Find cheaper flights to Iceland
Although the Vikings reached Iceland by longship, it's easier these days to go by plane. Compare prices to find the right deal for you.
Key points
Flights leave from all over the UK, but tend to be cheaper from London and Edinburgh
Flight prices will vary depending on airport, airline, and the dates of travel
Some flights to the USA will stop over in Iceland
We've come up with this handy guide to getting the best flights if you're planning your own expedition across the Norwegian Sea. 
Could you save a fortune when you fly to Iceland?
Although a plane journey is more expensive than letting the wind fill the sails of your longship, you can still save money on your flights. 
Top tips for cheaper Icelandic flights 
The price of flights will vary depending on when you book, when you fly, your chosen airline, and where you're flying from. 
Here are our top tips for finding the cheapest flights. 
Flying from London? 
Heathrow and Gatwick offer relatively cheap flights - within the region of £100 to £200 at the time of writing. And there isn't much difference between the two in terms of flight price.  
However, getting to the relevant airport may require extra expense, which would increase journey costs, so make sure to factor that into your choice of airport. 
Compare departure airports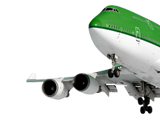 Flights to Iceland from London might be the cheapest, but they may not be the most convenient for you. 
Fortunately for those Scots looking to try lifrarpylsa, Iceland's answer to haggis, there are plenty of direct flights from Glasgow.† Be careful though, as these can be more expensive than flights from London airports.  
Although there are some direct flights from Manchester to Iceland, these tend not to be as cheap as those from London, so it might be worth travelling to London first in order to make a saving on overall travel costs.  
Although Cardiff Airport is the first in the world to offer direct flights to Akureyri in northern Iceland, there are no direct flights from Cardiff or Bristol to Keflavik.†
Tourists flying from Belfast may have a changeover in London Heathrow or Gatwick, while those going from Dublin can fly direct to Keflavik.  
Compare airlines flying to Keflavik International Airport 
There are plenty of airlines that fly into Keflavik International Airport. 
WOW Air and EasyJet are among the cheapest, with some flights only priced in double figures depending on how far ahead they're booked. 
Occasionally, there may be flights priced at the extreme end of four figures, though we recommend avoiding these if at all possible! 
British Airways, and Iceland's national airline Icelandair, tend to offer flights priced towards the cheaper end, ranging from around £100. 
From Iceland to the USA: Stopover flights 
Because of the curvature of the Earth, it's quicker to fly to the USA by taking a route north over the Arctic Circle than just flying over the Atlantic Ocean. For some flights, this will mean stopping over in Iceland.  
Depending on your destination, however, a flight via Iceland may be more expensive than one going a more circuitous route.  
By Nick Dunn