Looking for cheap flights to Innsbruck? Snow problem!
Fancy a trip to the capital of the Alps? If you dig skiing or winter sports, or enjoy mountaineering, a flight to Innsbruck could be the ticket to a whole new world of adventure.
Key points
The price of flights varies based on how far ahead you buy your tickets, as well as which airline you fly with
Which airport you go from will also affect your ticket price
Not all flights will go direct, and the need for a stopover may affect the ticket price
A compact Austrian city animated with activity, Innsbruck is famous all over the world for its ski resorts and beautiful panoramas. If you enjoy skiing holidays, or trekking and mountaineering, it's the perfect tourist destination for you. 
So, now that you're planning to go, you'll need a good flight to get there. That's where we come in. We can help you compare flights to Innsbruck with ease: you can compare the price of a first-class ticket vs economy, how much it costs to fly from different airports, all with a free, unbiased, ABTA- and ATOL-protected service. 
Flights to Innsbruck from the UK 
It's not a long flight to Innsbruck from the UK, but not all flights go directly. Some will stop over in places like Vienna or Frankfurt before hopping over to Innsbruck.  
The following rough prices and routes were correct in May 2018. 
Flights to Innsbruck from London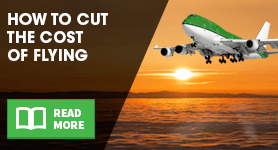 If you manage to get a direct flight to Innsbruck, it shouldn't take more than two hours to get there. An economy ticket with an airline like Austrian Airlines or easyJet may set you back around £140 or more depending on how far ahead you book. 
It's generally wisest to book as far ahead as you can to get tickets as cheaply as possible. If you're very lucky, then booking two or three days ahead of the flight may land you even cheaper tickets because some airlines drop their prices just before departure – but this really is a gamble!  
Flights to Innsbruck from Manchester 
Although you may have stopovers in Vienna or Munich, a flight from Manchester to Innsbruck isn't that much more expensive than one from London. An economy ticket may set you back upwards of £180 from Manchester, for example. 
A business-class ticket, however, could be as expensive as £440. For a flight as short as two hours, this may not be the most cost-effective way of getting to Innsbruck. But, given the luxurious nature of a business-class flight, there's no harm in treating yourself for a little while before you get into the sweaty hurly-burly of a skiing holiday, right?  
Cheap flights to Innsbruck 
As mentioned, you can save a lot of money by booking your flight way ahead of the departure time – the further ahead the better. If you get in far enough ahead, you could be looking at a payment of no more than £60 with a budget airline.
However, they're the exception rather than the rule. Other airlines like Lufthansa or Austrian Airlines have relatively consistent prices throughout the year, fluctuating at around £140 or higher if you get a return flight with them. You can occasionally get a multi-leg flight that involves more than one airline and if one leg uses a budget airline, you may get a ticket at about £110.  
So, if you want a really cheap flight, it's worth comparing the prices offered by budget airlines. Using a budget airline may mean extra fees elsewhere, and a sacrifice on comfort, which could make for a less than stellar flight. 
Top tips for a cheap flight to Innsbruck 
As always, our best tip for saving as much as possible is to compare prices. With GoCompare you can compare the price of flights by departure airport, class of travel, and date. So, when you want to hit the slopes, hit us up first and we can help make your journey there smoother than the powder you'll be skiing on! 
By Nick Dunn