Jet off to Ireland at a great price
The abundance of budget airlines and short flight times make flying over to Ireland a breeze. We list your departure and arrival options, and top tips for finding the cheapest flights.
Key points
Budget airlines are a cost-effective way to travel to the Emerald Isle
Flexibility and/or early booking can save a lot of money on your airfare
International journeys via one of Ireland's international airports can often be cheaper than direct flights from UK
Ireland is one of the most economical flight destinations available to those in the British Isles. 
Best of all, finding flights is relatively easy and you don't need the luck of the Irish to get from A to B. In fact, booking a flight can be as smooth as a pint of Guinness. 
Find flights to Ireland 
As the name suggests, budget airlines are a great way of keeping flight costs down. 
A number of Irish airlines fall into this category, and airlines such Ryanair and Aer Lingus typically offer bargain flights to Ireland from airports nationwide. 
If budget airlines aren't for you, don't despair. You can still fly in style to the Emerald Isle, as plenty of mainstream airlines fly to Ireland - including British Airways, easyJet and FlyBe. 
However, while it may be tempting to opt for the more established airlines based on history and reputation, it's worth considering the economical alternatives. The most cost-effective option can often be the smarter choice. 
Destination airports in Ireland 
Whether you're hunting down flights to Northern Ireland or the Republic of Ireland, holidaymakers looking to make the trip across the Irish Sea won't be short on travel options. Depending on where you want to go, there are usually a number of flight destination to choose from. 
Some of the most popular destinations for Ireland-bound travellers include: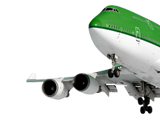 Dublin Airport (Leinster) 
Belfast International Airport (Ulster) 
George Best Belfast City Airport (Ulster) 
Cork Airport (Munster) 
Shannon Airport (Munster) 
Ireland West Airport Knock (Connacht) 
Kerry Airport (Munster) 
City of Derry Airport (Munster) 
Galway Airport (Connacht) 
Waterford Airport (Munster) 
In 2018, five of the above are also classified as international airports - with Belfast, Dublin, Cork, Shannon and Knock all offering flights outside of the United Kingdom. 
This can be particularly useful if you're planning a trip overseas; eg from the UK to US destinations. Connecting flights from Ireland can be drastically cheaper than direct trips. 
Compare departure airports 
Depending on where you are in the UK, flight times and costs vary from location to location. While flights to Ireland are available at most airports across Britain, not all airports go direct to all destinations. It's worth keeping that in mind when you begin your search. 
The most popular Ireland flight departures go from the following locations: 
London - Direct to Belfast, Derry, Dublin, Cork, Shannon, Kerry and Knock 
Birmingham - Direct to Belfast, Dublin, Cork and Shannon 

Manchester  - Direct to Belfast, Dublin, Cork and Shannon 
Bristol - Direct to Belfast, Dublin and Cork 
Newcastle - Direct to Belfast, Dublin and Cork 
Edinburgh - Direct to Belfast, Dublin and Cork 
Cardiff - Direct to Belfast and Dublin 
Top tips for cheaper flights to Ireland 
London to Ireland flights typically last less than 90 minutes, while flights to Ireland from Birmingham, Bristol and Manchester clock in at just over an hour. 
As a result, the short flight duration makes additional creature comforts an unnecessary expense. All-in-all, it's an easy way to save yourself some money. 
No-frills flights offer affordable travel without the added extras that pad out the bill. Sacrificing free in-flight snacks and adhering to a tighter luggage allowance could prove to be a major saving. Some budget flights are even available for less than a Saturday-night taxi ride home from town. 
Regardless of which airline you choose, it's wise to be ahead of the game in organising your trip. Flights are often cheaper if you book up in advance, so try to secure your flights well ahead of time. 
A late booking could see your options limited, and leave you paying considerably more than the original price. 
It's also worth considering travel from other nearby airports in the pursuit of low-cost flights. If you live in an area where flights to Ireland are less frequent, they may be more expensive. For example, flights to Ireland from Bristol are typically a lot cheaper than Irish flights from Cardiff. 
Finally, if you're dead set on finding really cheap flights to Ireland, be prepared to be flexible. Flights at early hours or late in the day are typically a lot less expensive than the middle of the day. Flights on particular days can also work out cheaper still. 
By Martyn Grant