Flying to Jamaica? Every little thing is gonna be alright...
With a scorching climate and a sizzling soundtrack, Jamaica is a true tropical haven for any Brit looking to escape the grey skyline in favour of an auburn sunset. So let's check out flights to Jamaica!
Key points
Booking up flights early on or late last minute can result in a notably lower price than a middle-of-the-road booking
Avoiding flying at weekends and during peak times of the day can help reduce the airfare even further
Planning a trip outside of traditional holiday periods can also have a positive influence on the price of flights
Blending a unique ambience and laid-back atmosphere with beautiful scenery and cultural depth, Jamaica is a firm favourite among holidaymakers across the globe.
A true tourist hotspot in every sense of the term, the Caribbean paradise is guaranteed to impress... provided you don't get stung on flights beforehand.
How long are UK flights to Jamaica?
Those planning a trip across the Atlantic to the home of reggae and Rasta should be prepared for a long-haul flight. At just over 4,700 miles away from the UK, direct flights to Jamaica typically last around ten hours.
Naturally, the exact flight time will vary depending on where you're heading. However, with just 78 miles separating the popular holiday destinations of Montego Bay and Kingston, both are relatively similar in terms of flight length.
The following routes and rough prices were correct in May 2018.
Which UK airports fly direct to Jamaica?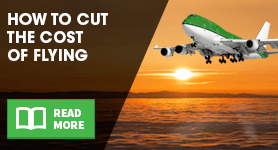 Direct flights to Jamaica from London are commonly available from Gatwick. However, if economising on price is a top priority, it may be worth considering indirect routes.
While admittedly less convenient, a layover or two en route could drive the price down considerably, saving over £100 in some instances.
It's also worth noting that certain airlines may be cheaper than others, so Virgin flights to Jamaica may differ in price to British Airways flights to Jamaica.
How do I find cheap Jamaica flights?
If you're looking to keep your bank account irie, being flexible could be the difference between saving big and paying big. After all, a laid-back trip to the land of "no worries" should require a laid-back approach to booking too, right?
Allowing yourself a day or two either side of your ideal departure date could see you blaze a hefty chunk off the price. Weekday flights are typically cheaper than weekend journeys, with Tuesday and Wednesday often emerging as the most economical days to fly.
Did you know...?
Jamaica has a long history of producing fast sprinters. Including three 100m World Record holders: Don Quarrie, Asafa Powell and Usain Bolt
Meanwhile, avoiding peak times of the day can also help limit the expenses. Early morning flights and late night excursions can be far cheaper than flights throughout the day, so strategically booking your travel to avoid these times can be a shrewd move.
Similarly, avoiding peak times of the year – such as summer months or school holidays – may also be wise. The Jamaican weather is typically stunning year round, making a spring, autumn or winter flight a cheaper option without sacrificing any of the toasty climate.
How to save more money on Jamaica flights
Speaking of smart booking moves, the timing of the booking can also have an effect on price. Getting in early can be seriously shrewd and see you bag an early-bird rate as a result. What's more, an advanced booking can also help alleviate the stress of unbooked flights.
On the other end of the spectrum, a last-minute flight can also prove to be economical, if not a little risky. While there's no guarantee that there'll be space available if you leave your flight booking until the eleventh hour, if you aren't afraid to risk it, the gamble can pay off massively. You could even bag yourself cheap direct flights to Jamaica.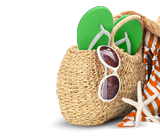 Prepare to land
There are three international airports in Jamaica. These consist of the following:
Sangster International Airport (MBJ)
Found just three short miles east of the popular city of Montego Bay, Sangster International is the busiest airport in Jamaica with over four million passengers annually. MBJ is a favoured airport of British airlines TUI (formerly Thomson) and Virgin Atlantic. Thomas Cook is also set to offer flights from Manchester beginning in 2019.
With an excellent array of shops and duty-free stores on offer, Sangster has more than enough to keep you occupied should you find yourself waiting on a flight. Better still, there's a whole host of eateries on hand to keep hunger at bay, from Cricket's Sports Bar and Air Margaritaville to Dairy Queen and Auntie Anne's.
Norman Manley International Airport (KIN)
Just over ten miles from central Kingston, Norman Manley Airport is the second-busiest airport in Jamaica and a hub for both Caribbean Airlines and Fly Jamaica Airways. Flights to Jamaica from London Gatwick regularly travel to KIN via British Airways.
With a variety of duty-free shops available, you won't be short on places to pick up a souvenir. Meanwhile, the variety of restaurants on offer cater for all tastes, whether you're looking to grab something on the go or relax with a sit-down meal. NMIA also has three different lounges, should you need an area for business-related activity.
Ian Fleming International Airport (OCJ)
Jamaica's youngest international airport, Ian Fleming International is located in the small parish of St Mary, providing service to the US and the other Caribbean Islands. Named for the iconic creator of James Bond, this airport lies just three miles from GoldenEye – the legendary Jamaican home of Ian Fleming, where 14 of his famous Bond novels were penned.
A distant third to its Kingston and Montego Bay brethren, it's unlikely you'll be landing at OCJ. But never say never (again): you may find yourself passing through this landing strip if you're flying to Jamaica via the States. The airport is set to undergo further expansion in 2018 and beyond to accommodate further passengers.
If you are coming via the US, make sure you've got your Esta sorted well ahead of time. You need to get one even if you're only having a layover the States.
By Martyn Grant