Get a great price for your flight to Japan
Looking at flying to the Land of the Rising Sun? Find the best prices and destinations in Japan for you. And always compare prices!
Key points
Flights can be pricey around Golden Week (late April to early May)
Tokyo is served by two international airports - Narita and Haneda
Head to Heathrow to find direct flights to Japan
Japan is a truly wonderful holiday destination. Getting there can be a bit of a trek, and the cost of flights can vary wildly.  
But the trek is totally worth it, and we can hopefully help you out with cheap flights.
Flights to Japan
Standing proudly in the sea of Japan, flying is the quickest and most convenient way to reach the archipelago. Good job it's served by some of the best airports in the world! 
International airports in Japan 
Looking at flights to Japan? You'll probably be landing near Tokyo. Yet Japan is home to several major international airports. 
Narita International Airport - Tokyo 
Narita is Japan's biggest airport. Most international flights, especially from the west, will land here. Unfortunately it's also an hour's express train ride from Tokyo itself.  
The N'EX (Narita Express) is roughly £20 one-way, or a round-trip is about £26 (correct January 2018). If you have a Japan Rail Pass, you can use it on the N'EX.† The train stops at Tokyo Station, Shinjuku and Yokohama.
If you need to travel further then there are bus companies that can drop you at major hotels across Tokyo. This can be a bit of a lifesaver if you're super jet-lagged.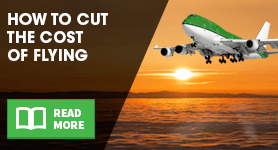 Don't bother with a taxi from Narita into Tokyo. You're looking at a £200 fare. 
Haneda – Tokyo International Airport 
Haneda is Japan's busiest airport by passenger number. And more and more airlines are now choosing Haneda over Narita. 
Haneda is only 30 minutes from downtown Tokyo, but flights tend to be a little bit pricier than to Narita.  
You can get the monorail to Haneda (it glides as softly as a cloud) for around £3.50 from Hamamatsucho station. The Airport Express takes around 20 minutes to get to Shiagawa station, and is roughly £3. Both of those stations are on the JR Yamanote line, the inner-Tokyo circular line. 
Kansai International Airport in Osaka 
Heading to Kyoto, Nara, Kobe or Osaka? You might find it more convenient to fly into Kansai International Airport (KIX).  
Kansai International Airport (KIX) is located on an artificial island. Luckily it's still easy to access by train
More flights are heading to Osaka instead of Tokyo as it becomes a hub airport. Kansai is also home to Japan's first international budget airline, Peach. 
Many train companies run lines between KIX and Osaka. The quickest is the Nankai Express Rapi:t and takes about 35 minutes. They are blue and have a retro-futurist design, and are cool. KIX is built on an artificial island. This is also cool. 
Confusingly, Osaka is also served by Osaka International (Itami) Airport. Only domestic flights land here. Go figure. 
Other airports in Japan 
If you're not flying direct from the UK then you'll have more options of where to land in Japan. You may want to consider: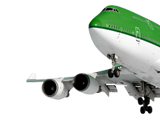 Nagoya's Central Japan Airport 
Fukuoka Airport - good for Kyushu and western Japan 
New Chitose Airport for Hokkaido and northern Japan  
Plan your flight from the UK 
A couple of airlines offer direct flights to Japan from the UK, but you may find cheaper flights if you're willing to change planes along the way.  
Flying into another Asian hub airport first, such as Seoul, Singapore or Beijing, will also give you more landing options in Japan.  
Flying from London 
If you're flying out of London straight to Tokyo then you're going via Heathrow. Correct at 2018, British Airways flies direct to Narita. British Airways also flies to Haneda, as do All Nippon Airways and Japan Airlines.  
Another way is to go right over the top of the world with Finnair. It does mean a change in Helsinki, but it's one of the cheaper routes to Japan from the UK. 
Take off in Manchester 
Looking in January 2018, there's no direct flights to Japan from Manchester. So you'll need to head to that London for those kind of flights. But you will find loads of flights with just a single layover, operated by some of the biggest airlines in the game. Frankfurt seems to be the most common layover point. 
Check-in at Birmingham 
Birmingham Airport, lovely as it is, doesn't offer direct flights to Japan. Well in February 2018 it doesn't. Yet it's a quick hop over to Schiphol and Frankfurt, some of Europe's biggest hub airports. Flying via here opens up Kansai as an option.  
Flights from Belfast 
There's no direct flights from Northern Ireland to Japan (correct February 2018). If you're flying out of Belfast, it's probably most convenient to go via Heathrow. 
Take to the air from Glasgow or Edinburgh 
Amsterdam, Paris and London are likely to be your first port of call on any flights to Japan from Scotland. Neither Glasgow or Edinburgh offer direct flights in February 2018. 
Lift off in Newcastle 
Looking for flights to Japan from Newcastle? Paris Charles de Gaulle, Amsterdam Schiphol, London Heathrow. It's likely you'll be heading via one of these. 
How to find cheaper flights to Japan 
Shop around and compare prices to find cheap flights to Japan from the UK.  
It's more expensive during peak flying periods. In Japan these are: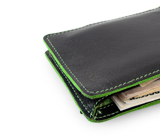 Late December - Christmas and New Year 
Late April, early May - Japan's Golden Week Holiday 
July and August - summer fun times 
Other things that can help: 
Be flexible - the day of the week you fly can really reduce the price  
Non-direct flights can work out cheaper than direct ones - worth considering if you're heading to places far from Tokyo  
Sometimes buying two one-way tickets can work out cheaper than a return - look at flying with different airlines to and from Japan 
By Sam Easterbrook