Compare flights before jetting off to Kiev
How one cannot love Kiev, we'll never know. And, if you love the city as much as we do, you'll want to fly there as soon as possible. So, we've come up with some info on getting the right flight out there.
Key points
The price of your ticket will vary depending on the airport you choose to travel from
Your chosen airline and class of travel will also affect the cost
You could save money on your flights to Kiev by booking well ahead of time
The capital of the Ukraine, also known as the Mother of Rus' Cities, Kiev (Kyiv to locals) is an increasingly popular tourist destination. 
Famed Russian writer Mikhail Bulgakov was born there, so if you want to join the Master and Margarita for drinks and dinner, you'll need to hop on a plane. Here's everything you need to know about flights to Kiev.
Cheap flights to Kiev
You'll most likely be flying into Boryspil (KBP), which is just under twenty miles east of Kiev. A direct flight to Kiev can take around three hours, which is the perfect time to get stuck into Bulgakov's famous novel The Master and Margarita. You could also enjoy the interesting tunes of electro-folk musicians Onuka or Eurovision pop sensations Verka Serduchka.
All routes and ballpark prices were correct in May 2018.
London to Kiev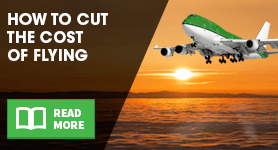 Flying from London to Kiev is easy – hop into an economy seat in a British Airways plane at Heathrow Airport and you can arrive at Boryspil International in three hours if you get a direct flight.
It doesn't even need to break the bank if you book far enough ahead. You could be looking at a return ticket as cheap as £110 if you stick with British Airways on both flights.
However, the price will vary based on when you book your flight relative to departure time. Generally, the best advice is to book as far ahead as possible for the cheapest flights. 
If you feel like gambling, or suffer from chronic disorganisation syndrome, you could leave it to the last minute instead: some airlines slash their prices in the immediate run-up to departure. Be careful playing chicken with Kiev flights though – you run the risk of tickets selling out.
On the subject of other airlines, it's worth noting Ukraine International Airlines also flies to and from London Gatwick, and likewise Wizz Air to and from Luton.
Flights to Kiev from Manchester
It's likely to be more expensive to fly from Manchester to Kiev – and for that matter, any other UK city. This may be because the flights from Manchester are indirect and involve stopovers in European airports like Frankfurt or Munich.
Whatever the reason, you could be looking at paying around £200 for your flight to Kiev if you're leaving from Manchester. It may therefore be worth looking into nipping down the M1 and catching a flight from London.
Did you know...?
Kiev's Metro station is the deepest metro station in the world, at a depth of 105 metres below ground
More expensive still are flights in different travel classes. An economy flight will always be the cheapest method of travel, but a business class flight from Manchester could set you back as much as £450 for the cheapest seats. 
If you really want to go all out, you could splash out on a first-class ticket which, depending on when you book it, might actually break the bank at a potential cost of £5,000 or more.
So, unless you want to pamper yourself and fly in the lap of luxury (for which we wouldn't necessarily blame you), you would save a hefty chunk of cash by choosing economy. We recommend using that money on experiencing Kiev's fascinating tourist attractions, like the Golden Gate or the Kiev Fashion Park.
Flights to Kiev with Ryanair
There aren't many British or Irish airlines that provide flights to Kiev. From October 2018, Ryanair will be offering flights between Kiev and London Stansted, as well as other European airports like Barcelona, Berlin and Krakow.
At the time of writing in May 2018, no British budget airline is operating flights to Kiev, but British Airways does fly direct from London Heathrow.
Top tips for a cheaper flights
Other than booking early for the lowest prices, and going from London airports for the most direct flights, we only have one tip for saving money on your flight to Kiev. Compare the prices! 
Check out our flight comparison service to help you compare the price of flights from different airports, on different airlines, at whatever time suits you.
And one last tip... Enjoy your trip!
By Nick Dunn