Flying to Kingston? Compare prices before you go!
If like us you're always desperate for a holiday in the sun, we can help get you the right flight to Kingston, Jamaica. Just sit back, compare your flights, and you'll be jetting off in no time...
Key points
Prices vary by airline and departure airport, and it may work out cheaper to fly from an airport further from home
Although there are very few direct flights going out to Kingston, there are plenty of direct flights coming home
The class of travel you take will also affect the price of a ticket, so weigh up whether the extra comfort is worth the cost
Beach holidays, cocktails in the sun and easy-going reggae music. Jamaica's capital has everything you need to unwind. If you're ready for a holiday to the sun-soaked Caribbean, we can help you get the right flights.
All the following routes and rough prices were correct in May 2018.
Flights to Kingston
Jetting off to your Caribbean holiday might take a bit of budget work. The cheapest flights, depending on when you book it, could set you back as much as £550. It could also be a long haul, taking up to 17 hours with the right airline and stopovers.
Flights to Kingston from the UK
The city of Kingston is twinned with Coventry, but a flight from Coventry Airport may struggle to get off the ground as the airport only operates private traffic. Instead, you might be better off flying from London.
This may be expensive, however. Prices naturally vary by date and flight time, but can also be affected by how direct the flight is. Most outbound return flights require a stopover when going to Kingston – usually somewhere like Miami or New York – but you may be able to enjoy a direct flight home. This could take nine hours, as opposed to the 14 you may have to endure on an indirect flight.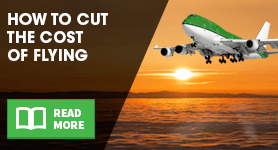 Ticket prices on flights from the UK also differ between airlines. For example, an economy seat on a British Airways flight to and from Kingston may cost around £760, stopping over in Miami. The same flight taken on Iberia may be as expensive as £2,000!
So, if you want to escape Coventry for its sunnier twin city, you may just save yourself a lot of money with a British Airways flight from London! But always compare to be sure which airline's offering the cheapest flights at the time you want to go.
Direct flights to Kingston
Although Kingston is a great holiday destination, it just isn't that major a city to warrant a lot of direct flights. Sadly, this means that direct flights both to and from Kingston are available very infrequently.
Getting back to London involves direct flights though – London is a big destination city. That, and there's lots of sunburnt Brits who want to get home...
But for the moment, you're more likely to be on a flight with stopovers if you're going to Kingston.
Top tips for a cheap flight to Kingston, Jamaica
However, just because the flights aren't direct doesn't mean you'll go bankrupt before you've had the chance to sip a pina colada and chow down on jerk chicken. You'll just have to make sure you've packed lots of water, plenty of snacks (slow-release carbs like granola bars will fill you up for longer between meals), and some seriously good entertainment.
A golden rule for getting as cheap a flight as possible is to book well ahead of time. The further ahead you book, the cheaper your flight is likely to be. If you're feeling very brave, you could try your luck booking just before departure, when some airlines slash prices to fill empty seats. This is quite a gamble though.
Our top piece of advice to help make sure you get the right flights? Go compare them! Our flight comparison service makes it easy-breezy. We compare flights by airline, departure airport, price and date so that you can see at a glance how cheap your chosen flights will be. So sit back with your pina colada and let us help make your holiday to Kingston a corker...
By Nick Dunn