Oluwa o! Let's look at flights to Lagos
Swoop into Nigeria with Naira in your pocket with our low-down on flights to Lagos.
Key points
Lagos' Murtala Muhammed International Airport (LOS) is the main airport for Nigeria
Head to Heathrow and Gatwick for the only direct flights to Lagos from the UK
Flights via Amsterdam and Paris are a common route to Lagos for travellers in the rest of the UK
Abuja might be the capital, but Lagos is the engine that drives Nigeria forward. Oil-rich and increasingly flash, Lagos is the economic and cultural heart of this West African nation. Whether you're visiting on business or pleasure, be sure to find the right price for your flights to Lagos.
Looking for flights to Lagos, Portugal? Then check our guide to Faro flights, as that's the closest airport to the Lagos on the Algarve.
Flights to Lagos, Nigeria
If you're flying to Nigeria then you're likely to be landing at Lagos' Murtala Muhammed International Airport.
Murtala Muhammed International Airport (LOS)
Murtala Muhammed International Airport (MMIA) is six miles north of downtown Lagos and is the busiest airport in Nigeria. In fact it's the fifth busiest in Africa. This major transport hub has direct flights to Europe, the Middle East and the United States. 
A word of warning though. Two in fact. First is to get to MMIA early, as security can take a very long time to get through. Secondly is a warning from the Foreign and Commonwealth Office. "Airlines flying between Nigeria and London can occasionally become overbooked."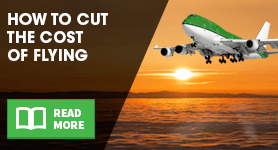 Compare the price of flights to Lagos from the UK
Ready to go to Lagos? Here's how you can get there from the UK. All airlines and airports were correct at the time of writing in summer 2018.
Flights to Lagos from London
You can fly with three airlines from two airports for direct London to Lagos flights. Head to Heathrow to catch non-stop flights to Lagos with British Airways and Virgin Atlantic. If Gatwick is more your scene then Med-View Airline flies direct to MMIA too. With a couple of options to choose from, try a quick comparison to find the best route for you.
Cheap flights to Lagos from Birmingham and elsewhere in the UK
London is the only UK city with a direct connection to Lagos. If you're flying out of Birmingham, Manchester, Newcastle or anywhere else in Britain then you'll need to take two planes. 
Did you know...?
You'll need a visa to enter Nigeria, and this must be sorted before you fly
Popular airports for transferring from the UK to Lagos are Amsterdam, Paris and Frankfurt. You may also want to look at a layover in Doha, Abu Dhabi, or Dubai. Alternatively, you could travel down to London and catch a direct flight. 
As you've got a lot of choice with non-direct flights to Lagos, searching and comparing can help unearth the right route for you.
Top tips for cheap flights to Lagos
Lagos, and Nigeria generally, isn't a big tourist destination, so you needn't worry about peak times too much. Saying that, you might want to avoid travel during the rainy season (April-August). December also appears to be a popular month to fly to Nigeria. Avoid these times if you're after cheap flights to Lagos.
More things to think about when looking for cheap flights to Lagos, Nigeria include:
Are your dates adaptable? If you can change and play around with when you go, then you're more likely to find a good deal.
Booking well in advance is usually cost-effective – tickets tend to go up in price.
That is until the last minute, then plane tickets can plunge in price – it's risky to wait but you could nab a bargain.
For international routes, flying midweek is usually cheaper than around the weekend.
By Sam Easterbrook