What does a domesticated South American camelid drive? A Llama Car!
Is finding a cheap flight to Cyprus all Greek to you? Then you need our low-down on comparing flights to Larnaca.
Key points
Larnaca International Airport (LCA) is the larger of two international airports in Cyprus
During the summer there are lots more options for flights to Larnaca from the UK
Several airlines fly to Cyprus all year round
Beautiful beaches, ancient history, and the only divided capital in the world. Cyprus may be enigmatic, but it's always friendly and always sunny. So let's look at how to get there with the our guide on flights to Larnaca.  
Larnaca flights  
Flying to Cyprus? Chances are you're landing at Larnaca International Airport. While Cyprus does have two international airports, Larnaca is twice as busy as Paphos. 
Larnaca International Airport (LCA) 
LCA may be compact, but it has all the facilities you'd expect from a modern airport after a big facelift and expansion in 1999. There's shops to spend those last few euros in as well as a couple of restaurants, bars and fast-food joints. Good job too, as queues can be an issue at Larnaca International Airport. Still, it tends to get good reviews and won the 2017 Accessible Airports Award. 
Larnaca International Airport is in the south-east of Cyprus. This means it's the most convenient airport for Ayia Napa, Limassol (Lemesos), and the capital Nicosia (Lefkosia). And Larnaca natch, which is four miles down the road. Wondering why places in Cyprus have many names? It switched to using traditional Greek place names in the early 1990s. Yet many locals (and road signs) continue to use the old names.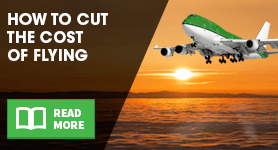 Compare the price of flights from UK airports to Larnaca 
Cyprus is a very popular summer holiday destination with British tourists, with over a million people coming every year. As such, during the peak season you'll find lots and lots of flights to Larnaca from the UK. The average flight time from London to Larnaca is around four and a half hours. All the airports and airlines below were correct in June 2018. 
Flights to Larnaca from London 
You want flight options? You have flight options! Gatwick has the most London to Larnaca flights, but here's the full list:  
Gatwick = British Airways, Cobalt Air, easyJet, Norwegian Air Shuttle, Thomas Cook Airlines, TUI Airways 
Heathrow = British Airways, Cobalt Air 
Luton = Blue Air, TUI Airways, Wizz Air 
Stansted = Cobalt Air, Jet2.com, TUI Airways 
With so many options, a quick comparison can help you weed out some cheap flights to Larnaca. Search now! 
Did you know...?
Three countries claim territory on Cyprus. There's the Turkish-controlled Northern Cyprus, two British airbases, and the Republic of Cyprus
Flights to Larnaca from Manchester 
If you're bound for Larnaca from Lancashire, then you have the choice of a couple of airlines, depending when you fly. Jet2.com, Thomas Cook Airlines and TUI Airways offer flights from Manchester to Larnaca during the summer season.   
Cobalt Air can fly you there all year round. See if you can find cheap flights to Larnaca from Manchester with an online search. 
Flights to Larnaca from Birmingham 
Like Manchester, Jet2.com, Thomas Cook Airlines and TUI Airways can all get you to Laranca in the summer. But Blue Air does it all year. Shop around and see what you could save on flights from Birmingham to Larnaca. 
Are there flights to Larnaca from near me in the UK? 
Yeah, probably. If your nearest airport isn't mentioned above then check out this list:  
Belfast 
Bristol 
Cardiff 

Doncaster/Sheffield 
East Midlands 
Edinburgh 
Exeter 
Glasgow 
Leeds/Bradford 
Newcastle upon Tyne 
Most of the flights out of these airports are direct and during the peak summer season. There's always the option to fly with a transfer to open up more ways of getting to Cyprus all year round. 
Do I need a visa for Cyprus? 
No. If you have a full UK passport you can visit Cyprus for up to three months. Ditto for Northern Cyprus. 
Does Cyprus accept the EHIC? 
Yep, Cyprus accepts the European Health Insurance Card (EHIC). But Northern Cyprus doesn't. Whichever side of the Green Line you're visiting, make sure you have travel insurance that includes medical cover. The EHIC is very useful, but is no substitute for decent travel cover.  
Top tips for cheap flights to Larnaca 
The cheapest time to come to Cyprus is from December to February. While the weather might not be scorching, it's still very pleasant during Cyprus' low season. If you're visiting during the summer, try to come either side of the school holidays for lower flight prices. And if you need a hotel, consider a package holiday. Combining flights and hotels is often cheaper than sorting separately, but not always. Shop around and see what's what. 
Other things to keep in mind when hunting for cheap flights to Larnaca: 
Some airlines offer a cheap flight out and a pricier return - so explore buying two singles rather going straight for a return  
Book your flights very early or super late to unlock cheap flight tickets - but booking the day before can be really risky! 
Although it's nearly five hours in the air, you might want to fly economy to lower the price 
International flights usually cost less in midweek compared to weekends 
Non-direct flights can be lower than flying direct 
As ever, our number-one top tip is to search and compare prices to make sure you get the best deal on flights to Larnaca. 
By Sam Easterbrook