Find cheap flights for Vegas baby!
Searching for a route to Sin City? Then you need to compare flights to Las Vegas.
Key points
You'll need to sort an Esta or visa before you fly to the USA
McCarran International Airport (LAS) serves Las Vegas
Several airlines offer direct flights to Las Vegas from London, Manchester and Glasgow
Sin City. The glitz, the glamour, the glory of the place. And there's no need to gamble on how you're getting there when you compare flights to Las Vegas. 
Las Vegas flights
Screaming across the desert in a convertible Cadillac is the iconic way to enter Las Vegas. Yet for most British visitors, it's by plane that they'll enter Sin City limits. And if you're flying too then you'll be landing at McCarran International Airport 
McCarran International Airport (LAS) 
One of the USA's busiest airports, McCarran opened its new international terminal in 2012. This ultra-modern airport is five miles south of downtown Las Vegas, and you can even check-in at some of the big hotels while still in McCarran. 
It's so close you can be on the Strip in 15 minutes. How? Check our info on Las Vegas airport transfers for the deets. But for now, we'll look at how to fly to LAS from the UK.  
Compare the price of direct flights to Las Vegas from the UK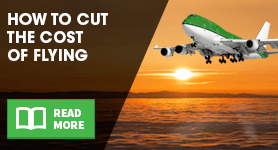 Three airports in the UK can be the departure point for a flight straight to Sin City. This was the case when we looked in June 2018 anyway. Expect a ten to eleven-hour flight time from the UK to Las Vegas.  
Direct flights to Las Vegas from Manchester  
High-flyers in the north of England don't have to schlep it to London. Thomas Cook Airlines offers regular direct flights from Manchester to Las Vegas. Virgin Atlantic does too during the summer.  
Flights to Las Vegas from London 
You've got the choice of a couple of airlines for direct flights from London to Las Vegas. British Airways flies daily to Las Vegas from Heathrow. BA also has a seasonal service from Gatwick. Talking of Gatwick, Norwegian Air Shuttle flies out of there all year to Las Vegas. Otherwise Stansted can be your departure point with Thomas Cook Airlines at certain times of the year. 
Finally, Virgin Atlantic also flies direct to Las Vegas from London. If you're reading this before 31 March, 2019 then it's Gatwick. On or after 31 March, 2019? Head to Heathrow. Prefer all this in bullet points?  
Heathrow = British Airways, Virgin Atlantic (starts 31 March, 2019) 
Gatwick = British Airways (seasonal), Norwegian Air Shuttle, Virgin Atlantic (ends 30 March 2019) 
Stansted = Thomas Cook Airlines (seasonal) 
That's a lot of options to work through. Try a quick comparison to figure out the best route for you. 
Flights to Las Vegas from Glasgow 
Leave Glasgow behind for Nevada with a direct flight to Las Vegas. Thomas Cook Airlines is the only airline that does direct flights from Glasgow to Las Vegas when we looked. You could also try out flying with a connection – more info on that below.  
What about layover flights to Las Vegas?  
A direct flight clocks in at almost 11 hours from the UK. Why not stave off the deep vein thrombosis with a layover in another American city? 
Maybe look at flights from New York to Las Vegas? Or stop off in Chicago, Dallas or Miami? North of the border, Toronto and Calgary offer connections too. Whichever way you're thinking of heading to Vegas, try an online comparison to see all your options.  
Did you know...?
LAS has terminals 1 and 3, but there's no terminal 2
Do I need a visa for Las Vegas? 
Do you have a full British citizen's passport? 
Is it an ePassport with the logo on the front?  
Staying for less than 90 days?  
If you answered yes to all three then you don't usually need a visa. But you will need to get an Esta through the Visa Waiver Programme. If you said no to any of them then you'll need to apply for a visa.  
What's an Esta? 
Esta is the Electronic System for Travel Authorisation. It's an automated system that's there to speed up applications to enter the USA from certain countries. The UK is one and you need to apply for it at least 72 hours before travelling to America. In June 2018 it cost $14. 
A couple more things now. If you've been arrested for certain crimes (even if it didn't lead to a conviction) then you may not be able to get an Esta. 
Also, if you've travelled to Libya, Iran, Iraq, Somalia, Sudan, Syria or Yemen since March 2011 then it's also a no. These are volatile times though, so keep an eye out for changes to entry requirements.  
Finally, watch out for sites that claim to sell Estas. Only use the official US government site.†  
Top tips for cheap flights to Las Vegas 
The fun never stops in Vegas. But the pool bars do tend to close from November to March, as winter in the desert can be nippy. The flipside is that flights and hotels come down in price then too.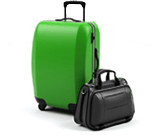 Here's a few more things to think about when foraging for cheap flights to Las Vegas: 
Flying direct is 10+ hours - standard economy might get uncomfortable 
With such a long flight, think of adding a layover - flying non-direct can also be cheaper 
Explore flying there and back with different airlines - two singles can be less than a return 
Can you be flexible with your dates? 
International routes are cheaper during the week and increase on weekends 
Lastly, always try to fit in a quick comparison to find the right flights for you. 
By Sam Easterbrook